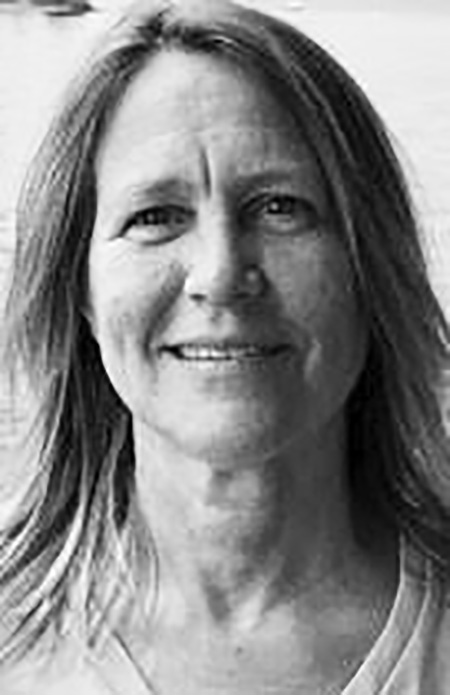 Our sister, Branwen, died peacefully at home March 31, 2023 after two years of courageously facing the challenges of living with a glioblastoma multiforme (GBM) brain tumor. In her 59 years, Branwen lived an independent life, full of adventure and compassion. 
She was born in Gainesville, Fla., in 1964 and grew up in Blacksburg. After graduating from Blacksburg High School, she graduated from Virginia Tech with a degree in Horticulture. All her life she loved plants and tended to them with gentleness. She interned at various botanical gardens in Florida before moving to Northern Virginia to work in finance. Branwen took a year off to help her little sister in the Navy with her first child and during that year, obtained her Certified Financial Planner (CFP) certificate.  
Branwen then headed off to Western New York where she was charmed by the sweet fragrance of grapes and the quaint rural towns and decided to make this her home. She worked at the historic Anthenaeum Hotel at the Chautauqua Institution where she enjoyed meeting presidents, authors and musicians while appreciating the rich cultural experiences on the Chautauqua grounds. She enjoyed being outdoors hiking, biking and kayaking and savored nature's beauty, often expressing it through art and writing.
Branwen always encouraged family and friends to spend smartly and save. She was passionate about good health, always striving to eat nutritious food and never missing an opportunity to "use it or lose it," like taking the stairs over the escalator, even when carrying a heavy load. But more than anything else, Branwen enjoyed time with friends and family. She loved to plan trips and excursions at home and abroad. She was spontaneous and always willing to lend a hand, especially if it involved an adventurous challenge. 
Branwen is predeceased by her mother, Lydia Roeske Wright, and survived by her father, Reverdy Edmond Wright of Blacksburg, VA; sisters, Tamara Knott (Danny) of Christiansburg, VA and Enid Wilson (Sam) of Gulf Breeze, FL; nephews and nieces, Jacob Wilson, Casey Knott, Abraham Wilson, Morgan Knott Woods and Gabriel Wilson. 
We send out a big thank you to her friends, Mary Weaver, Deb Blodgett, Sue Evans, Linda Eastman, Earl Rothfus and Karen Blozie for their love and support as Branwen dealt with GBM.
A memorial celebration is planned for early summer in Western New York.