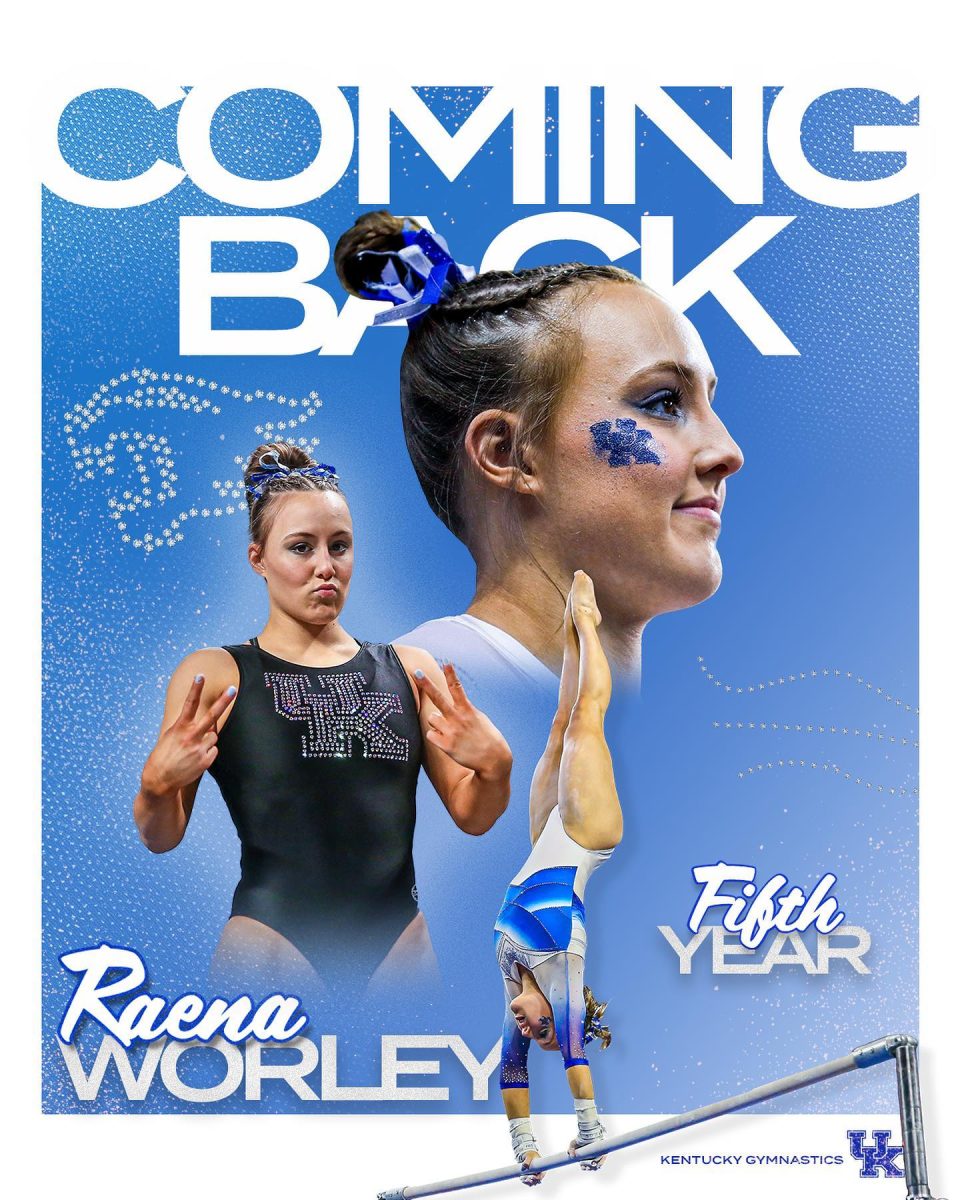 By Marty Gordon
Raena Worley is a small-town girl, who has continued to surprise the gymnastics world. 
The Christiansburg native was recruited by several schools before she was 14-year-old, including the University of Kentucky, a South Eastern Conference powerhouse. She committed early and never thought twice.  She was headed to Kentucky. 
Of course, there were plenty of doubters, especially since she came from southwest Virginia, not your typical gymnastics hotspot. There was also the aspect that there was no high school program. Instead, she found the perfect little gym called Virginia Techniques. 
Worley recently completed her fourth year at UK and the special recognition continues as she has been named a 2023 Women's Collegiate Gymnastics Association (WCGA) National Championship All-Americans. Monday, she announced her plans to return to UK for a fifth year. 
Worley is an eight-time WCGA All-American, receiving first team recognition for her all-around performance.
 Earlier this season, Worley was recognized as a WCGA Regular Season All-American earning first team honors on floor and a second team nod for all-around. 
This season alone, Worley has scored a 9.900 or higher in every meet on the floor exercise. Her highest mark in 2023 on the event was a 9.975 which she earned at Illinois tying her career best. She has tallied the near-perfect mark four times in her career placing first individually on the apparatus 17 times. Seven of those top finishes have been accomplished this season.
On the uneven bars, she has earned a season-best 9.925 scoring a 9.900 or higher eight times. She has recorded eight career individual wins on the event.
The Christiansburg native was also recognized as a second team all-around honoree. Throughout her collegiate gymnastics career, the senior has recorded 20 all-around wins with seven individual victories this season. Her career-high all-around tally was earned at Illinois where Worley recorded a combined 39.775.
Worley has also been named a finalist for the 2023 Honda Sports Award, the Women's Collegiate Gymnastics Association (WCGA).
The Honda Sports Award is an annual honor, awarded to the best collegiate female athlete in each of the 12 NCAA-sponsored female sports. There are four nominees for each, and the 12 winners of the award are automatically in the running for the Honda-Broderick Cup to be named Collegiate Woman Athlete of the Year. Three other athletes are honored as the Division II Athlete of the Year, Division III Athlete of the Year, and Inspiration Award winner.
Worley is among Florida's Trinity Thomas, Oregon State's Jade Carey and LSU's Haleigh Bryant as one of four finalists in contention for the prestigious award.