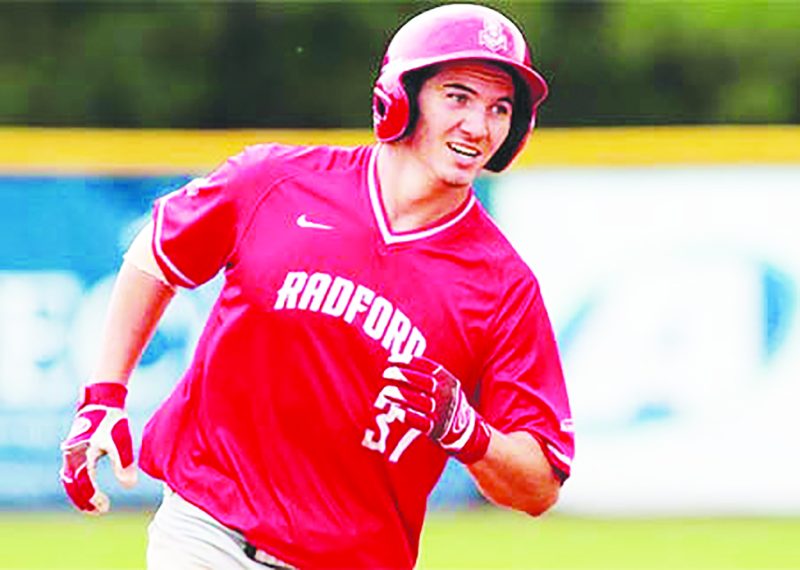 All signs indicate that Spencer Horwitz '19 is having a pretty great month.
Radford University's former infielder, more recently a member of the Buffalo Bisons minor league team, was called up to the majors recently to play first base for the Toronto Blue Jays.
His MLB debut came June 18 in Arlington, Texas, against the Rangers. In his first at-bat, Horwitz notched a ground-ball single, according to theforward.com.
Here's a short video of the rookie himself, handily cracking the ball into right field.
The website jmoreliving.com also has coverage from the game, with a shot of the rookie smiling down from the jumbotron.
And while the Rangers ultimately prevailed 11-7, Horwitz definitely made his mark, scoring the Blue Jays' third home run of the Father's Day game as his dad and other family members watched from the stands.
Earlier this year, Horwitz played in the World Baseball Classic, representing Team Israel, and the club tweeted congrats his way. He also got a shout-out from a source closer to him – his grandfather, Jay Horwitz.
"I'm thrilled to be living out a dream of mine," the newly minted first baseman, looking moderately elated, told Fanatics View in this brief interview from the game.
Horwitz played three years for the Highlanders from 2017-19, batting .288 for his career with 25 home runs and 118 RBI in 169 games.
Chad Osborne for Radford University