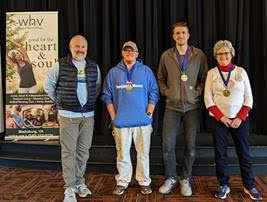 BLACKSBURG  – In the last quarter of 2022, Warm Hearth Village  residents and staff spent seven weeks participating in The Warm Hearth Hustle, Second Edition. 
The hustle was introduced in 2020 as a way to build camaraderie and to promote fitness. Six employees and 22 residents and fitness center members competed with the overall goal of staying active going into the winter. Participants were encouraged to engage in activities that work for them. Everything from walking to hunting to dancing and vacuuming was recorded. Awards were offered in three categories: most steps, most creative activity, and most minutes exercised.
At the December awards ceremony, Jason Hamblin from the maintenance team led the staff by taking 866,921 steps, followed by Sara McCarter and Eric Stafford, also from the maintenance team, who had 424,294 and 399,014 steps respectively. Stafford also won the most creative activity, logging 247,704 steps over 15 days playing disc golf.
Hamblin said he participated so he could lose weight and stay fit. "I took on this challenge to keep me moving because as we get older it is so hard to stay motivated to be fit and healthy. My biggest motivation is my kids. Playing with them and watching them compete in sports they love is inspiring for me," he said.
Beth Burdick topped the resident step category with 951,963 steps followed by Lee Musgrave and resident Debbie Koller, who had 695,989 and 545,108 steps each. Finally, fitness member Becky Martin clocked 6,230 minutes by attending Fitness Center classes such as mobility and strength training, pool volleyball, line dancing, and Aquafit Hiit, in addition to walking on her own.
Burdick said, "Exercise has always been an important part of my life because of the physical and mental benefits. I read in the Lancet that walking at least 8,000 steps a day could reduce your risk of dementia by as much as 60% and I am committed to moving. I hope to maintain my efforts even now that the competition is over."
Warm Hearth Village residents and staff consistently work together on community engagement activities that build sociability and encourage fitness. During this event, nine participants took more than 7,000 steps a day and seven took more than 9,000. Director of Fitness Kenny Harrah said he plans to continue the Hustle and hopes to reach more in the community and encourage more kinds of activity.
"This Hustle was impressive," he said. "We had diverse activities from all parts of WHV. Residents, staff and fitness members accumulated millions of steps, hours in the gym, time in nature, miles on foot and bike, and they lost weight and spent quality time improving overall health and wellbeing. It was a real joy to see so many people do so much and understand "health is wealth."
Warm Hearth Village is a nonprofit senior living community in Blacksburg that provides a full continuum of living options on its campus and in the home.