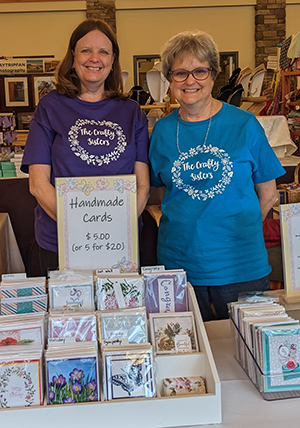 BLACKSBURG – Warm Hearth Village (WHV) recently hosted its second annual arts and crafts fair showcasing resident and community artisans. 
The 24 vendors offered greeting cards, pottery, wheat weaving, fiber weaving, traditional rug hooking, knit dolls, crocheted doll clothes, jewelry, journals, decorative housewares, Japanese ink prints, and more.
 Several residents donated their wares with $282 in proceeds benefiting the Warm Hearth Foundation.  This money will be used to benefit seniors in need of housing and health care services on the WHV campus.
The Crafty Sisters, village resident Debbie Koller and her sister Patty VanHassel, created exquisite greeting cards and stationery portfolios. 
"My sister and I decided the Warm Hearth Craft Fair would be a fun way to share our craft with others. This was our first time and we had so much fun preparing together," Koller said. 
VanHassel said vending in the fair was a really nice way to feel part of the community. 
"I have moved here recently, and this was a good way to meet some new people," she said, 
Life Enrichment Director Mardy Baker launched the fair in 2022 as a way to bring people back out after the pandemic. 
"There were no vending fees because we really just wanted people to come out and have a good time and show off their creative skills at the same time," she said.   
Mark your calendars for year three to be held in the spring of 2024.