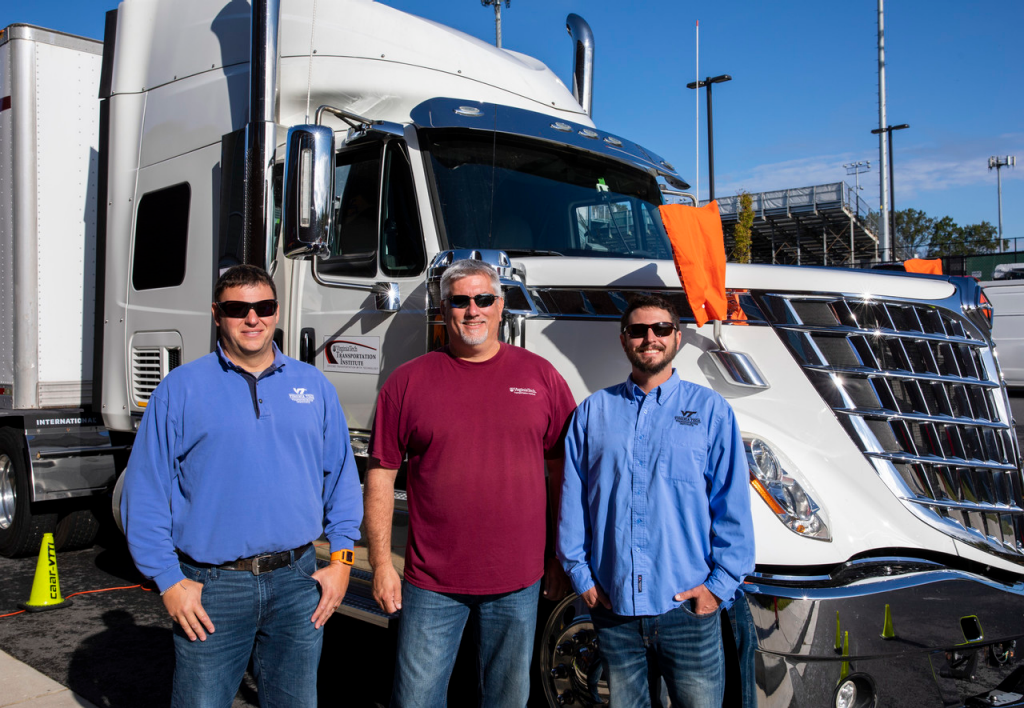 The Virginia Tech Transportation Institute (VTTI)'s Division of Freight, Transit, and Heavy Vehicle Safety has developed and implemented a safety education and outreach program.
Called Sharing the Road with Trucks, the program grew out of research that showed teen drivers initiated more than 75 percent of incidents involving heavy trucks that were — in part — due to a lack of driver education. 
"We are putting the research into practice," said Matt Camden, team leader for VTTI's Research to Practice and Outreach group. "With the research we've conducted at VTTI, we're leveraging naturalistic driving data to understand how people drive around trucks and the consequences of unsafe driving. This program [puts] these lessons learned into practice to help a specific group of drivers —  teens — remain safe while driving passenger vehicles around these larger commercial vehicles from the beginning when they start driving."
Camden, with VTTI researchers Mark Golusky and Scott Tidwell, leads the VTTI Sharing the Road team that travels to high schools in Virginia, West Virginia, and Delaware to provide engaging learning opportunities for new teen drivers.
Through the support of the Federal Motor Carrier Safety Administration, the Delaware Department of Transportation, the Virginia State Police, and the Delaware State Police, law enforcement personnel are also available at most of the demonstrations to discuss driver safety. In addition, the Virginia Trucking Association and the Delaware Motor Transport Association are active partners who help coordinate trucks and drivers to assist in the demonstration. Although most of the demonstrations have occurred in the Mid-Atlantic, the VTTI Sharing the Road team can travel to any state with its goal of becoming a nationwide program.
During a sharing-the road-demonstration, teen participants have the opportunity to see a semi-truck up close and experience the large blind spots from a semi-truck driver's perspective.
The program also addresses five key strategies for sharing the road:
Don't hang out in the no-zone; don't cut off trucks; maintain a safe following distance; properly pass a truck; and don't get squeezed
"We see every day on the highway that passenger vehicle drivers of all experience levels aren't driving safely around the trucks," said Tidwell, VTTI senior field research technician and Class A CDL holder. "We want this program to help teach new car drivers safe practices from the beginning to create a generation of drivers that knows how to safely drive near a truck."
The goal of the demonstrations is to show the perspective of a truck driver and help teens have a better understanding of the everyday difficulties faced by truck drivers on the road. Since 2018, the team has reached  more than 8,100 students across 82 school visits.