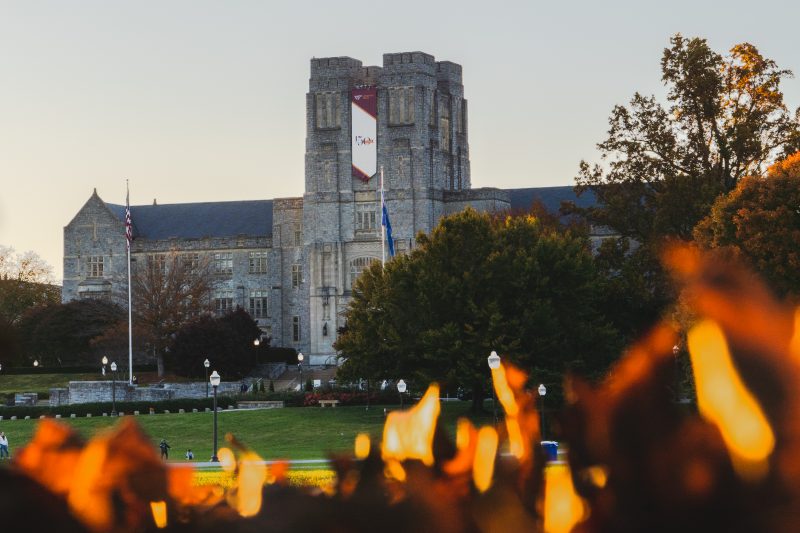 The celebration of 150 years of Virginia Tech opened in Blacksburg in July 2021 and will culminate with the fall commencement ceremony on Dec. 16.
As the sesquicentennial opened, Angela Hayes, associate vice president for advancement and sesquicentennial director, said, "The sesquicentennial is everyone's celebration," noting that the occasion offered everyone who is or has been connected to the university the opportunity to reflect on their Virginia Tech experiences.
Over the next few weeks, the Virginia Tech community is invited to continue those reflections by attending a number of events as the 18-month celebration concludes.
On Dec. 13 from 2:30 to 3 p.m., Virginia Tech will host the dedication of the Sesquicentennial Grove of Trees and the official sealing of the sesquicentennial time capsule. A brief program will highlight the university's 150-year history even as its leaders embark on plans for the future. A short reception in the Burruss Hall atrium will follow the program. A short reception in the Burruss Hall atrium will follow the program, which will begin on the Drillfield.
On Dec. 14 from 6:30 to 8:30 p.m., simultaneous events in Washington, D.C., and Roanoke will showcase the impact of Virginia Tech on the commonwealth and beyond.
In Roanoke, the event will be held at the Hotel Roanoke.
The Washington, D.C., event will take place at The Schuyler D.C. at the Hamilton Hotel.
These closing celebrations will be interactive. Engagement zones will explore research at the Fralin Biomedical Research Institute at VTC and Virginia Tech's K-12 outreach, which is expected to shape the next 150 years of STEM education.
At each event, guests will enjoy food stations, cocktails, music, and time with fellow Hokies. There will also be a brief program featuring university leadership, including President Tim Sands, that will be simulcast in D.C. and Roanoke.