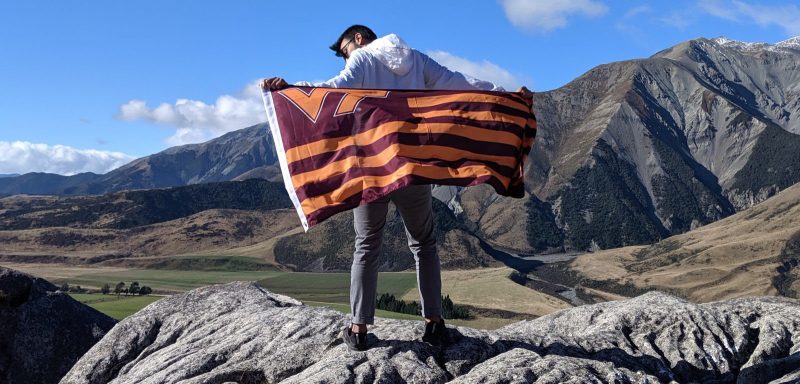 In every corner of the world, Virginia Tech students, faculty, and researchers are exploring scientific and societal issues and bridging on-campus learning to activities and experiences around the globe — and they're bringing their maroon and orange banners with them. 
In just the past year alone, the Virginia Tech flag has flown on all seven continents as Hokies traveled to over 50 countries engaging in study abroad experiences, pursuing global research collaborations, and tackling international service projects.
"I am constantly amazed by and so very grateful for the work that Virginia Tech faculty do with our students abroad. No less diverse than the locations they go to are the disciplines they teach and the types of hands-on experiences they make available to students: from undergraduate research to much-needed service and community engagement, and from insider industry and NGO [nongovernmental organization] visits to participation in global political processes. These faculty members set our students on a path toward understanding themselves and their place in the wider world, preparing them to graduate as engaged citizens of our global community," said Theresa Johansson, director of the Global Education Office.
Part of Outreach and International Affairs, the Global Education Office oversees the university's study abroad programs and collaborates with academic units across campus to integrate global education experiences into the curriculum.
Here is a sample of Hokies flying their flag around the globe:
Antarctica
In January, geography Professor Lynn Resler led students on a field expedition to the Antarctic Peninsula.
During the nine days they spent sailing in and around Antarctica's harbors and coves, the students landed on the continent multiple times, conducting research and learning more about its history, geology, climate, and marine and terrestrial diversity.
Australia
In Tasmania and Queensland, students conducted field research around the Great Barrier Reef, learned from local scientists, and participated in service-learning restoration efforts.
Robert Bush, professor of sustainable biomaterials, led this 25-day program.
Between the work, students enjoyed snorkeling, hiking, exploring hot springs, and camping in the outback. 
Botswana
Virginia Tech students and faculty members work year-round with local volunteers and NGO and government employees in this landlocked country in Southern Africa to support the conservation of native wildlife.
Kathleen Alexander, a professor of wildlife conservation in the College of Natural Resources and Environment, has been conducting research in Botswana for decades, as well as leading study abroad experiences. In 2001, she co-founded the Centre for African Resources, Animals, Communities, and Land Use (CARACAL), a nonprofit organization on the edge of Chobe National Park that promotes conservation efforts while also improving the lives of the people through outreach and educational efforts.
Costa Rica
Studying at the Wayra Institute and staying in homes of local residents, a group of students spent winter break learning about the culture, literature, and language of Costa Rica. 
When they weren't in class, the students could be found walking the beaches of Tamarindo or zip lining through the Monteverde Cloud Forest Reserve.
The program is led by Alejandra Sobrado and Nancy Lopez-Romero, instructors in the Department of Modern and Classical Languages and Literatures.
Croatia
The 14 students in the Real Estate in Croatia and Montenegro  study abroad program led by Jeffrey Robert, collegiate assistant professor in the Blackwood Department of Real Estate, got a firsthand look at global real estate.
Meeting with local real estate developers, financial lenders, property managers, and municipal leaders, they learned about the opportunities and challenges involved in developing, owning, and managing investment real estate in a dynamic international market.
They also examined the implications of historical preservation, social, environmental, and governance on real estate development in the two Balkan nations.
Czech Republic
This European nation is one of the many countries students spent time in during the Sustainable Policy-Making and Planning in Europe program led by Todd Schenk, associate professor in the School of Public and International Affairs.
In addition to the Czech Republic, the program takes students to Hungary, Austria, Italy, Switzerland, and France to examine some of Europe's most pressing challenges and innovative solutions and see a variety of cities through the eyes of locals.
The program is open to all undergraduate and graduate students from across the university.
Germany
In May, 143 students in the College of Engineering's Rising Sophomore Abroad Program spent two weeks studying abroad. Collectively, six groups visited 12 countries.
Students expanded their understanding of global engineering, learned about the importance of cultural competency, and explored the ways differences in cultural, social, and economic contexts influence engineering practice.
Student Nate Blackwell said his time in Italy and Germany provided many learning experiences — not only about engineering through company and factory visits, but also about the ways of life in the two countries.
"This was also just such a great way to expose myself to other countries and cultures, and it made me so much more aware of the world around me and how I fit in it," he said. 
Oman
This summer, 15 students joined Professor Ragheda Nassereddine for a six-week intensive study of Arabic.
Studying at the DHAD Institute at the University of Nizwa, students expanded their knowledge of the language and culture of this Middle Eastern country. They also had the opportunity to explore Oman's historical, natural, and cultural sites.
South Korea
With only one week to see both South Korea and Taiwan, students in this track of the Rising Sophomore Abroad Program had a busy schedule of seeing multinational engineering labs and corporations and taking in both the ancient and modern marvels of the two Asian nations.
Cultural excursions and lectures from local experts rounded out their experience. 
Switzerland
During their semester-long stay at the Steger Center for International Scholarship in southern Switzerland, students in the European affairs and food science programs enjoyed a quick excursion 25 minutes south to Lake Como, Italy, for their Italian course.
Many students use the center — located just north of Milan in Riva San Vitale, Switzerland — as a place to launch excursions, filling their semester with weekend trips around Switzerland and across Europe. 
The Steger Center also offers opportunities for faculty and staff members to develop semester-long and short-term programs.
Tanzania
Six Virginia Tech faculty members, two graduate students, and four Virginia-based high school teachers spent four weeks traveling through Tanzania and Kenya for a monthlong intensive curriculum development program called the East Africa Summer Institute for Educators.
Participants traveled through nine cities and visited four university campuses and several schools. 
The program was developed by the Global Education Office and led by Tom Hammett, a professor in the College of Natural Reources and Environment's Department of Sustainable Biomaterials.
United States
Forty international students from a wide range of countries hiked to the Cascades as part of their welcome and orientation to Virginia Tech the week before the start of the fall semester.
Virginia Tech partners with dozens of international universities to give students the opportunity to trade places through international reciprocal exchange. It's a type of study abroad where students from each institution can spend either a semester or a year at the host institution as nondegree-seeking students.
Rich Mathieson for Virginia Tech