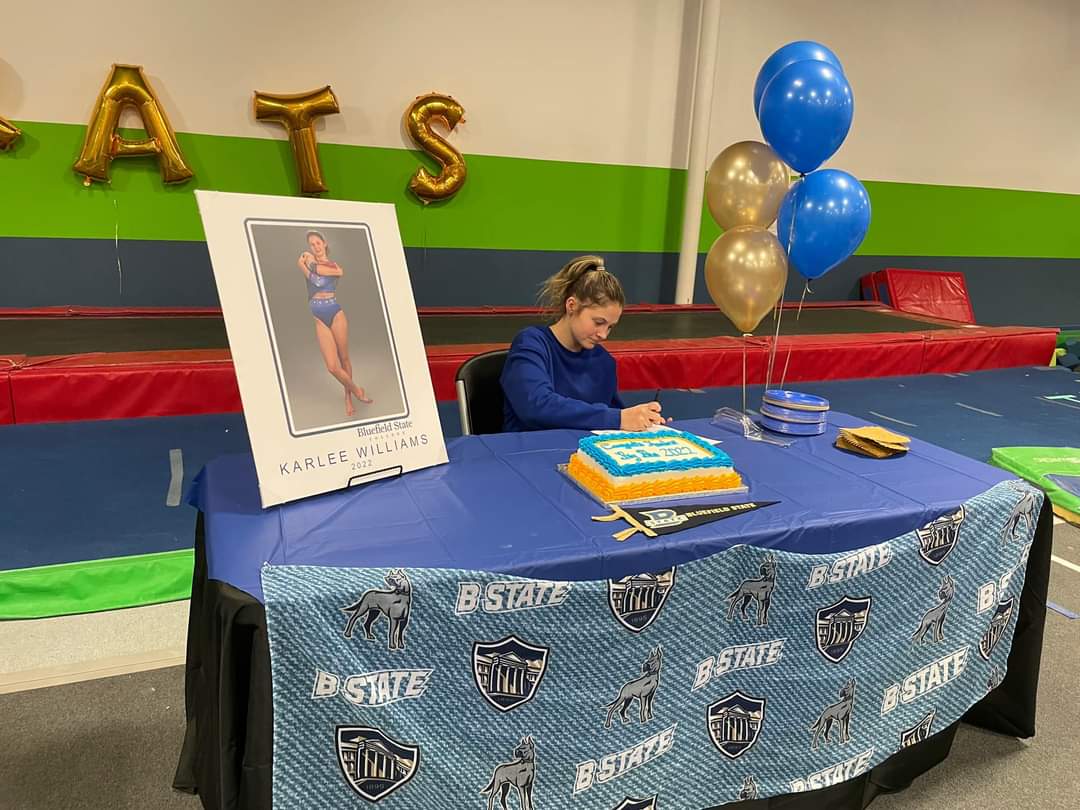 By Marty Gordon
For the third time in a week, a gymnast from Virginia Techniques in Christiansburg has signed a national letter of intent to continue her career in college. Karlee Williams is headed to Bluefield State.
"I chose Bluefield because of the team, the atmosphere, and of course the acro and tumbling," she said.
Williams will not compete in "true" gymnastics and in college, switching to Acro and Tumbling, a subcategory of gymnastics that combines gymnastics tumbling, acrobatic lifts, pyramid lifts, aerial tosses, and choreographed skills team routines.
The focus in both acro and gymnastics is strength, balance, and flexibility but the difference in execution lies in the transition of movement.  For many the difference is described as "Gymnastics is a sport and Acrobatics is an art."
Currently, 30 colleges NCAA colleges have acrobatics and tumbling programs, four of them at the Division I level.
Teams compete in six events: compulsories, acro, pyramid, toss, tumbling, and a team event. The skill sets of tumbling and acrobatics are the athletic aspects of cheerleading. Lifts and tosses seen in cheerleading are acrobatics and gymnastics skills. Competitors in this sport demonstrate significant strength, power, flexibility, and balance in their skill set performances.
Bluefield State is a NCAA Division II school and a member of the United States Collegiate Athletic Association with an enrollment of 1,248 students on the West Virginia side of the border.
Williams, who attended Floyd County High School, is following in the footsteps of another outstanding gymnast from Virginia Techniques,  Rayna Worley, who is now at the University of Kentucky and was recognized as one of the most outstanding freshmen in the Southeastern Conference on a team that was ranked ninth nationally.
"Virginia Techniques has made me into a better athlete and an overall better person," Williams said. "Some of my best accomplishments are just from pushing myself to be the best I can be every day." 
Williams plans to major in psychology at Bluefield State.