BOSTON, MA – The Virginia Tech women's basketball team remained undefeated (9-0) on the road in Boston Wednesday with a 73-58 defeat of the Boston College Eagles.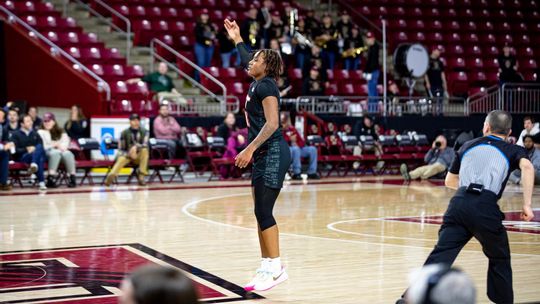 The Hokies had two players score in double figures, led by Elizabeth Kitley, who put together a double-double with 22 points and 12 rebounds. Cayla King added 16 points ,and Taylor Soule added nine points and two steals.
Soule pulled down three offensive rebounds to pace an offense that racked up second-chance opportunities for Virginia Tech, grabbing 10 boards and turning them into 10 second-chance points.
After jumping out to a 7-4 advantage, Virginia Tech went on a 10-0 run with 4:20 left in the first quarter, culminating in a bucket from Kayana Traylor, to increase its lead to 17-4. The Hokies then lost some of that lead, but still entered the quarter break with a 17-7 advantage. Virginia Tech got out and ran in the period, scoring four points on the break.
Tech kept its first-quarter lead intact before going on a 6-0 run starting at the 6:02 mark in the second period, highlighted by a three from King, to increase its lead to 28-13. The Hokies proceeded to tack on four points to that lead and enjoyed a 43-24 advantage heading into halftime.
After intermission, Tech held on to its advantage and took a 59-46 lead into the fourth quarter. Tech's bench made the most of its minutes in the period as non-starters totaled five of the team's 16 third-quarter points.
Tech kept its lead intact before going on a 5-0 run, finished off by Kitley's layup, to grow the lead to 69-54 with 1:51 to go in the contest. The Hokies held onto that lead for the rest of the game for the 73-58 win. The Hokies took advantage of five Boston College turnovers in the quarter, scoring five points off of those takeaways.
Game Notes
Elizabeth Kitley notched an impressive double-double for the Hokies with 22 points and 12 rebounds.
The Hokies made half of their attempts from three point range, knocking down eight of 16 shots.
The Hokies never trailed after taking a 17-7 first quarter lead.
Virginia Tech handed out 19 total assists in the game.
Tech had a 34-27 edge on the boards in the win and cleaned up on the offensive glass, collecting 10 offensive boards in the game.