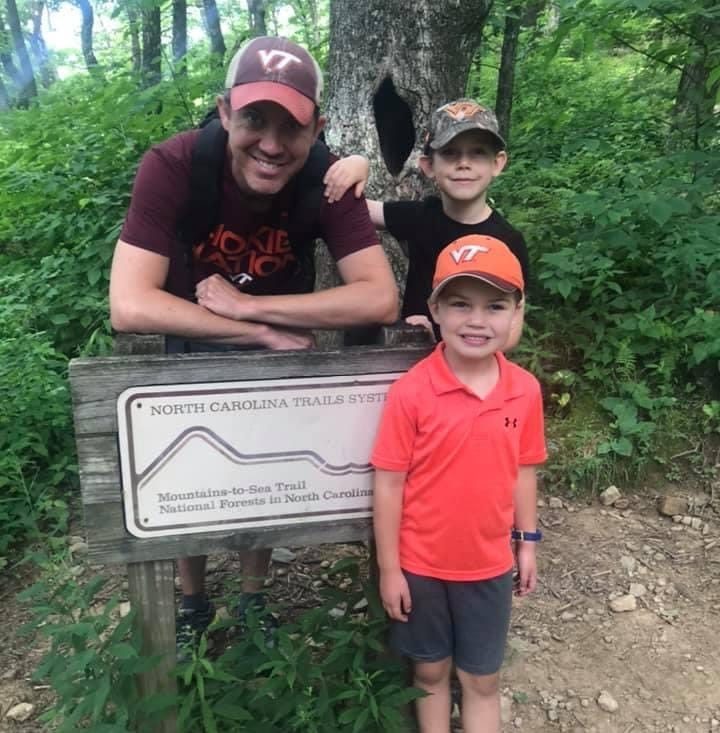 By Jimmy Robertson
On those beautiful fall or spring afternoons during his undergraduate days, Brent Laurenz often found himself debating between taking a hike on one of Southwest Virginia's numerous trails or making the prudent decision of going to class.
Class won out every time.
"Of course," Laurenz said, smiling.
 Laurenz '02 found a passion for the outdoors during his days at Virginia Tech, and he now has turned that passion into a dream career. In January, he took over as the executive director of Friends of the Mountains-to-Sea Trail, a nonprofit organization based in Raleigh, North Carolina, dedicated to improving and preserving the popular cross-state pathway.
Laurenz graduated with a degree in psychology from the College of Science with minors in English and sociology. After working for nonprofit organizations in Washington, D.C., and pursuing his master's degree from George Washington University, he moved to Raleigh in 2009, continuing his work in the nonprofit realm.
 Last year, an advertisement for his current job flowed to his email inbox, and he was intrigued.
 "I kind of fell in love with North Carolina and all the great outdoors stuff that it had to offer, and one of the first things I stumbled across when I moved here was the Mountains-to-Sea Trail," he said. "It's just a place to hike and enjoy nature and kind of get out into the world, in the forest, in the woods.
 "Then this job popped up, and I felt like it was a great time in my career for something like this. Some of my nonprofit experience lined up nicely with what the organization was looking for, and then just bringing that personal passion for hiking and being outdoors, it really was the perfect marriage of the two."
 The Mountains-to-Sea Trail stretches 1,175 miles from Clingman's Dome in the Great Smoky Mountains on the Tennessee-North Carolina border to Nags Head on the Outer Banks. Portions of the trail run in tandem with parts of North Carolina's 12 official state trails, and some currently follow roadways while off-road options are pursued. Most hikers use the trail for day hikes, though many have taken the three to four months needed to hike the trail in its entirety.
Laurenz, who oversees a six-person staff, represents the nonprofit organization at public events, works with volunteers and contractors to repair sections and build bridges along the trail, helps plan new sections of the trail, assists volunteer outings to maintain the trail, manages marketing efforts, and connects with donors whose financial gifts are important to the trail's existence.
"That's really been one of the fun parts, just getting to know people who care about something and either devote time, energy, money, whatever it is to help see it be successful and keep growing," Laurenz said. "It's been a lot of fun. The first half year was a lot of acclamation and getting my feet under me, but I feel like I'm getting the hang of everything and excited for year two, for sure."