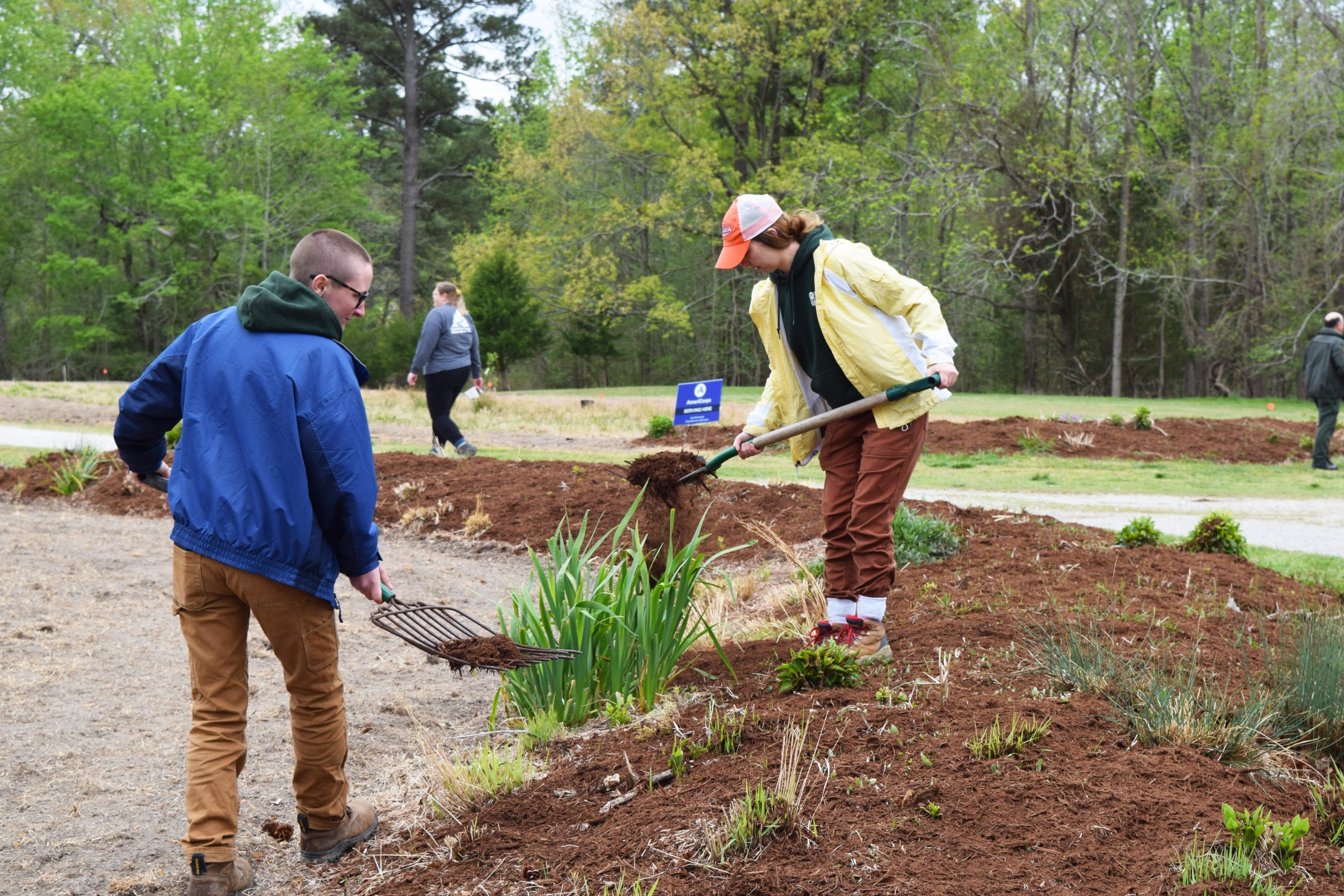 On Sept. 23, 2023, state parks across Virginia will celebrate National Public Lands Day (NPLD), the nation's largest single-day volunteer effort for public lands. 
NPLD, now in its 30th year, highlights the vital impact of public lands on our well-being, from the air we breathe to the spaces we inhabit, and it brings together thousands of volunteers across the country, fostering community, teamwork and the enjoyment of public lands for education and recreation. 
In Virginia, the Department of Conservation and Recreation (DCR), the state's lead natural resource conservation agency, manages nearly 130,000 acres of land, including nearly 80,000 acres of public land across 41 state parks. 
"Since 1936, Virginia State Parks have provided citizens a fun, safe place to connect with nature, learn and participate in outdoor recreation," said DCR Director Matt Wells. "For National Public Lands Day, we invite Virginians to support their state parks by volunteering to help restore, improve and protect the lands they cherish, preserving them for future generations to enjoy." 
There's a state park within an hour's drive of every Virginian, and each park depends heavily on volunteers for everything from trail maintenance to interpretative programs. In 2022 alone, volunteers across the state donated 210,693 hours of service, equivalent to 101 full-time employees. 
"Our skilled and passionate volunteers play a vital role in our mission to protect, conserve and enhance our natural resources," said Virginia State Parks Director Dr. Melissa Baker. "Without them, the parks that millions of visitors have come to love would not be the same." 
One of those parks is Mason Neck, located in Northern Virginia. Chief Ranger of Visitor Experience Jamie Leeuwrik said their highly dedicated volunteer base has helped the park's staff provide excellent service and opportunities for the public. 
"From our volunteer paddle guides leading kayak trips to the Fairfax Master Naturalists revitalizing pollinator gardens, there has been a significant impact made by our volunteers," said Leeuwrik. "The Friends of Mason Neck State Park have also been instrumental in numerous projects over the decades, including our work toward improving accessibility in the park, establishing the pollinator gardens and helping to organize the annual Eagle Festival." 
Established and new volunteers are invited to Virginia State Parks for NPLD. They can choose from more than 30 NPLD events, including invasive species removal, shoreline cleanup, habitat restoration and environmental education activities. 
"National Public Lands Day is a reminder that the preservation of our natural treasures depends on the dedication of volunteers," said Katie Gibson, chief ranger of visitor experience at Douthat State Park, in Millboro, Virginia. "Their efforts embody the spirit of unity and stewardship that ensure the beauty, diversity and wonder of these spaces remain accessible and protected for generations to come." 
For the complete list of NPLD events, click here. Volunteers should dress for the weather and the project and bring water, insect repellent and sunscreen.  
Standard parking fees, such as trailhead parking, will be waived at most state parks for NPLD. The parking fee at Grayson Highlands and the admission fees for Natural Bridge and Southwest Virginia Museum will not be waived. To learn more, go to www.virginiastateparks.gov/parking-fees.  
NPLD also coincides with Bike Your Park Day. Visitors and volunteers are encouraged to bring their bikes to their park on Sept. 23. 
Submitted by the Virginia Department of Conservation and Recreation