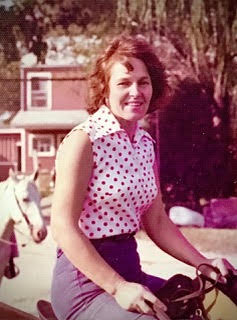 Verda M. Anderson Petrie, 92, of Elliston, formerly Rockford, Ill., went to be with the Lord on Feb. 18, 2022.
She was born Jan 2, 1930 in Cambria, Va., to Evans W. and Beulah M. (Spaulding) Woolwine. Verda was a devoted mother who raised nine children over four different decades, often through very difficult circumstances. She loved and was loved, deeply.
She was a tireless caretaker who also worked as a waitress,a hostess,and an event planner, owned and managed River Road Stables, and taught horseback riding, all while raising her children. Her love and care for horses, dogs, cats, and all animals was well known, as was her love for all of God's creation. Verda loved to say, "This is the day that the Lord has made, let us rejoice and be glad in it." She planted many flowers, trees, and gardens and nurtured them every year to bring joy and beauty to the world. 
She is survived by daughters Lynn (Jim) Butler and Liz (Ted) Edlich; son Robert (Laura) Petrie; daughter-in-law Dolores Lambert; grandchildren Sara (Chris), Eva, Ryan, Justin, Kristina, Rebecca, Adam, Mary, Todd, Angela, and Jennifer; sister Alice (HL) Greene; brother Berman (Myra) Woolwine' special friends Kenny and Anne Price, Irene Lawson, and loyal companion Gus. 
She was predeceased by her parents; sister Dorothy Booher; brother Calvin Woolwine; sons Paul Lynnwood Lambert, Perry Lambert, Roger Petrie, and Norman Petrie; and daughters Deborah Johnson and Sue (Joey) Stump; grandson Travis Johnson; the fathers of her children Paul Lambert and Russell Petrie; and her husband, Tom Anderson. The family extends a thank you to the staff of Good Samaritan Hospice, Heartland/Promedica Hospice, and Anam Care in Rockford for all their loving care. 
A memorial service was held on Feb. 25, 2022, at 7 p.m. at Crosspoint Church, 3215 E. State St. Rockford, IL.Virginia services will include visitation on March 2, 2022, from 4 to 6 p.m. with the funeral on March 3, 2022, at 2 p.m. at McCoy Funeral Home 150 Country Club Dr. SW Blacksburg, and burial at Roselawn in Christiansburg.