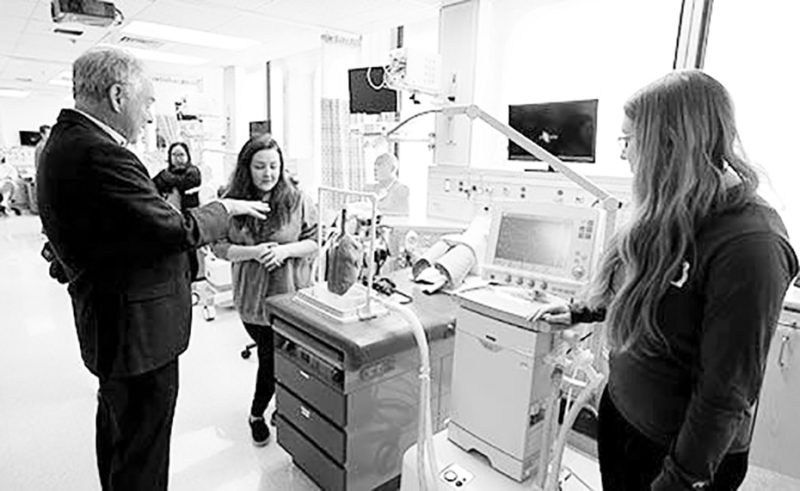 As part of a series of events held throughout Southwest Virginia over the course of a week, U.S. Senator Tim Kaine visited Radford University Carilion (RUC) on Wednesday, April 12. 
At RUC, located at Carilion Roanoke Community Hospital in downtown Roanoke, Sen. Kaine led a roundtable discussion about how to best support the development of the healthcare workforce and address issues such as staffing shortages.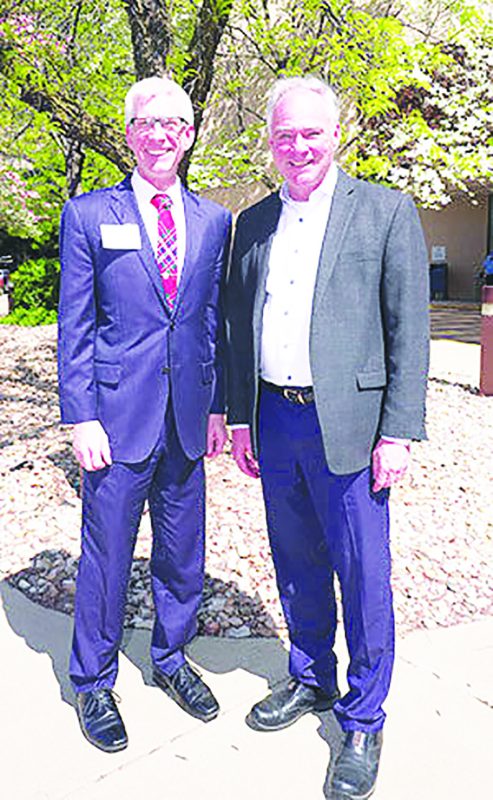 Discussion topics included a need for increased clinical placement opportunities for students training for healthcare positions, the loss of healthcare instructors to jobs outside of teaching due to salary discrepancies, and resources to help veterans to transition from the military to higher education and into healthcare jobs.
President Bret Danilowicz and leadership from Radford University academic programs and colleges were joined at the session by leaders at Carilion Clinic, the Virginia Tech Carilion School of Medicine, Virginia Western Community College, the Salem VA Healthcare System and LewisGale Physicians/HCA Virginia Health System.
In addition, several RUC students participated, including Stephanie DiLaura, a second semester accelerated Bachelor of Science in nursing student; Olivia Lovell, a second-year occupational therapy student; Troy Stallard, a biomedical sciences and emergency services student; and Reilly Marrs, a first-year physician assistant student.
"I feel like hearing our leaders expressing concerns about the same issues that those of us on the ground are seeing every day is satisfying," Stallard said. "To know that those things are being talked about and are actively being addressed gives me hope."
DiLaura agreed adding, "I appreciated the opportunity to be in this space. As students, we often don't think our voice or opinion matters, but today's conversation gives us the ability to express our thoughts to the people who can help us make a difference."
Kaine, a member of the Senate Health, Education, Labor and Pensions Committee, has advocated for healthcare professionals, introducing legislation to increase representation of rural students, underserved students and students of color in the healthcare workforce; legislation to address staffing shortages in the direct care workforce and support family caregivers; and successfully got his legislation to expand mental health support for healthcare workers across the finish line and signed into law.
"I'm appreciative of Senator Kaine for making this visit to RUC a priority during his recess, and engaging in such a critical discussion with faculty, students and regional employers on the topic of healthcare workforce education," Danilowicz said. "While preparing students for future careers in healthcare is critical, I wanted to stress the importance of ensuring that the costs of these degree programs do not put opportunities out of reach. Maintaining affordable education pathways to a career in healthcare will allow institutions like Radford University to be inclusive of prospective students from a variety of backgrounds, which will in turn help improve patient outcomes and keep the workforce pipeline as open as possible."
"I was impressed that Senator Kaine knew about many of the issues we wanted to discuss and wanted to know more," DiLaura said. "I was surprised by how many educators schools lose each year because they can make more practicing than teaching. I thought being a professor was a prestigious position — you get to teach, you get to do research. Who wouldn't want to do that? But, the discrepancy in pay explains why we've lost some of our professors over time."
"It was refreshing to hear those things being talked about and to hear that people are searching for solutions," Lovell said. "Sometimes, in a program, you can think it's just me or it's just us when really it's not. It's encouraging to hear that there are people trying to fix things. It may take time and we may stumble, but we're trying to take steps and that's what's important."
After the roundtable discussion, Sen. Kaine toured RUC's respiratory therapy and nursing labs where he heard about how tomorrow's healthcare professionals are being trained in advanced healthcare procedures and with innovative technologies.
All of the RUC students involved in the roundtable and the tour of labs expressed their gratitude to the Senator and his staff for not only coming to RUC and hearing concerns about workforce development in healthcare, but also for being genuinely interested in finding concrete solutions.
"I want to express my gratitude to Senator Kaine and everybody at Radford for listening to us and asking our opinions — it means a lot," said Stallard, an Air Force veteran who plans to attend medical school after graduating from RUC. "As someone who has moved from a military career to starting a healthcare career, I appreciate that the Senator allowed me to give veteran students like me a voice."
DiLaura added that the discussion raised her awareness about the power she and her fellow students have.
"I was incredibly grateful to hear from everyone involved," she said. "I learned a lot about what can be done at the federal and state level and which doors we need to be knocking on."
"To give us this opportunity is an education, just like the one we're getting in class and the lab," said Lovell. "Going into healthcare, we need these advocacy skills and the ability to have interprofessional dialogue. We need to know that we're not alone and see how we can work together to help our patients and communities thrive."
The roundtable discussion at RUC in Roanoke was one of several events Sen. Kaine took part in during the week. Other events took place in Dublin, Marion, Damascus, Big Stone Gap and Jonesville, covering topics that included infrastructure, electric vehicles, mental health, clean energy and other Virginia priorities. Kaine will also participate in a day of service with the Appalachian Service Project at the end of the week.
Those participating in the round table discussion from Radford University were President Bret Danilowicz, Kenneth M. Cox, dean of the Waldron College of Health and Human Services; Wendy Downey, interim dean of the School of Nursing; Kathy Pellant, director of clinical education in respiratory therapy; and Nicole Ramsey, a career coach. Participants from other organizations included Cynthia Lawrence, director of the office of workforce development at Carilion Clinic; Lee Learman, dean of the Virginia Tech Carilion School of Medicine; Kim Manning, a registered nurse at Carilion Clinic; Tara Wiedeman, senior director for talent acquisition and development at Carilion Clinic; Dyana Williams, nurse recruiter at the Salem VA Healthcare System; Elizabeth Wilmer, vice president of academic and student affairs at Virginia Western Community College; LewisGale Physicians/HCA Virginia Health System Cardiology Physician Assistant Matthew Bowles; Salem VA Health Care System Chief of Staff Francis Cannizzo; and Alan Fabian, Market President for LewisGale Regional Health System.

Mark Lambert for Radford University