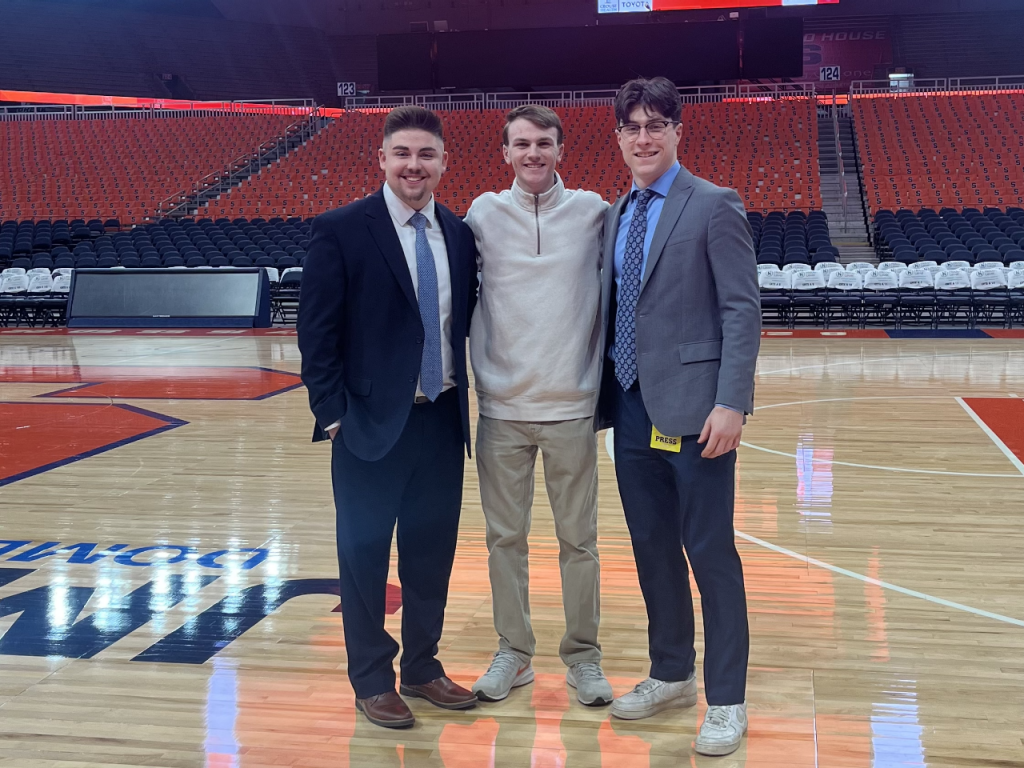 Whether it was playing wiffle ball in the neighborhood or pretend broadcasting Syracuse University basketball games together, Kyle Marchak and Giovanni Heater have long been acquainted, growing up together in Syracuse, New York. 
They both dreamed of becoming sports broadcasters.
As it became time to choose a college, the duo decided that Virginia Tech and its sports media and analytics major in the School of Communication would be the best school to attend and work toward their career aspirations. Two years later, it's safe to say Marchak and Heater, who both just finished their sophomore years as Hokies, are on the right track.
On May 26, Marchak was named a first-team All-American broadcaster and Heater was named to the second-team All-American list by the Sportscasters Talent Agency of America (STAA) All-America program. The program recognizes each year the nation's outstanding collegiate radio and TV sports broadcasters with a live show streamed on YouTube.
"It was a special moment," Heater said. "[Kyle] was my first phone call right away. He said, 'Somebody sent me a fake stream. This isn't real.' It was a special moment where he and I were just so happy and so proud of each other."
As the adrenaline and shock of the announcement began to subside, Marchak had another reaction.
"'I have to call my mom.' That's what I thought," Marchak said. "My first thought was to call my parents and just how amazing this is for the [sports media and analytics] program. Virginia Tech is new and it's up and coming, and Gio and I helped put it on the map."
As a first-team All-American, Marchak receives three free months of agency membership, a certificate of achievement, and the prestige and exposure that come with being recognized by the group as one of the nation's top young sports broadcasters.
When the School of Communication launched the sports media and analytics major in 2020, it had the vision of becoming the premier spot for students pursuing a profession in sports media.
That vision is coming into focus with a heap of evidence to back it up. Marchak's recognition marks the fourth consecutive year that a Virginia Tech student has been honored as a first-team All-American, which includes those ranked in the top six, by the agency.
Evan Hughes finished second in 2020 before being named the 2021 Jim Nantz Award winner, named after the iconic American sportscaster. Hughes is now assistant director of broadcast services for women's basketball and baseball for Virginia Tech. Kevin DiDomenico, now the play-by-play voice of the Reno Aces, was honored as a first-team All-American in 2022. 
It's also the second year in a row that two Hokies were on the list with Heater (honorable mention) joining DiDomenico in 2022.
"We are tremendously happy for Kyle and Giovanni," said Bill Roth, a professor of practice in the School of Communication. "Each has worked incredibly hard to improve his craft, and they deserve this national recognition. These honors are a result of the passion of our students and the opportunities each has to learn, improve, and grow in our sports media and analytics program."
As first year students, Marchak and Heater immediately established themselves in the sports media and analytics major. The duo got to work calling Virginia Tech sporting events and hosting studio shows with 3304 Sports, the multimedia platform for student sports journalism at Virginia Tech.
Jenny Kincaid Boone for Virginia Tech