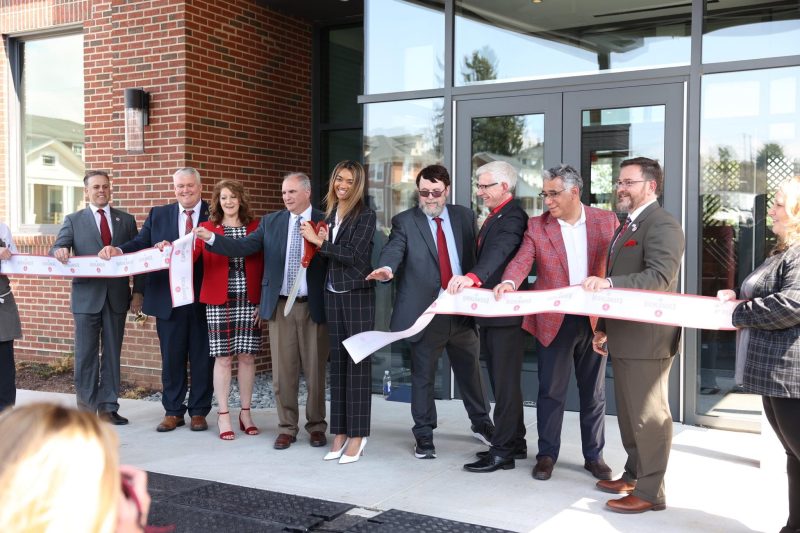 RADFORD – The highly anticipated Highlander Hotel at Radford has officially opened. 
The first guests began arriving and checking in on Saturday April 1, Joey Thornton Hair (Radford University Alumna, class of 1995) was the first guest, checking in with her husband, Mark, and their son, Hunter. They were in town to visit another son, Sean, who is currently finishing up his junior year at Radford University.
On Tuesday April 4, a formal community ribbon cutting ceremony was held to mark the milestone opening and celebrate the arrival of first guests to the eagerly anticipated new property.  Hotel General Manager, Rachel Pegues, shared the stage with Radford President Bret Danilowicz, Radford Mayor David Horton, Preston Hollow Managing Director and Head of Origination Ramiro Albarran, Radford University Foundation CEO John F. Cox, Jr., and Radford Chamber of Commerce Executive Director Dan McKinney.
"Getting this beautiful new hotel prepared to serve as a regional leader in hospitality was truly a team effort," Pegues said. "From the initial planning, building design, branding, and experience design all the way through to today's celebration, hospitality has been on the minds of every contributor for many months and for some, years.  Our friends at the University and the Radford University Foundation have been supportive visionaries from the very beginning, and the owners and partners have demonstrated their commitment to building a property worthy of its place adjacent to this wonderful university for generations to come. There have been many hands that have helped bring this vision to life and I want to thank my entire team for their efforts as they worked so hard to prepare for this moment."
The Highlander at Radford will offer a full range of curated guest experience packages as well as specials for parents of Radford University and Virginia Tech students, local university alumni, and more.
"We are all incredibly excited about the unique programming opportunities this new hotel and conference facility will provide," Director of Sales and Marketing Ginger Clark said. "Having this one-of-a-kind property available for conferences, events, family and community celebrations, commencements, sporting events, and more will fill a clearly demonstrated regional need and help bring additional energy and excitement to visiting the area. Our first large group booking takes place next week, and we are eager to show them what Highlander hospitality really means."
The hotel has two restaurants: Red Provisions, which is now open, is a lobby coffee bar that serves breakfast and lunch with Highlander flair. The signature rooftop restaurant and bar, Bee & Butter, will open later this month and will be led by Executive Chef James Kirby, Sous Chef Amy Murray, and Director of Food and Beverage John O'Conner.
Bee & Butter will offer seasonal menus and signature drinks that feature local ingredients. In addition to outstanding food and beverage, the rooftop location offers stunning views of the Radford University campus and the Blue Ridge mountains that surround the iconic new property.
"The Highlander Hotel, and all its offerings are designed to celebrate and showcase the region's beauty and bounty," Food and Beverage Director John O'Conner said. "We are certainly looking forward to offering incredible food in a relaxed upscale atmosphere, and to celebrating what it means to be a Highlander all together."
For reservations, and additional hotel and restaurant information, visit the Highlander Hotel's official website at https://www.highlanderradford.com/.
To learn more about reserving space for a special meeting, event, conference, or wedding, please call 540-744-1500.
Submitted by Eddy Alexander