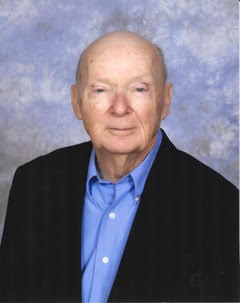 Neil Sweeney, II, 92, of Blacksburg, formerly of Mandeville, La., died Saturday, Feb. 11, 2023, at his home.
He was born in New Orleans on July 28, 1930, to the late Robert Price and Geraldine Cupit Sweeney. He was preceded in death by his wife, Carmen Fernandez Sweeney, and an infant daughter, Shannon Ann Sweeney. 
He was a veteran of the United States Navy and a lifetime member of the Catholic Church having attended the local churches where he lived. Neil gained dual citizenship by tracing his genealogy to County Donegal, Ireland. His wife and he enjoyed camping, sailing, traveling, and visiting with family and friends. He was a devoted father and husband.
He is survived by his daughters, Dr. Erin S. Champagne (Tom), Kerry S. Lockamy (Bill); and granddaughters Dr. Stephanie G. McGarvey (James), Dr. Camille W. Graham; and great-grandchildren, Clare, Kate, and James; as well as many other beloved family and friends.
A memorial service will be held at a later date in Louisiana.