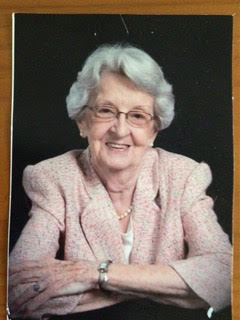 Sue Lucas Croy, 89, of Christiansburg, passed away peacefully on Mon., July 11, 2022.
She was preceded in death by her parents, Waskey and Margaret Shelton Lucas; her daughter, Becky; her husband, Dean; her brother, Charlie Lucas; and her son-in-law, Joey Martin.
Left to cherish her many memories are her daughter, Kathy Croy Martin; her grandson, Lucas Dean Martin; nieces Elly Lucas LeMaster, Eileen Lucas Spinella, Linda Lucas Spear, Carolyn Croy, Sandra Gearheart Cruise, Sharon Gearheart Graham, Donita Croy Price, and Cindy Croy Shrader; and a nephew, Chris Croy. 
A graveside service was held Friday, July 15,  at Sunset Cemetery in Christiansburg with Pastor Mike Derflinger presiding.  
As a lifelong member of St. Paul United Methodist Church, the family asks that in lieu of flowers please consider making a donation in Sue's memory to St. Paul United Methodist Church, 220 West Main St., Christiansburg VA 24073 or to The Alzheimer's Association, https://www.alz.org.
Kathy and Lucas would like to acknowledge and express their heartfelt gratitude to Sue's lifelong angels on earth: Peggy Chafin, Marietta Hanks and Lois Jean and Marvin Jones. The family would also like to send a special thank-you to the staff at Highland Ridge Rehab and Intrepid Hospice for their kindness, patience, and compassionate care of Sue. 
Arrangements are being handled by McCoy Funeral Home, 150 Country Club Drive S.W., Blacksburg.