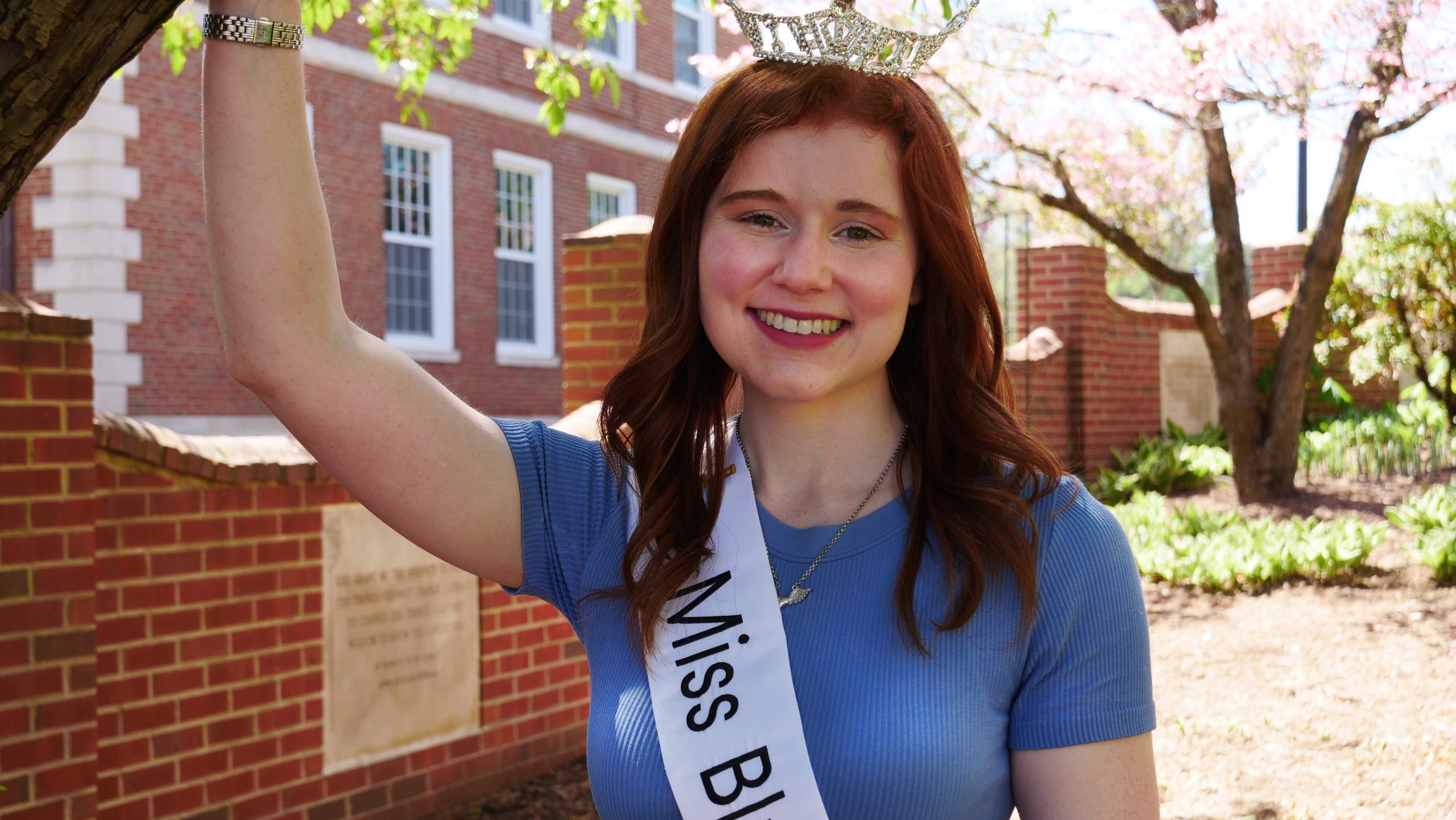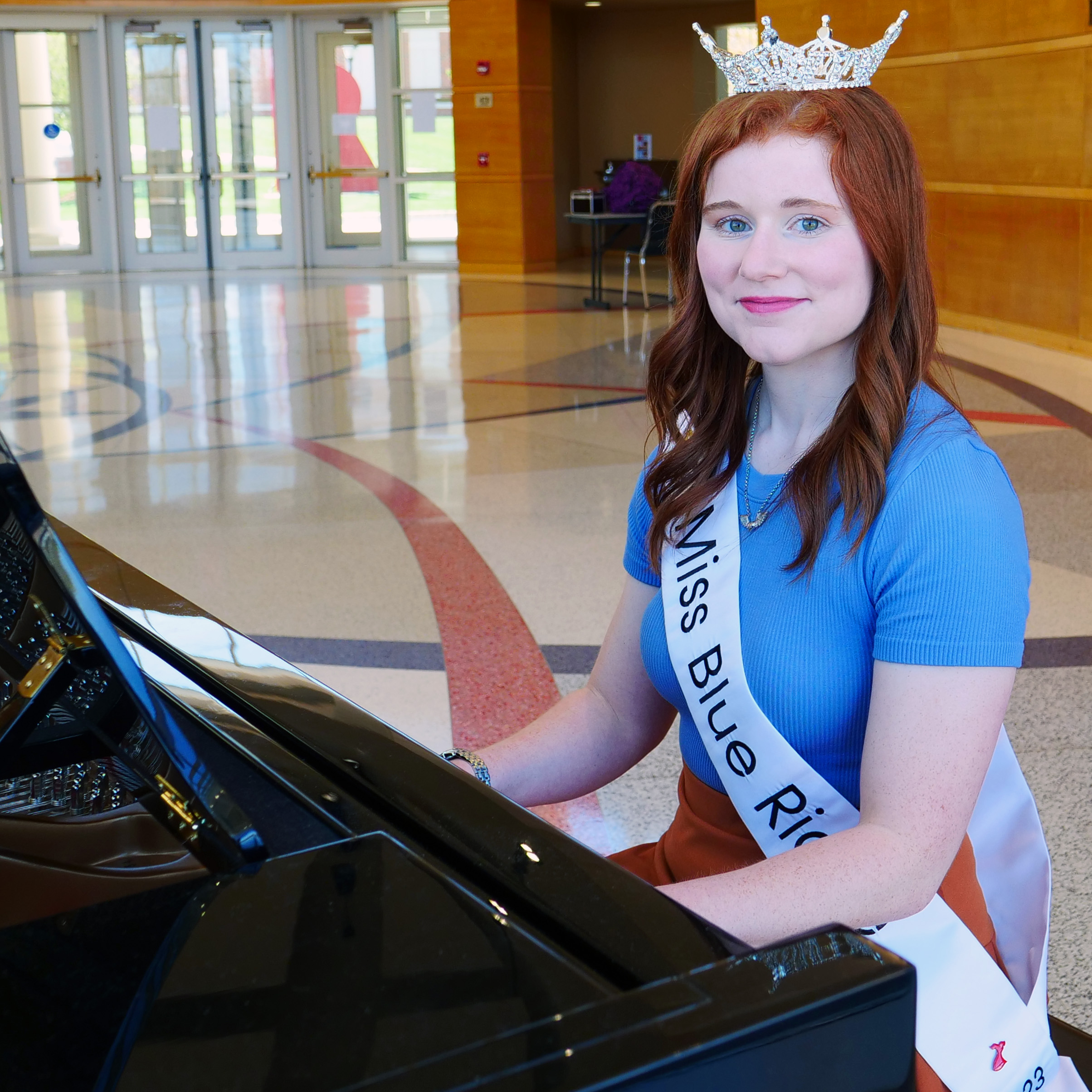 Sean Kotz
RADFORD – Each year, several accomplished young women compete for the title of Miss Virginia, potentially on their way to the coveted Miss America title. 
Very few, however, have performed an operatic aria to get there. 
Enter Grace Pfleger, performer with Opera Roanoke, community activist, Radford University graduate student, and Miss Blue Ridge 2023. Pfleger began pursuing a Masters of Science in Music Therapy at Radford University during the pandemic when performances shut down. Before that, she dreamed of being an opera singer, but wondered what she'd do if she could not perform. 
"I did a lot of community outreach work in my undergrad program, and that's when I learned about Music Therapy," Pfleger explained.   
With performances in a holding pattern, Pfleger saw that music therapy could transform the community service and outreach work she was already committed to into a second professional path. 
"I came to Radford and fell in love with Music Therapy, so now the dream is to do both careers," she said.
Pfleger's admits her journey to compete for Miss Virginia is just as unexpected and intertwined with opera. It started about a decade ago when Pfleger entered a pageant competition as a pre-teen. 
Needing a talent to demonstrate – and inspired by Hannah Montana, a Disney character played by Miley Cyrus – she decided to test her potential as a singer. This led to voice lessons and ultimately earned her the title of Miss Blue Ridge Outstanding Pre-teen. 
And in turn, that cultivated an interest in opera. And as she hit her teenage years, she simply wanted to sing – and play basketball. 
"I really didn't think I would be competing in pageants after that," she said. "Becoming an opera singer became my dream and I focused on that." 
Then, last Fall, the Miss Blue Ridge pageant reached out to Pfleger. Her social media posts about both opera and her music therapy work caught their attention and they thought she'd be a perfect candidate for the scholarship competition. 
"I was in the middle of doing the opera at Radford so I didn't think much about it," Pfleger recalls, referring to her performance in Venus and Adonis, a baroque English composition from around 1698. 
Then, over the winter break, with some time on her hands, she started thinking about the scholarship opportunities that come with Miss Virginia and the Miss America organization. Her Music Therapy degree wraps up next year, but she's interested in a Masters in Opera Performance as well. Scholarships would certainly help. 
But there is another good reason to pursue it, Pfleger points out.  
"It's a good chance to bring awareness to the causes I care about," she notes. Pfleger is particularly interested in combating ageism and intergenerational programming, aiming to reunify older generations and youth.
Pfleger's platform is called "Music Through Generations," which addresses these issues by bridging different generations through the power of music.  
She'd been thinking about this for a while, but the project took a formal shape in an intergenerational music class led by Dr. Sekyung Jang. Pfleger formalized a proposal and sent it to the Women and Children's Center of the Roanoke Rescue Mission, which approved it quickly. 
In March, Pfleger spent every Thursday evening making music with people ranging from age eight to 84. Some were reluctant to join in at first, but simple things like handing out egg-shakers or creating a drum circle pulled people in. 
"Through every session, you saw people who were afraid to make noise," Pfleger explained, "but then you give them an instrument or music and then making noise was okay." 
"Then it transferred naturally to your voice and your ideas."
Projects like this matter to the Miss Virginia competition more than ever before, reflecting a change in the Miss America organization from the days when contestants paraded about in swimsuits and evening wear. 
In 2019, Miss America 2.0 was announced on the group's website. According to their page, "the 51 women representing their home states and the District of Columbia will no longer be judged on outward physical appearance."
Instead, fitness, self-confidence, and positive social impact have moved to the forefront as the organization has dropped the word "pageant."
The Miss Virginia contest will take place in Roanoke at the Berglund Center between June 29 and July 1, when the ascending winner is crowned. 
For those wanting to follow Grace Pfleger's journey, she encourages people to connect to her on Instagram @missblueridge.va and on Facebook by following her page, Grace Renée Pfleger, Miss Blue Ridge 2023.