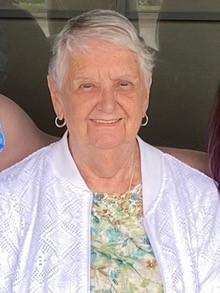 Mary Rae McCoy Spence, of McCoy, passed away peacefully surrounded by her family April 2, 2023.
She was born to the late Hobart and Mary Jane Price McCoy Aug. 13,1933 in Blacksburg.
She was preceded in death by her loving husband of 60 years, Rufus Spence. She was also preceded in death by brothers, Duane and Alvin McCoy.
She is survived by her two daughters, Pam Spence Matney and husband, Tony, of Round O, S.C. and Trish Spence Handley and husband, Rob, of Granite Falls, N.C. She is also survived by five granddaughters and one grandson – LeAnn Smith (Harvey), Brandi Horne (Joe), Kelly Shaver (Leroy), Jenna Godbey, John Godbey and Kaitlyn Peters, and nine great grandchildren. Mary is also survived by special friends, Blake McCoy, who she called her angel, and Lisa Langdale, who enjoyed visiting her, and her brother and sister-in-law, John and Frances McCoy.
Mary Rae was loved by all who met her. She served in the Tazewell County School System for 30 years and served many churches where Rufus was interim pastor. Even her final caregivers loved taking care of her. One of her favorite things was to play Rook with her family, and she would stay up all night doing so. She also enjoyed going on trips with Rufus, John and Frances.
Her family would like to thank Catawba Valley Medical Center nurses, CNAs, therapists and especially Dr Le who took excellent care of her.
Visitation was held at McCoy Funeral Home, Blacksburg, on Wednesday, April 5, 2023, and the funeral followed, with interment at McCoy Family Cemetery in McCoy, Va.