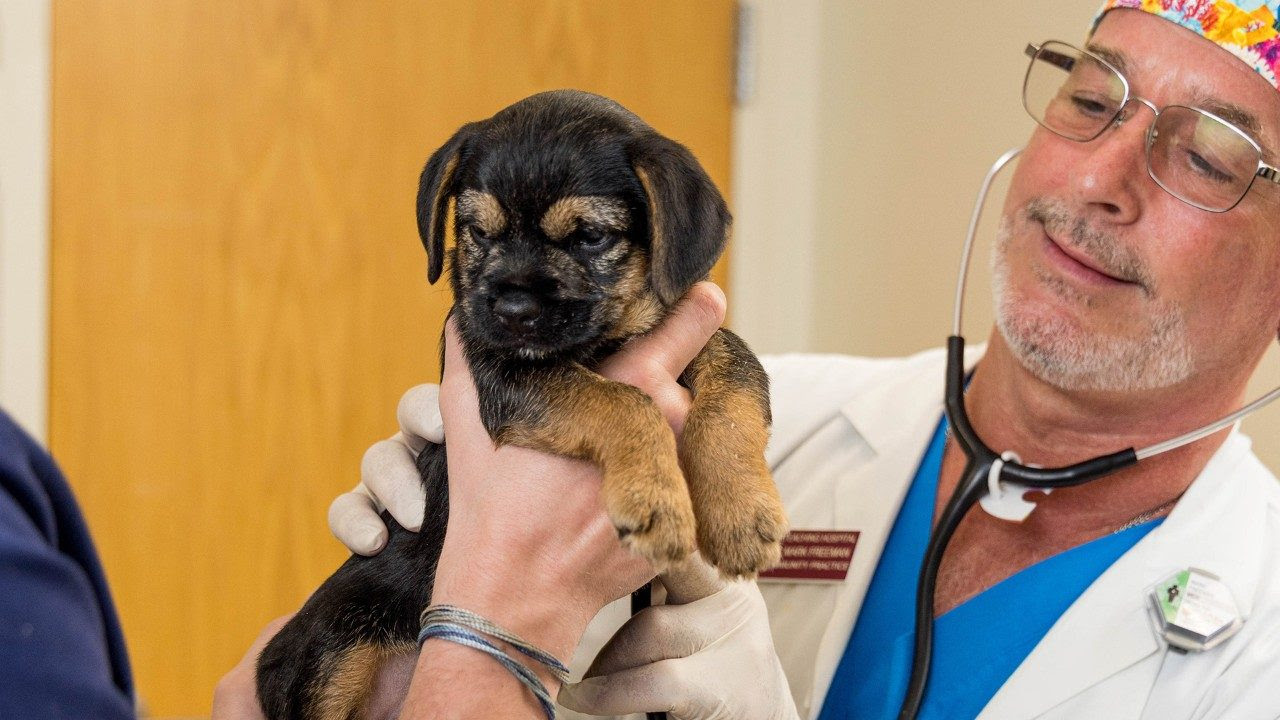 CPRAC is back on track. 
Small Animal Community Practice (CPRAC, commonly pronounced "SEE-prak") is a clinic within the Veterinary Teaching Hospital (VTH) at the Virginia-Maryland College of Veterinary Medicine that accepts pets from a 35-mile radius of Blacksburg.
"It's small animal primary care here at the veterinary college," said Jenny Marin, who joined the community practice as a clinical assistant professor in 2022. "We do a lot of preventive care, vaccines, parasite prevention, disease prevention, things like that. A lot of holistic care, looking at the whole animal and making sure we're addressing every little thing from their eyes and their ears to the heart and their ability to get around."
These are not referrals, but community members who bring their pets for checkups and basic health care, as they would with any private-practice veterinarian.
"CPRAC, along with the emergency room, are the only two services that you don't need a referral to access," said Anthony Grafsky, hospital administrator. "These are our services that are open to everybody."
After some loss of personnel and other challenges during the pandemic years, the community practice is fully staffed once again, and looking to expand its clientele.
The clinic recently added Mary Songster-Alpin as its newest clinical assistant professor in community practice. Erin Phoenix '11, DVM '17, hired last year as an instructor in the Animal Care in Education program, has also been added as a clinical assistant professor.
They join Marin, Mark Freeman, hired in 2012 and recently promoted to clinical associate professor, and Michael Nappier, hired in 2015 and promoted to clinical associate professor in 2020, as full-time clinicians, giving the clinic a complete lineup.
Additionally, Rebecca Persons DVM '20 has stepped in as a clinical instructor and Kelly Mallette — a major in the U.S. Army Veterinary Corps — has been serving as a resident. The community practice also has five licensed veterinary technicians and a veterinary assistant to support the clinicians.
Grafsky said the clinic saw 2,854 cases between March 2022 and February 2023, down 3.5 percent from the previous year. But with plans to increase caseload from 12 to 18 a day soon, those numbers could jolt upward in the year ahead.
While the clinic serves the community by providing another option for veterinary care, it also provides an important educational opportunity for veterinary students, about three-quarters of which will enter companion animal primary care upon graduation.
"The reason community practice is here, is to give our students an opportunity to have a primary care, or regular general practice, companion animal experience, within the confines of the teaching hospital," said Nappier.  "We're a regular general practice with the addition of vet students. Whereas your regular practice's goal is solely focused on you and your pet, we're focused on you and your pet and teaching the next generation of veterinarians how to take care of them."
"The vast majority of our students go into general practice," said Freeman, whose arrival in 2012 was only a couple of years after the community practice started. "So we feel it's really important for students to get an experience that replicates what they will be doing in practice, day to day. "
As a result of the teaching aspect, the appointments take longer for clients than those at most private practices, but "we have more eyes on things," Nappier said.
"I think a lot of our clients who come here enjoy interacting with the students," Nappier said. "It's just fun for them. Many of our clients are in some way involved in education, whether here at the university or local K-12 schools."
One advantage to clients utilizing the community practice is the resources of the full Veterinary Teaching Hospital and its many specialties being easily accessible.
"When I need to get an echocardiogram, it's usually the same day," Nappier said. "I can get an ultrasound exam the same day, we have anesthesiologists to consult, we have a lab that I can just run my samples to on foot."
"When they come to see us, they are essentially coming to see the whole hospital," Freeman said.
Freeman said the clinic strives to make its care affordable for clients.
"I feel like the one area of emphasis that we have tried to consistently provide, and I think we've done well on is providing what is now being referred to, and very heavily focused on, as spectrum of care," Freeman said. "We always offer the very best we have to offer. But we do understand that there are limitations to what clients can do. And if they can't meet us at our gold standard, we can offer other more affordable options. And I think we've managed to do that consistently."
There is much optimism about the future of the community practice and its opportunities for students and clients in years to come.
"We're excited to expand our primary care education for students," Marin said. "COVID was hard on everybody. And there were some changes. We needed some more people to replace folks who had left. Now, we're adding doctors. The goal is to get more appointments for students to see and be able to help as many patients and their people as we can. COVID hit that a little bit hard, we didn't have as many patients coming in. There's a lot of interest in refocusing on primary care education for students. That is what we do."
Andrew Mann for Virginia Tech