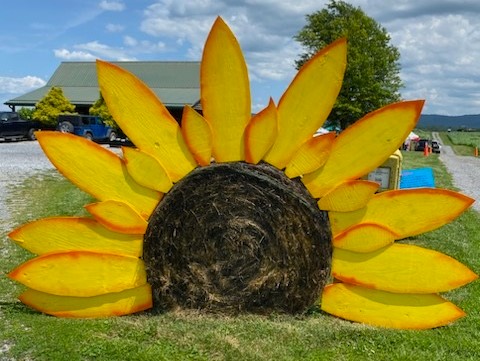 Lori Graham
Contributing Writer
July days are hot and sultry in the New River Valley but attending the Sunflower Festival at Sinkland Farms, will certainly refresh anyone's spirit. 
Sinkland Farms, owned by Susan Sink, has received numerous awards including their recent recognition of being voted "Most Unique Festival" by Blue Ridge Outdoors Magazine. 
This year's venue offers many new features like the 150-foot MEGA slide and wine slushies, but also local favorite craft and food vendors, live music, and scenery that many expect when they visit the location. 
The children's play area will keep little ones busy with an inflatable jumping house, playground equipment, slides, play farm animals and vehicles to climb on, and even a mini barn children can run through.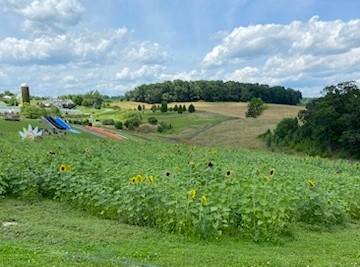 Adults visiting the Sunflower Festival will find their own respite with food, beverages, local artisans, music, and beautiful scenery to take in. 
The strawberry and peach wine slushies are a new highlight this year at the Sunflower Festival that visitors will not want to miss. These delicious treats are sure to provide refreshment after touring the sunflower fields and picking a sunflower or a bouquet to bring home. According to Sinkland Farm's website, there are over 200,000 blooms of 20 different varieties on their eight-acre sunflower farm.
Other adult-beverage options are also available, according to Sink.
"We have a whole fleet of craft beer and a couple of domestics. We have a whole bevy of different kinds of wines that won't be in the slushies," Amanda Sink, Sinkland Farms family member said. 
Another big hit at the event this year is the 150-foot outdoor MEGA slide, which is the only one like it in Virginia. After zooming down the slide that overlooks the beautiful sunflower fields, take a walk on the farm trails where visitors can find many opportunities for pictures. Large sunflowers made from wood, an outdoor LOVE sign, and of course, the thousands of sunflowers can all be great backgrounds for family and friends to memorialize the event with a photo. 
"The big wooden sunflowers were made here on the farm as well," Sink said. 
Another favorite of the farm is the animal barn where children and adults can see peacocks, chickens, sheep, goats, rabbits, and a pig called Mr. T. 
There are a lot of artisans providing handmade local crafts for visitors to peruse as well. Vendors can vary throughout each weekend and are dependent on their availability. Crafts and retail product options may include handmade pet accessories, jewelry, children and adult clothing items, recycled and repurposed handbags, handmade rugs, and clay products.
"I make clay earrings, farmhouse décor signs, tumblers, signs, magnets, car fresheners, all kinds of things," Lisa Shark of Bubble Clay Company said. Shark's vendor tent was one of many that had braved the humidity of the event's first weekend. The forecast for the venue's second weekend provided much more tolerable weather for visitors.
Our Living Room Couch was among the new vendors coming to the venue this year with handmade rugs, coasters and new signs. 
Serena Belle's Kettle Korn, Aloha Eddie flavored ice, Giggles plant-based food, 800 Degree wood fired pizza, and many more food trucks and tent vendors will be providing a variety of food options to festival goers. 
Live music will be performing each night of the festival and visitors can enjoy lots of outdoor seating near the main barn or by the scenic pond. 
The last weekend is July 28-30 and is jam-packed with all activities still available to enjoy.
The event is open to the public Fridays 4-8 p.m., and Saturdays and Sundays 11 a.m. to 8 p.m. Additional information can be found on their new Facebook page at Sinkland Farms, LLC or their website www.sinklandfarms.com. Tickets can be purchased ahead of time on their website or at the entrance of Sinkland Farms. Various packages are available for couples, families, photography passes, and MEGA slide ride passes.