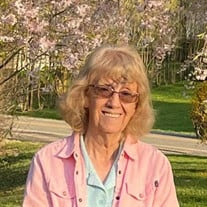 Our loving, devoted "Granny Darleen" made her way to heaven to be with her soulmate on Tuesday, May 9, 2023 at the young age of 84.
Her desire to be with him the past two years has been constant, and we rejoice as a family knowing they have been reunited forever.
Darleen was simple, kind, and worked alongside her precious love, Everett, for many years serving as Pastor's wife. She took that role to heart and reached many with her sweet, quiet loving spirit. She also worked for many years at Belview Elementary School as Head Custodian, being a confidant to many of her coworkers who became like family to her.
Not your typical "granny," Darleen wasn't really much of a cook, didn't bake, didn't crochet. What she offered us was her time and love. Riding roller coasters with Lori because Anita and Everett wouldn't, buying Anita a piano because she paid for Lori to have braces. Getting on the floor with the great-grandchildren and playing, giving all the kids a wadded up "piece of money," so each could buy what they wanted. The cool, spunky granny who wore jeans and a button down plaid or denim shirt daily, had her hair blonde until she took her last breath. She was tough as nails, but a gentle precious soul. Our Dr. Pepper drinking, Jesus loving granny is now at peace and receiving her eternal reward she so greatly deserved.
Darleen was preceded in death by her husband, Reverend Everett E. Shepherd; son Larry G. Shepherd; mother and father Pete and Louise Linkous; brothers Ross, Bobby and Kelly; as well as many friends and loved ones gone before her.
Granny is survived by her grandchildren who she loved and cared for like her own, Lori Tibbs, Anita Bland (Craig), and John Tibbs. Also surviving her are her great-grandchildren, Madison, Haley (Michael), Jordan, Hannah (Daylin), John Isaac and Michaela. She was also blessed to be great-great granny to Zoe. Her daughter-in-law Pamela Shepherd, and sisters in law, Ellen Linkous and Shirley Linkous also survive her.
Our family wishes to thank caregivers, Kathy McCoy, Missy Albert, and Wanda Lang for their love and support of Granny over the past couple years. Also, our gratitude to her nephew Carl Linkous for always stopping in for a visit or taking her for a ride. A special thank you to the nurses and staff at Good Samaritan Hospice for loving our granny and caring for our family during this time. Teresa, Debbie, Betsy, and Denise, you will forever be a part of our family.
And we could certainly never forget how kind and supportive McCoy Funeral Home has been to our family over the years.
Funeral services will be conducted on Monday, May 15 at 11 a.m. with visitation from 10-11 a.m. in the McCoy Funeral Home Chapel. Darleen's nephew, Reverend Rodney Linkous will officiate. In lieu of flowers, please consider a donation to Good Samaritan Hospice, 1160 Moose Dr., Christiansburg.
Proverbs 31:29
"Many women do noble things, but you surpass them all".