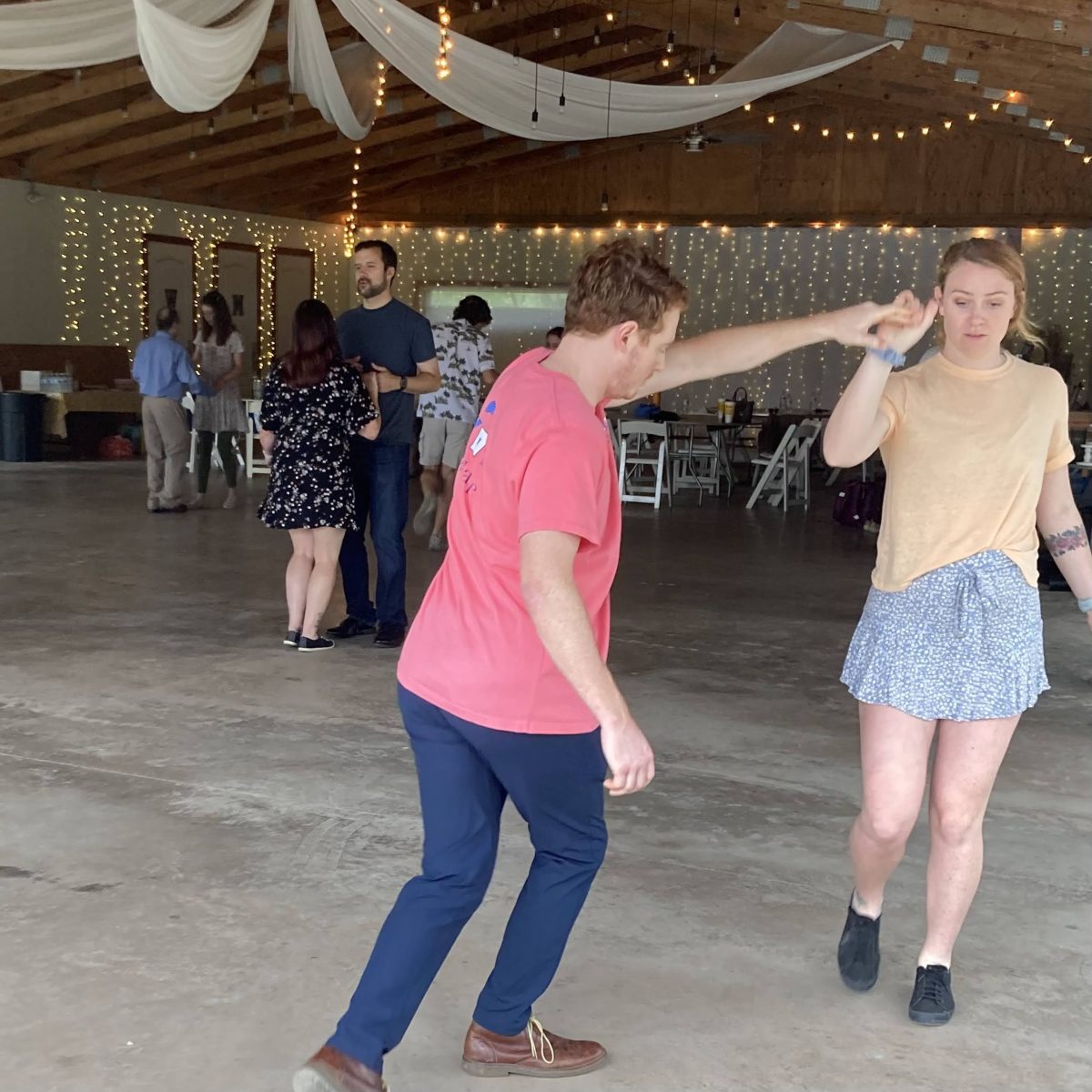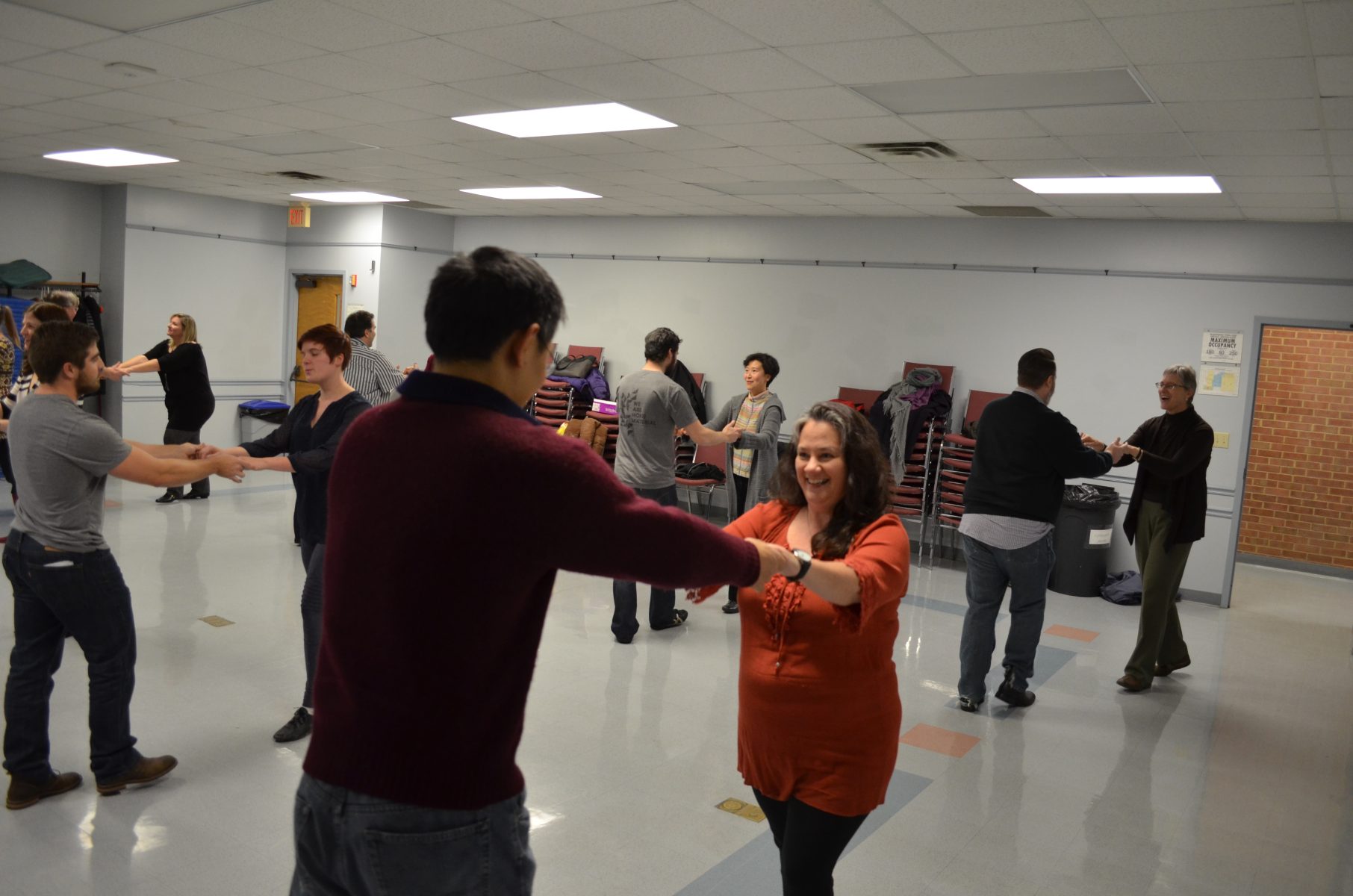 Lori Graham 
Contributing Writer
Sapphire Ballroom has offered dance lessons at their Christiansburg location since their opening in 2004 by owner and Richmond native, Linda Stancill. 
Recently, the studio has made another venue option available – Nesselrod on the New in Radford.
Every other month, group lessons and a subsequent dance party are taught and hosted by Sapphire Ballroom instructors at Nesselrod on the New, the beautiful bed and breakfast and wedding venue overlooking the New River. A large, open pavilion provides ample space for dancers to spread out while enjoying the natural outdoor surroundings and fresh air. The new venue debuted last August, with the plan to offer a different set of group lessons every other month, as the weather permits.
Anyone can register for the event, regardless of previous dance experience and skill level. A single individual does not need to bring a partner to attend, but couples can sign up as well. Dancers can choose to spend the evening learning a dance together with their partner they brought, meet someone new to dance with, or alternate pairing with other individuals at the event. Instructors break down the steps and work individually as needed with dancers, providing time to ask questions and practice the dance moves.
Debbi Richey, Senior Instructor at Sapphire Ballroom, has been teaching dance for over 25 years. Richey had her first exposure to partner dancing in high school when she and her friends were getting ready to attend prom. Everyone in her class took ballroom dance instruction at the YMCA. While later attending James Madison University, Richey took a variety of dance classes. She became a part of the school's International Folk Ensemble, particularly enjoying the English Country dance. She then started her own group of historic dancers at JMU.
Richey's love for English Country Dance followed her to Christiansburg where she organizes a historic dance group called the New River Valley Historic Dance Society. The Sapphire Ballroom studio will be hosting a free English Country Dance workshop on May 9, 7 to 8:30 p.m. Prior registration is required by noon on the day of the event by visiting www.sapphiredance.com. Beginner or advanced dancers are all welcome.
"This is how I met Liz, because she learned about the group and said 'Hey, that sounds like fun'," Richey said, speaking of her fellow instructor, Liz Gladwin.
Other talented instructors with a passion for dance also teach at the studio, providing instruction in a variety of dance styles. Richey says that having a background in teaching and dancing is great to find in the instructors, but knowing how to teach couple-dancing is very important. 
"You have to be able to say it in five different ways," Richey explains, as everyone has their own way of learning.
Individuals who are interested in trying a dance class or workshop may have questions about which classes they should choose. Richey says to pick whatever style of dance fits best with a person's favorite music. 
"There are a few dances that are stand outs that almost always make a good style to learn. Single-time swing is a good one. It has a fairly small on-ramp, you get to the point where you are doing fun stuff quickly. The hustle is similar to the single-time swing in that way," said Richey. 
Another question Richey often gets is if special shoes or clothes are required to dance in their studio. 
"My response is that comfort is the most important thing," she said. "Any comfortable shoes that stay on your feet are fine."
The Sapphire Ballroom is located at 30 W. Main Street, Suite C in Christiansburg.