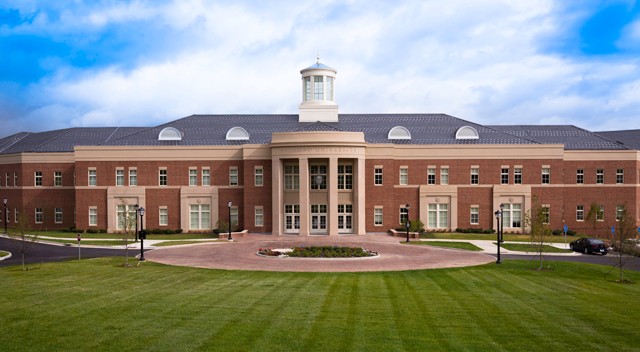 By Becky Brackin
For the second year in a row, Fortune magazine has ranked Radford University's part-time Master of Business Administration (MBA) degree among the best of its kind.
The esteemed financial publication included the Davis College of Business and Economics' program on the upper-end of its 2023 listings of the country's top part-time MBA programs.
The magazine first began ranking such programs in 2021 when it evaluated 150 schools across the United States, then selected 70 of those to highlight. This year, the list singled out just 59.
To compile its rankings, Fortune considered questionnaires submitted by schools, as well as information from university websites and feedback from various companies and executives. The overall list was determined by evaluating each school's program scores, brand scores and Fortune 1000 scores.
Can Dogan, director of Radford University's MBA program, said he was proud it ranked high yet again.
"This recognition not only shows the academic quality of our program, it also spotlights the commitment of our faculty, staff, and students to the highest standards. It certainly is a collective effort," Dogan said.
"We are also very happy that our efforts to develop a high-quality and flexible MBA program for working professionals have paid off," he added. "This distinction will be another source of motivation for us and we will continue to improve our MBA program."
While pleased with the program's ranking for the second year, Davis College Dean Joy Bhadury said it did not come as a complete surprise.
"This outstanding recognition is the expected outcome of the high-quality MBA offered by the Davis College faculty and staff. While we have known that to be true all along, it is indeed gratifying to se,. "
Business students have acknowledged they selected Radford University's part-time MBA program because of its convenient online options, its value and the flexibility it offers, in that its completion times can be as short as one year, or as long as six, depending on the student's pace and preferred schedule.
Graduates have also cited Radford's faculty, which has excellent professional credentials and brings experience into the classroom by merging academic elements with a real-time work environment for students.
Of the various schools selected, Fortune's editors wrote: "These top part-time MBA degree programs not only offer top-notch curriculums and access to world-class business school professors, but they also have a track-record of seeing their alumni climb to the tops of the Fortune 500 world."
Radford's part-time MBA program has also previously been included in 2022 "best of" lists by U.S. News & World Report and by the Princeton Review.