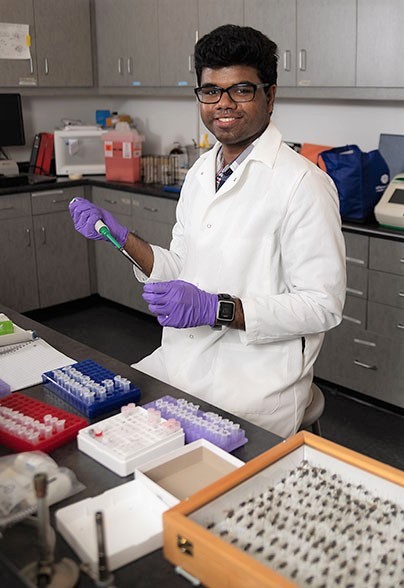 Radford University Carilion (RUC) biomedical science student Binuk Samarasinghe hopes to one day become a physician, but that wasn't always the path he saw himself following.
Samarasinghe moved to the United States with his family from Sri Lanka when he was 12 years old. As he grew older, he thought that a career as an engineer would be best for him, knowing it could lead to lucrative and stable employment. While those goals were still important to Samarasinghe, as they are to many college students, he soon realized that his destiny lay in healthcare.
"As someone who once lived in a poverty-stricken country," Samarasinghe said, "I am truly blessed to be living in America, the land of ample opportunity. But the qualities that I admire the most about myself, like empathy and the desire to help others be well, were instilled in me by a culture 10,000 miles away."
Samarasinghe said those qualities were the driving force in his decision to change majors and focus on developing a career in medicine. He not only changed majors; he left the school where he was studying engineering and enrolled at RUC. Several factors drew him to the small campus in downtown Roanoke.
"I see myself as a native Roanoker, since I have lived here since I was young," Samarasinghe said. "Transferring to RUC gave me the chance to be closer to family, which is important to me."
Once enrolled, Samarasinghe found another bonus in the smaller size of RUC. It allowed him to bond more closely with his professors, giving him a chance to absorb a deeper understanding of the material he was studying and researching.
"RUC has allowed me to benefit from the wisdom and life experiences of my professors," he said, "many of whom not only care about my academic success but are also interested in my personal well-being. You can't find that kind of personal investment at many larger colleges and universities."
Samarasinghe said the RUC biomedical science program also offers him versatility. As he works toward his goal of becoming a physician, the program gives him the opportunity to conduct important healthcare-related research that can improve the lives of patients around the world.   
"As a physician, I hope one day to alleviate the suffering of the sick, one patient at a time," Samarasinghe said.   "We are all preoccupied with seeking happiness for ourselves, but rarely do we stop and think about the happiness of others. For myself, I've come to see that true fulfillment can only be achieved by helping others."
At the moment, Samarasinghe is conducting two research projects. The first focuses on investigating a multi-drug resistant bacterium associated with both recurrent chronic infections and severe acute infections in immuno-compromised patients. The bacterium is one of the major causes of hospital-acquired infections, resulting in high morbidity and mortality rates.
The second project has Samarasinghe investigating the presence of parasitism in the local bumblebee population, leading to a decline of the species.