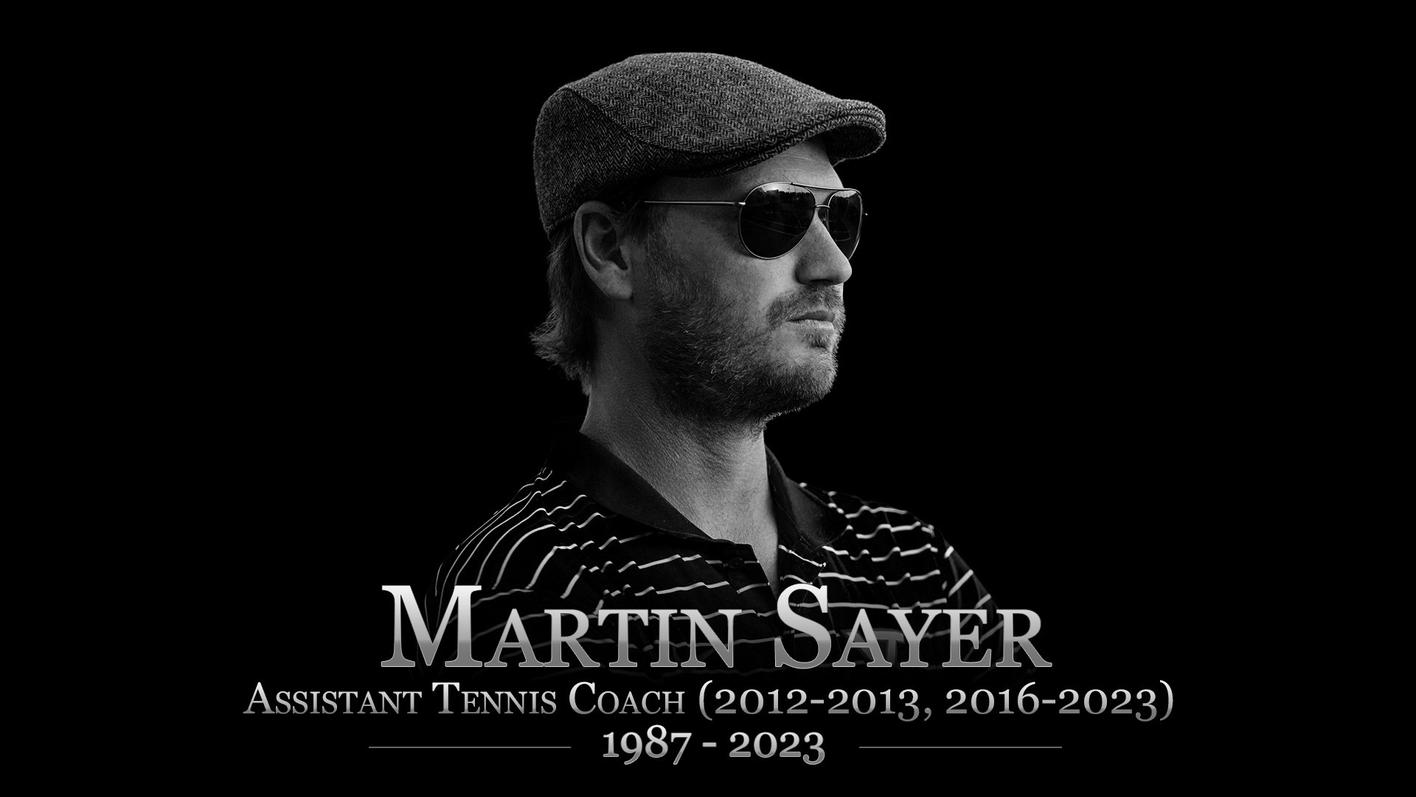 Virginia Tech Athletics is deeply saddened to announce the passing of assistant men's tennis coach Martin Sayer. He was 36. 
"Our thoughts and prayers are with the Sayer family and everyone impacted by the devastating loss of one of our own," director of athletics Whit Babcock expressed. "Martin was a beloved member of our athletics family whose passion for tennis and unwavering commitment to our student-athletes were undeniable. His legacy will live on through the countless lives he impacted, both at Virginia Tech and Radford." 
Sayer joined the men's tennis program as an assistant coach ahead of the 2016 spring season and served in that role for eight seasons. While with the team, Sayer played a pivotal role in three NCAA Tournament appearances: 2016, 2018 and 2021.  
Sayer assisted the oversight of Joao Monteiro's run to the NCAA Singles Final Four in 2016, which is the furthest a Hokie has progressed in the singles tournament. Mitch Harper, Jason Kros and Ryan Fishback later joined Monteiro as student-athletes that qualified in singles for the NCAA Tournament. Five doubles pairs qualified for the NCAA Tournament during Sayer's tenure at Tech, as well. 
Prior to being named assistant coach for the Hokies in January of 2016, Sayer spent two seasons as head coach of Radford women's tennis – beginning in August of 2013. Ahead of his time with the Highlanders, he served as an assistant for both the Virginia Tech women's tennis team and the Radford men's tennis team. 
Sayer was part of the Highlanders' staff when they claimed the 2010 Big South regular-season title and 2011 Big South tournament title. He was an integral part of Ivan Salec's development as a player en route to the NCAA Singles Tournament in 2010 and 2011. 
As a player at Radford, Sayer was and will remain a standard for excellence. The program's all-time leader in wins (114), he was a four-time Big South Player of the Year and made four appearances in the NCAA Singles Tournament – twice advancing to the Round of 32. Paired with Zack Watson, Sayer was part of the first RU duo to earn an at-large appearance in the NCAA Doubles Championship in 2009. 
On the international stage, Sayer was a member of Hong Kong's Davis Cup team and was part of one of its most successful doubles pairs with Brian Hung, posting a 4-1 record. Sayer first represented Hong Kong in the 2005 Davis Cup.
Sayer was married to the former Ashley Glass and the couple have one son, Roger.
Virginia Tech Athletics