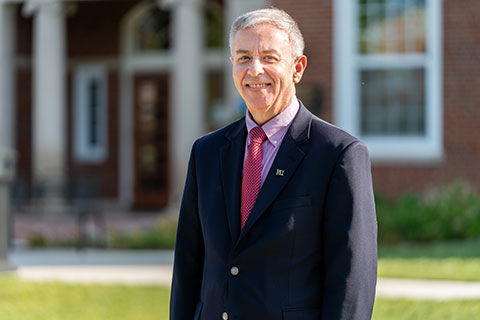 RADFORD – An opportunity to use human cadavers to teach anatomy and physiology is what first persuaded Orion Rogers to pursue a faculty position at Radford University.
However, the "driving force" that kept him at the university for 28 years, he said, was the daily opportunities he had to make an impact on the lives of others.
Rogers read the ad for the open assistant professor of biology position in the fall of 1993 and soon thereafter began his illustrious career as a teacher, leader, and to so many along the way, a mentor and a friend.
"I was thrilled to join the biology department in August 1994 and contribute to the missions of teaching excellence and supporting students to achieve academic and professional success," he said.
After just a few years of teaching at Radford, Rogers began working with the Honors Academy and served as its director from 2000-2003. "Mentoring exceptional students was very rewarding for me," he said.
January 2006 brought a new challenge his way. That's when he began serving as chair of the Department of Biology. A few years later, he was named founding dean of the then-newly organized College of Science and Technology. In 2019, Rogers began working as the interim dean of the College of Graduate Studies and Research, and in 2021 he was asked to fill the prodigious roles of interim provost and vice president for Academic Affairs.
Not long after transitioning into the leadership role, Nancy E. Artis '73 presented Rogers with a gift, a water globe with a roller coaster inside.An attached note read, "You know you have my support in whatever you do. May this 'roller coaster' reminder keep you aware of the wild ride you are embarking on."
Serving as interim provost and vice president for Academic Affairs for the past year "has been a wild ride and a rewarding experience," Rogers said, reflecting both on the role and on a fulfilling career at Radford from which he retired on June 24, 2022.
"I have so many people to thank for providing opportunities and opening doors for me," Rogers said. "I have received far more than I have given here at Radford, and I am very grateful for the opportunities that have taken me places I never imagined I could go."
Rogers and his wife, Valerie, have created the Rogers Career Readiness Endowment Award, a fund that provides students with brand new professional attire and shoes to help them look their best and feel fully prepared when they present their research at conferences, career fairs, networking opportunities, and interviews. 
"Valerie and I are honored to support the missions of Radford University that provide transformative experiences and learning opportunities for our students," Rogers said. "We are inspired by the commitment of the faculty and the Center for Career and Talent Development staff to prepare students for successful professional careers, and we are impressed by the resources and services provided by the Career Closet."
Across the decades, his focus has always been on the students.
"I will never forget the day in March 2011," Rogers said, heaping praise on former students who have gone on to achieve success, "when I was notified that Brandon Newmyer '12, then a junior biology major, had received the Goldwater Scholarship, the most prestigious honor in the United States conferred upon undergraduate students studying the natural sciences, mathematics, and engineering. Brandon went on to earn his Ph.D. in neuroscience at the University of Virginia."
The professor also recalls alumnus Jason Wingate '03, who, after graduating from Radford, went to graduate school at North Carolina State University. He worked "in the lab where I had conducted my doctoral research," Rogers said. He also mentions Brandi Norman '06, whom he taught in three biology courses at Radford and who is now a faculty member at the University of North Carolina-Pembroke.
Jesse Seamon, an orthopedic surgery specialist at Carilion Clinic in Roanoke, knows full well how Dr. Rogers has affected his students. "I met Dr. Rogers in the summer of 2001 when he taught my summer course," Seamon said. "That course changed my life. His enthusiasm for teaching and his brilliance with the subject material inspired in me a desire to become a physician. His patience and his mentorship made it possible for me to get there. I will always be grateful to Dr. Rogers."
Seamon's praise epitomizes what Rogers calls "the mission at Radford," which is "to provide students transformative learning opportunities and experiences. I am inspired by the stories of our students who achieve success they never dreamed possible."
Another "vivid example," he said, is physics alumna Jordan Eagle '16, who, after graduating from Radford, sent an email to faculty thanking them for helping turn her fear of math "into curiosity." The "challenges I thought I would never face," she wrote, "I have come to enjoy and now intentionally seek."
In 2019, Eagle was awarded a Chandra X-ray Observatory predoctoral fellowship to study the origins of cosmic rays at the Harvard-Smithsonian Center for Astrophysics in Cambridge, Mass. In August of 2022, she will earn a Ph.D. in physics and astronomy from Clemson University and continue her professional journey as a postdoctoral fellow at the NASA Goddard Space Flight Center.
"Jordan's experience from [being] terrified of math and science courses to a Ph.D. in physics and postdoctoral fellowship at NASA is compelling evidence of the dedication of Radford faculty to student success," Rogers said. "The opportunity to contribute to transforming the lives of our students and their families is the driving force that has kept me at Radford University."  
Like Eagle and so many others who have been caught in the allure of Radford University, Rogers said becoming a member of the Highlander family "has transformed my life professionally and personally and enabled me to achieve success I never dreamed possible." 
Chad Osborne
Radford University