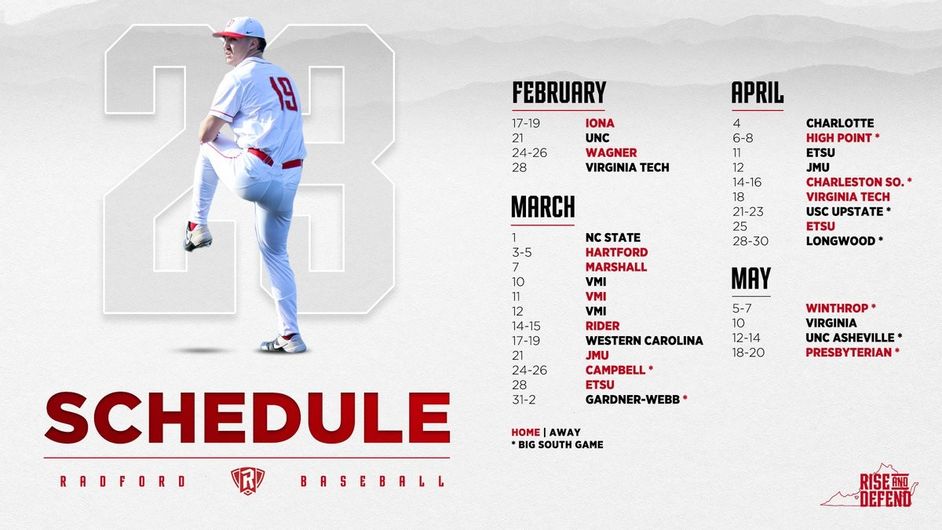 The Radford University baseball team has released its 2023 schedule. It features 14 unique non-conference opponents, a full round-robin Big South schedule, and the renewal of several historic in-state rivalries.
The Highlanders will begin the season on Feb. 17 as they host Iona for a three-game series. It will be the first meeting between the two programs since 2013 andis  just the second home season opener against Iona for Radford since 1994.
The following week Radford will travel to Chapel Hill, N.C., for a midweek contest against North Carolina on Feb. 21. The meeting with the Tar Heels will be the first of four ACC opponents that the Highlanders will face, as they make trips to Virginia Tech (Feb. 28), NC State (Mar. 1), and Virginia (May 10).
Radford will also play host to Virginia Tech on Apr. 18. The Hokies come in as defending ACC regular season champions, having made the NCAA Super Regionals a season ago. Radford and Tech have met 66 times in their history, the most meetings among any non-Big South member that Radford has played.
The Highlanders will also welcome non-conference opponents Wagner (Feb. 24-26) and Hartford (March 3-5) to Carter Memorial Stadium. Following the Hartford series, Radford will travel to Marshall for a non-conference matinee on March 7, and then play a three-game series against VMI (March 10-12), with the Friday and Sunday games being played in Lexington, Va., and the Saturday game hosted in Radford.
In the Big South portion of the schedule, Radford will host defending Big South conference champions Campbell (March 24-26) as well as High Point (April 6-8), Charleston Southern (April 14-16), Winthrop (May 5-7), and Presbyterian (May 18-20). The 2023 season will see the return of a full round-robin conference schedule, as Radford will play all nine Big South opponents for a total of 27 conference games.
Elsewhere on the slate, the Highlanders will have home non-conference matchups against Rider (March 14-15) and East Tennessee State University (March 28). In addition, Radford head coach Alex Guerra will reunite with his former team as the Highlanders will play host to James Madison University on March21. Guerra was an assistant with the Dukes for seven years. Radford will make the return trip to Harrisonburg on April12, renewing an in-state rivalry that has been played 51 times.
In total, the 2023 schedule features 56 games, 31 of which will be played at Carter Memorial Stadium. Other notable non-conference matchups include a three-game series at Western Carolina (March 17-19) and a midweek contest at Charlotte (April 4). Radford will not face any teams that they have not played before this season, though the meeting with Western Carolina will be the teams' first since 1992.