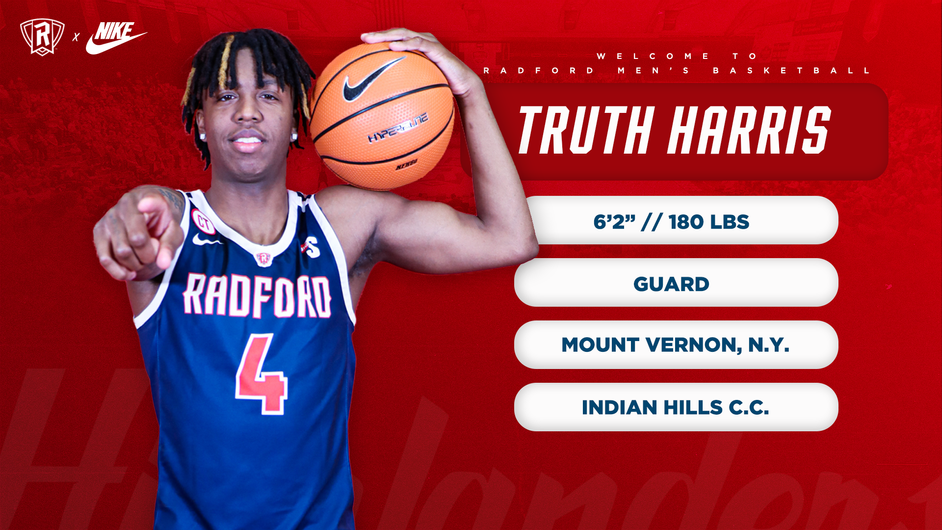 Radford University head men's basketball coach Darris Nichols has announced the addition of guard Truth Harris. 
He will join the Highlanders for the 2023-24 season. 
"We are excited to welcome Truth to the Radford family and community," said Nichols. "He is a hard worker and loves the game. He has a combination of speed, athleticism, and shooting/playmaking ability that will be an immediate help to our program." 
A 6'2″, 180-pound guard hailing from Mount Vernon, N.Y., Harris gives the Highlanders an exciting new floor general who can score the ball and set his teammates up for success in equal measure. He was ranked as the No. 57 JUCO player in the nation by jucorecruiting.com. 
Harris most recently played at national JUCO powerhouse Indian Hills Community College where he averaged 9.4 points, 2.3 rebounds, 2.2 assists and 1.6 steals per game while starting 16 of 34 games played. He shot 41.0% from the field, 37.6% from three and 78.4% at the free throw line.
His strong play helped the Warriors each the JUCO National Tournament with his very best performance coming in a 37-point outburst with seven three-pointers against No. 9 Dodge City.
Prior to Indian Hills, Harris played one season at Pensacola State where he was named First Team All-Panhandle thanks to a stat-line of 12.9 points, 3.1 rebounds, 3.2 assists and 1.6 rebounds per game across 26 contests (24 starts).
 After a standout career at Mount Vernon High School and Trinity Pawling Prep School, Harris signed with ETSU where he appeared in 18 games as a true freshman. 
Harris will be joined by freshmen newcomers Trenton Walters and Trevor Roe, as well as Josiah Harris, who transferred into the program from St. Francis Brooklyn earlier this offseason.
Radford University Athletics