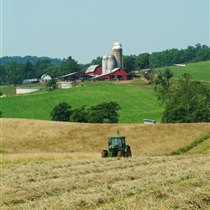 Sometimes a grant can make the difference between implementing new business plans and product offerings or postponing them another few years.
That was the case for Kelly Turkeys LLC in Albemarle County. Operating since 2015, Kelly Turkeys raises, processes and sells heritage KellyBronze breed turkeys through direct and retail markets.
Currently offering whole birds and bone-in breast pieces, the business now plans to expand into ground turkey—thanks to a $24,000 grant from the Governor's Agriculture and Forestry Industries Development Fund Infrastructure Grant Program. The AFID fund allows the governor to make discretionary, matching grants to localities through grants that support economic development related to agriculture and forestry in Virginia.
"The grant's going toward the equipment needed to produce ground turkey and to convert one of our coolers into a freezer," said Kelly Turkeys owner Judd Culver.
Culver said people have been asking him for ground turkey for five years, and he has a waiting list of customers. With the grant, he will be able to offer the new product in time for the summer grilling season.
"It's going to expedite our ability to buy the equipment and produce ground turkey," he said. "If we had to do it on our own, it'd probably be another two years before we could afford it."
Culver's small, family-run business is one of 10 AFID grant recipients recently announced by Gov. Glenn Youngkin in the latest round of grants totaling $368,885. Since 2012, nearly $14 million in AFID funds have been awarded to more than 200 projects for planning, facilities, and infrastructure.
The AFID program invests in community infrastructure development projects that aid small-scale farmers and entrepreneurs, and this round of awards ranged from approximately $15,000 to $50,000 each. Recipients included independent businesses that process meat, poultry, and vegetables, as well as food processing facilities operated by nonprofits or local governments, like community canneries, local commercial kitchens, farmers markets, and food hubs.
Grants like these are important to local producers in growing their operations, while also helping the bigger picture of Virginia's economy, said Whitney Perkins, assistant director for the Virginia Foundation for Agriculture, Innovation and Rural Sustainability.
"Together, through grants like AFID, our local economies and producers work hand-in-hand to strengthen our local and regional food systems," Perkins said.
Applications for the next round of the AFID program will be accepted from April 1 through May 15, with the awards announced in June. Additional information about the program is available at vdacs.virginia.gov/agriculture-afid-infrastructure-grants.shtml.