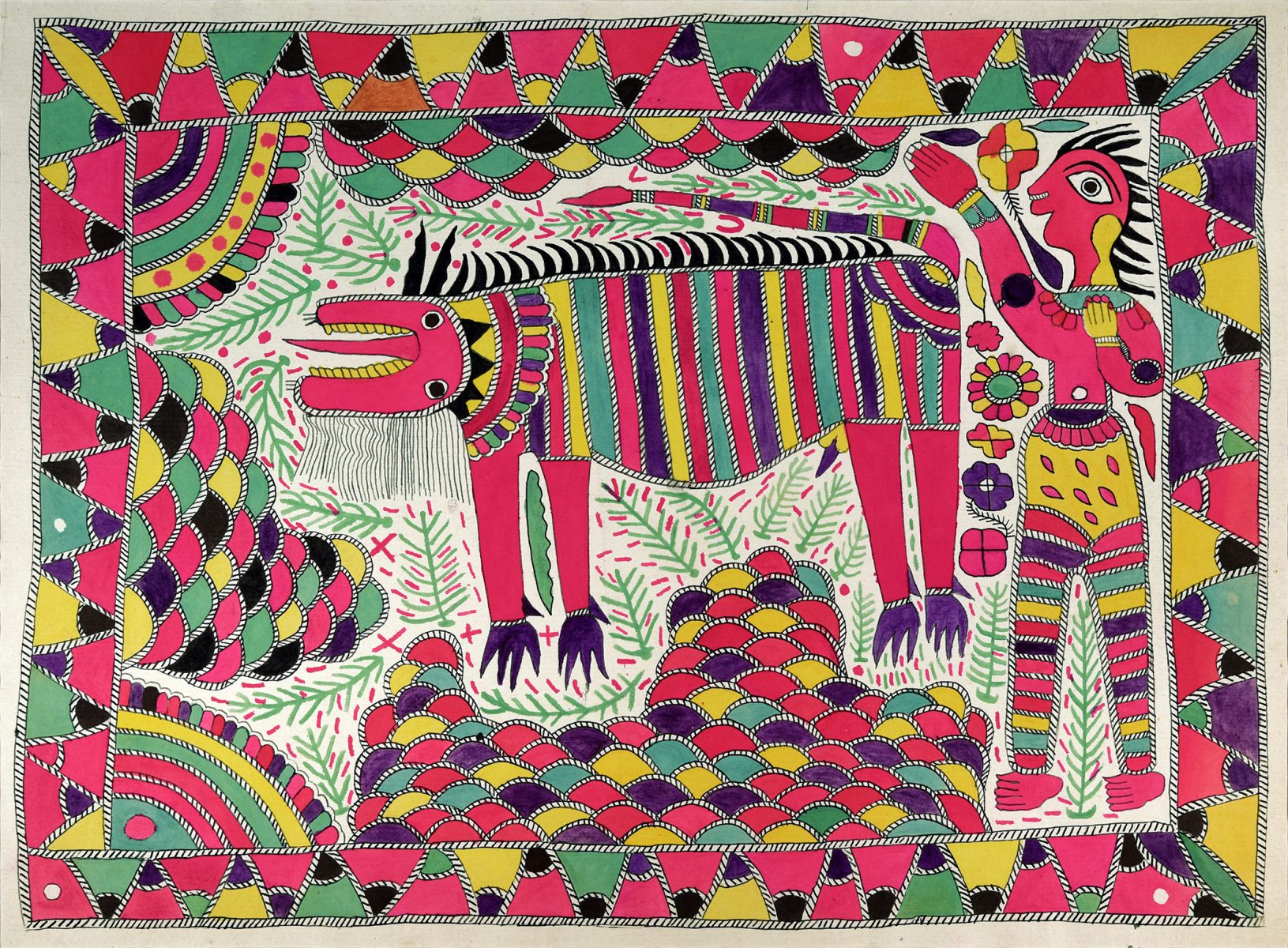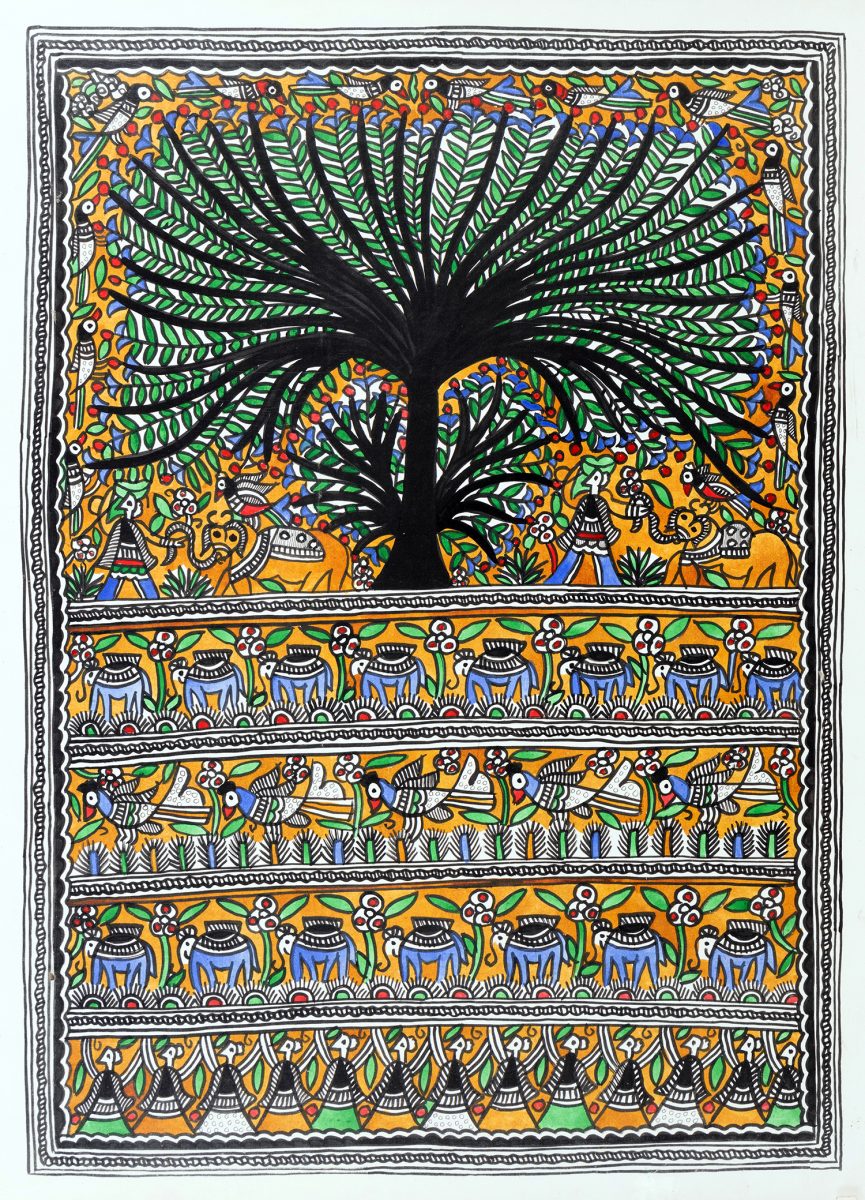 Sean Kotz  
RADFORD –  On Thursday, Oct. 13, Raja Salhesh's Garden, an art exhibit featuring works from the oppressed Dalit community of India's northern Mithila region, will open in Radford University's Art Museum at the Covington Center.
This is the first international group exhibition of Dalit art shown anywhere.     
The groundbreaking exhibit is curated by John Bowles, who has worked for years to bring forward these underexposed artists. Although India's Dalits (formerly called "untouchables") number more than 200 million, their art has received little attention, even in their own country. Bowles says the uniqueness and importance of the exhibition go hand in hand, describing Dalit work as "astonishingly underappreciated and rarely seen.    
"Unfortunately, in the eyes of many of their Indian compatriots, the Dalits have been perceived as having no real culture or aptitude for creating art."  
The paintings on display at the museum, however, attest to Dalit art as highly creative, intricate, and captivating for viewers. Therefore, Bowles stresses, bringing Dalit art to the public in this way challenges stereotypes and misperceptions about this centuries-long maligned community.  
Less encumbered by the visual conventions and subject matter followed by most of their upper caste neighbors, Mithila's Dalit artists' paintings offer some of the region's most innovative and vigorous imagery.  
"There could be few people in the world more economically, culturally, and socially marginalized than the Dalits of Mithila," says Bowles, noting this is particularly true of the Dalit women. "Yet, these paintings radiate positivity, powerfully and beautifully expressed, sometimes with remarkable rhythmic boldness, sometimes with delicate subtlety, that might be compared to jazz music."  
The historic exhibition features paintings by 17 of Mithila's leading Dalit artists which range from Jamuna Dev's colorful depictions of the Dalit hero-deity Raja Salhesh to Urmila Devi's intricate imagery based on tattoo designs.  
And contemporary concerns occasionally arise in Dalit art. A series of 19 drawings by Ranjit Paswan depicts COVID's impact during India's prolonged nationwide lockdown.  
While Raja Salhesh's Garden is the season's main exhibition at the Radford University Art Museum, it is not a stand-alone event. The Radford Art Museum has also helped coordinate three satellite art exhibitions. 
 "Mithila Medley" at the Floyd Center for the Arts shows works by both Dalit and upper caste artists in Mithila. Blackburg's Miller-Off-Main Street Gallery presents a solo exhibition of paintings by the emerging Dalit artist Naresh Paswan, and the Mithila-inspired illustrations by the French author and Legion of Honor inductee Martine Le Coz are on display at the Art Museum's Tyler Gallery. 
Other complementary events include a documentary screening, two stage plays, and an international symposium, "Mithila Musings."   
The first part of "Mithila Musings" takes place at the Floyd Center for the Arts from 9:30 to 11:30 a.m. on Oct. 13. The second runs from 2:30 to 4:30 p.m. at Radford University's Davis Auditorium in the Covington Center.
Not surprisingly, this effort has been several years in the making.  
Museum director Steve Arbury says preparing an exhibition such as Raja Salhesh's Garden is a long, time-intensive process that "requires great attention to detail, even more so in this case because we are also publishing an online catalog to accompany the exhibition." The process involves selecting art from numerous sources, photographing, framing, writing text panels, acquiring new scholarly essays, researching and writing catalog entries, and finally mounting the exhibition.  
"And each of those processes has multiple layers," says Arbury. "Catalog entries and text labels require extensive research, as well as multiple proof readings by several people. "And installation must be preceded by loan arrangements, international shipping, local framing, and careful planning of the location of each work in the gallery."  
However, the results are more than worth the effort.   
The team has produced an impressive collection and an exhibition of various works that John Bowles hopes will delight and impress those who come to see it.  
"The transformative power of art should never be underestimated," he says with enthusiasm.   
He points to the fact that most of Mithila's artists are women whose artistic talents have led them to become respected family breadwinners for the first time. In turn, the artists have been able to improve their personal economic conditions and the social and cultural standing of the Dalit community in general.  
"Whatever one's material circumstances in life, the human spirit can create visions of transcendence that are deeply moving and transforming," Bowles said.     
For more information on Raja Salhesh's Garden, as well as the other events, visit Radford University's Art Museum webpage.     
All events and exhibits are free and open to the public. No tickets are required.