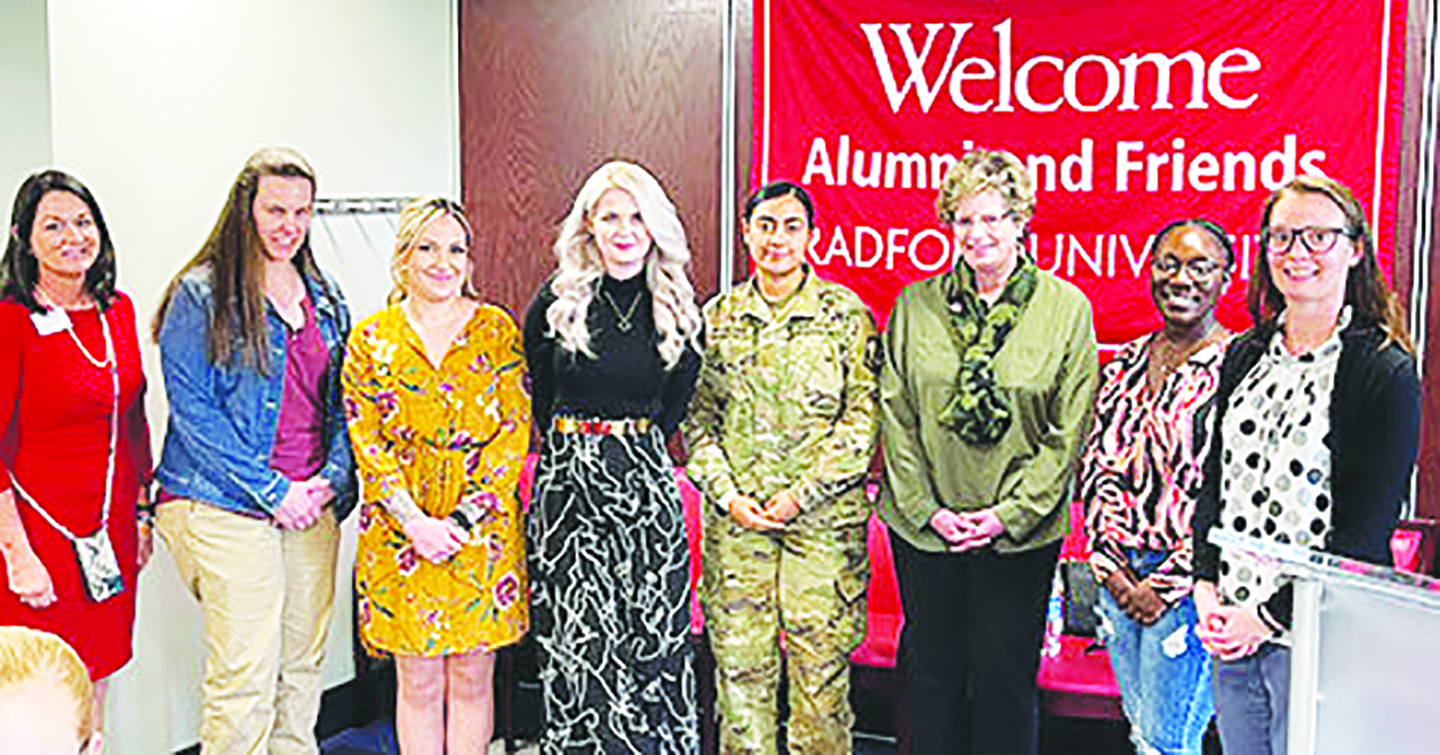 Camaraderie, not camouflage, was the order of the day as the Military Resource Center saluted the women veterans past and present among Radford University's students, faculty and staff with a pinning ceremony and reception on Thursday, March 23.
"It was great to publicly acknowledge the military service and sacrifices made by each of these women and their families, and we are truly thankful for their service," said Deanna Mabe, MRC director.
About 40 to 50 attendees honored Radford's women veterans at the ceremony, which was hosted in Russell Hall by the MRC in partnership with the Virginia Department of Veterans Services. Presiding over the event were Student Veterans Organization co-presidents Shaun Landry, a senior management major and U.S. Marines veteran, and Troy Stallard, a senior biomedical science major and U.S. Air Force veteran.
Six women veterans received pins in honor of the sixth annual Virginia Women Veterans Week. The pinning was conducted by Danielle Rock '18, a U.S. Army veteran and peer support and outreach counselor with the veterans services department.
 "It is truly an honor for me to come back to campus and recognize these women veterans," Rock said. "Radford University helped me transition into the civilian workforce, connect with fellow veterans and shape who I am today." 
The veterans honored at the ceremony were:
Amanda Bishop, senior criminal justice major, U.S. Army veteran.
Tina Cox, file and documents manager, Financial Aid Office, U.S. Army veteran.
Antoinette Donkoh, junior nursing major, U.S. Army veteran.
Reyna Hernandez Osuna, junior accounting major, U.S. Army veteran.
Sarah Schafer, senior criminal justice major, U.S. Air Force veteran.
Sofia Stallard, senior nursing major, U.S. Air Force veteran.
"I was personally touched by sitting and listening to the conversations and the stories of older and younger veterans," Mabe said. "You could see them making connections and friendships … it was heartwarming to see their support of each other."
Bishop, who was stationed in South Korea and deployed to Kuwait during her Army service, agreed. 
"It was really cool to be able to meet and talk with other female veterans at Radford University and learn about their military service," she said.
Cox said she was pleased to discover so much common ground. She was "a bit intimidated by the student veterans on campus with their impressive military experience," she said, since her enlistment was stateside and noncombatant. At the ceremony, though, she felt she'd found "a second campus family. These women are remarkable, and I'm grateful for the chance to get to know them a little better through events like this. I was thrilled to see such a great turnout – which also included male veterans."
Virginia Women Veterans Week was created in 2018 to recognize the service of more than 104,000 women veterans in the state.  Virginia claims the greatest percentage of women veterans per capita of any state in the country.

Pam McCallister for Radford University