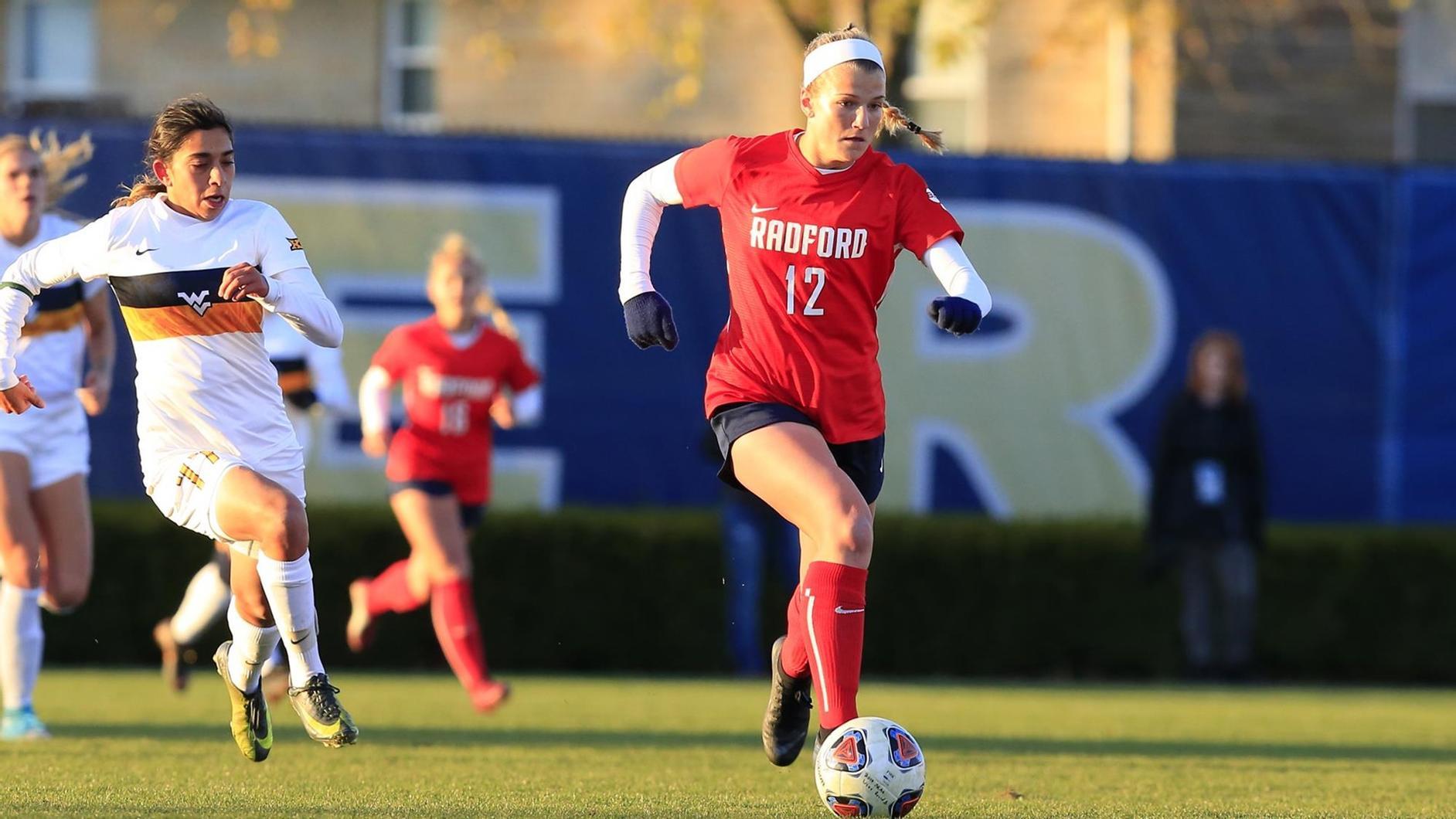 RADFORD – Radford women's soccer alumna Jessica Wollmann '19 is one of a select few student-athletes in the nation to be awarded an NCAA Postgraduate Scholarship.
The NCAA awards up to 126 postgraduate scholarships annually. The scholarships are awarded to student-athletes who excel academically and athletically and who are at least in their final year of intercollegiate athletics competition.
The one-time non-renewable scholarships of $10,000 are awarded three times a year corresponding to each sport season (fall, winter and spring). Each sports season there are 21 scholarships available for men and 21 scholarships available for women for use in an accredited graduate program.
All former student-athletes who earned an undergraduate degree from an NCAA member school are eligible to be nominated by that school for an NCAA graduate degree scholarship, regardless of when they received their undergraduate degree.
"In order to provide Ms. Wollmann with the best reference possible, we had a series of Zoom interviews and email exchanges," noted Radford Athletics' NCAA Faculty Athletics Representative Holly Cline. "I have enjoyed getting to know Jessica on a personal level. She is smart, kind, and extremely impressive. She has a clear vision as to why she is pursuing a PhD. And it is no wonder why she competed so fiercely in her sport. Within ten minutes of talking to her, I could tell that she was driven to achieve her graduate degree and destined to be successful."
Wollmann finished her undergraduate studies with a perfect 4.00 GPA while majoring in anthropological studies. She was named the 2019 Virginia Collegiate Honors Council (VCHC) Scholar of the Year, Big South Woman of the Year and Scholar-Athlete of the Year, a CoSIDA Academic All-America First Team member and most recently the Big South Female Scholar-Athlete of the Year. Wollmann was a Top 10 Finalist for the Senior CLASS Award and a recipient of the Big South's prestigious Christenberry Award for Academic Excellence.
The Blacksburg native was also awarded the Radford Artis College of Science and Technology Outstanding Student Award at the end of her senior year. Wollmann's volunteer activities included the Blacksburg Girls Soccer Program, Martin Luther King Day of Service, the Montgomery County Special Olympics, and Fear 2 Freedom – student-made kits for when sexual assault survivors are released from the hospital. She was also involved in the Radford University community with the Center of Accessibility Services, Student Government, the Anthropology Club and the Board of Visitors.
She finished her playing career as a Highlander with 63 starts across 69 games played. As dangerous a forward as there was in the entire Big South, she scored 20 career goals and added 19 career assists for 59 total points.
Since leaving Radford, Wollmann has been working towards a graduate degree at the University of Toronto and will pursue her Ph.D. as well. Amongst her many passions, she hopes to inspire future scientists by curating museum exhibits geared to scientific and creative inquiry.
Radford University Athletics