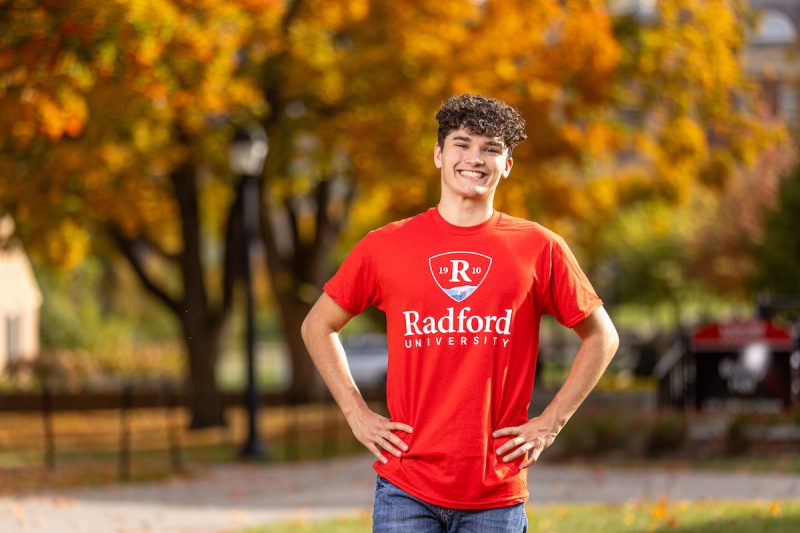 RADFORD – Radford University has unveiled a new brand identity.
The newly revealed Radford University logo includes "a prominent "R" paired with the iconic Radford red color, visually represents our rich history and forward-thinking spirit," according to a statement by the university.
"The university's brand identity and visual marks are a representation of who we are as a university and have been thoughtfully created to encapsulate the essence of Radford University and our enduring legacy of academic excellence," according to Radford University. "The brand will be implemented in phases beginning in fall 2023."
"To solidify Radford University's standing as a premier, student-focused institution, we have sought to define our distinctive role as a university, tell our story more effectively and embrace the characteristics that make the Radford experience unique," said Bret Danilowicz, Radford University's president. "The new visual marks and accompanying brand pillars allow us to better communicate and market Radford to the Commonwealth of Virginia, and beyond, and effectively connects the university's past, future, place, and people in an appealing way."
The university describes the new logo as an attempt to incorporate history and location to better market Radford:
"The new Radford University logo is a visual narrative creatively designed to communicate the university's history, picturesque location and the resilient spirit of our students. A bold "R," set alongside the year of Radford's founding, 1910, is a reminder of our rich heritage. The iconic Blue Ridge Mountains are elegantly portrayed, paying homage to Radford's stunning natural surroundings. Nestled within the mountains is a wayfinding symbol that embodies the exploratory character of Radford students and the transformative experiences the university delivers. The elements are contained in a shield that represents the strength of our tight-knit community and the academic excellence that we provide. The simplicity and prestige of the university's new visual marks are strategically chosen for Radford University. An updated color palette, with names that reflect our legacy and provenance, is also part of the new identity system."
Vice President of Economic Development and Corporate Education Angela Joyner, who, according to RU, has an extensive background in large-scale branding, led the rebranding efforts in partnership with an internal cross-functional team and VisionPoint Marketing, "with input and feedback from more than 3,000 students, faculty, staff, alumni and community members," over the past year-plus.
"The purpose of this endeavor was to celebrate who we are as a community and elevate the university's brand," Joyner said. "It was also an opportunity to tell our story with one voice in a way that honors our past and invites new generations of Highlanders who will join us in the future. The university's brand pillars, visual elements and creative campaign tell a compelling story that is unique and authentic to Radford University. I am honored to have been a part of this collaborative experience and work with such an amazing community on this important project."
Also, five new brand pillars will "focus on the essence of Radford University, what we offer and the characteristics that make us distinct. The new brand platform will inform our messaging experiences in the future. A new creative campaign will be released later this fall, and a new website will launch in 2024." 
University officials say the new branding captures what makes Radford unique.
"With the new look, Radford's brand conveys a sense of confidence and a human touch with its messaging and creative presence," the statement reads. "Our brand story captures who we are as a university and highlights what makes us unique. Radford University is thrilled to introduce this new brand, which celebrates who we are and represents our commitment to both honoring our legacy and continuing to forge new paths in the future."
Radford News Journal staff report