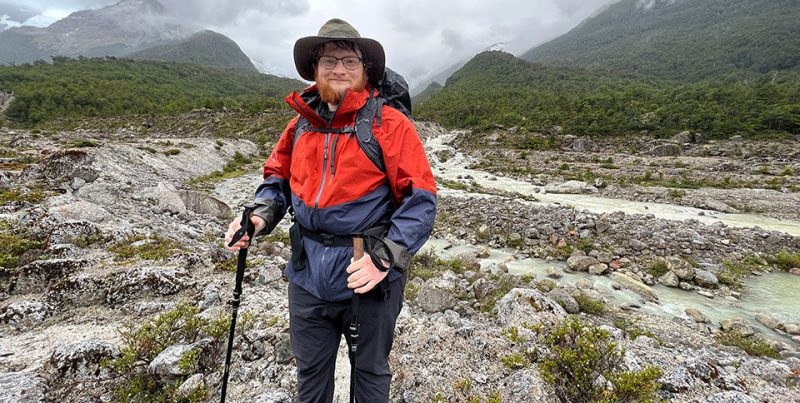 In January, Garrett O'Hara walked through a valley in central Chile, snapping pictures of boulders with his cell phone.
The senior geology major from Burke, Va., was traveling through the Patagonian region of South America with Associate Professor of Geology Ryan Sincavage and colleagues from the University of Colorado-Denver. They were part of a field excursion to collect data to further study the catastrophic glacial-outburst flood there in 1989.
O'Hara planned to pair his phone photos with images being gathered by drones to help calculate the mass of various boulders in the valley. "This will help us make calculations about the discharge of the flood as well as patterns of sediment dispersal and deposition during such events," explained Sincavage.
O'Hara's project from the excursion "involved 3D modeling several boulders to get their volume and subsequently mass," he said. "Comparing the mass of the boulders to their distance from the glacial lake, you can calculate the magnitude of the flood as it went down the valley."
O'Hara presented his findings in a poster session in mid-October at the Geological Society of America Connects national conference in Pittsburgh.
In December, O'Hara and Sincavage will present posters on the topic at the American Geophysical Union meeting in San Francisco. Professor of Physics Rhett Herman and Geospatial Science Assistant Professor Naveen Joseph will also attend the meeting where more than 25,000 scientists from more than 100 countries are expected to attend.
Radford University