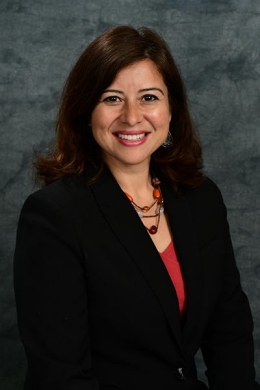 RADFORD – Dannette Gomez Beane, Ph.D., has been named vice president for enrollment management and strategic communications at Radford University, effective August 1.
Beane will oversee a newly aligned administrative unit that encompasses all enrollment management operations, including admissions, financial aid and undergraduate recruitment. In addition, she will provide leadership to the office of university relations.
For the past three years, Beane served as assistant vice provost for enrollment management and strategic initiatives at Virginia Tech.
"Dannette is a leader who values the wealth of possibilities that higher education provides," President Bret Danilowicz said. "She is committed to building a collaborative, open and inclusive culture for students and staff. With more than 20 years of higher education leadership experience, including 17 years at Virginia Tech, Dannette has deep connections to the New River Valley and understands why Radford University is an attractive choice for prospective students."
"I meet educators, health professionals, business leaders and others who realized their potential when they attended Radford University," Beane said. "These Highlanders impact other individuals, economies and communities and make them better. I am honored to lift up those stories and recruit new Highlanders to continue the legacy of impact in Southwest Virginia and beyond."
In leading operations that oversaw the enrollment of more than 37,000 students at Virginia Tech, Beane developed enrollment strategies to meet institutional priorities. Beane's accomplishments included significant growth in applications and in-person visits, and an increase in the enrollment of underrepresented and underserved students. Beane also served as director of recruitment and operations for Virginia Tech's office of undergraduate admissions, and as director of the office of recruitment and diversity initiatives for Virginia Tech's graduate school.
A native of Texas and a first-generation college student, Beane earned a bachelor's degree in communication studies at Hollins University in Roanoke. She received her master's degree and Ph.D. in counselor education from Virginia Tech, and has taught counseling as an adjunct instructor and guest lecturer at several institutions, including Radford and Virginia Tech.
In her permanent role, Beane takes over for Angela Joyner, Ph.D., and Penny White, who have held interim leadership roles overseeing enrollment management and university relations. Joyner will resume full-time duties as vice president for economic development and corporate education, while White will continue serving in the role of interim vice president for university advancement.
Patrick Reed for Radford University