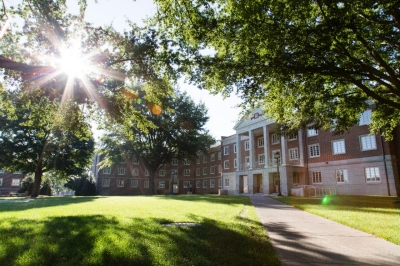 RADFORD – Radford University's standing in U.S. News & World Report's Best Colleges report has risen over since last year.
In the report, Radford University is ranked No. 14 among Top Public Schools, Regional Universities South.
The university was ranked No. 13 among the Best Colleges for Veterans, Regional Universities South, No. 29 among overall Regional Universities, South, and No. 25 among Best Value Schools,  – Regional Universities South.
"The most recent U.S. News & World Report rankings demonstrate that Radford University's faculty and staff are continuously committed to experiential learning and strong faculty/student bonds," said Radford University Interim President Carolyn Ringer Lepre. "Their innovative use of technology and fresh view of curriculum is vital in an ever-changing learning environment. Our alumni are living proof that Radford is a transformational step in building successful careers and creating lasting legacies."
The U.S. News and World Report accolades come during the second year of a merger creating Radford University Carilion that thereby expanded the university's healthcare education portfolio and provided a larger physical presence with an educational site in Roanoke.
Radford University serves some 10,000 students with diverse academic offerings of 76 bachelor's degree programs in 47 disciplines, three associate degrees, and six certificates at the undergraduate level; 28 master's programs in 23 disciplines and six doctoral programs at the graduate level; and 14 post-baccalaureate certificates and one post-master's certificate. At each level and in every program, the university is focused on student empowerment and success while maintaining a keen focus on teaching, research and service.
"We are so proud of our dedicated faculty and staff, our robust academic programs, and our talented students whose desire to grow and learn inspires us all," said Lepre.
Becky Brackin
Radford University