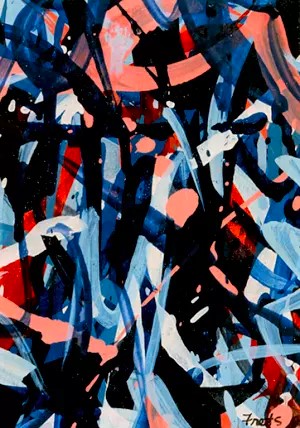 Radford University is hosting a new exhibition, coming to Radford University Art Museum's Covington Gallery, featuring art professor emeritus and Radford resident Paul Frets.
Paul Frets: An Autumn Retrospective, will be open to the public beginning with a free reception Wednesday, Oct. 4, 5 – 7 p.m.
Frets taught at Radford University for over 30 years, starting in 1964. According to Radford University, "Frets made art with elite artist Elaine de Kooning, (wife of Willem de Kooning) in the late 1960s as her personal assistant in New York, after being awarded a fellowship from Carnegie Mellon. Frets is a beloved Professor Emeritus who helped shape the Visual Arts program at Radford University. He is 88 years old and still painting in his studio in Radford."
Frets played an instrumental role in the development of Radford's art program during the time the university was transferring to a co-ed institution. He was instrumental in the formation of the campus art gallery in the former Porterfield Hall.
The show will be open to the public from Oct. 4 through Dec. 2 at Radford University Art Museum's Covington Center Gallery. Regular gallery hours are Monday through Friday, 10 a.m. – 5 p.m. and Saturday noon – 4 p.m.
Radford News Journal staff report