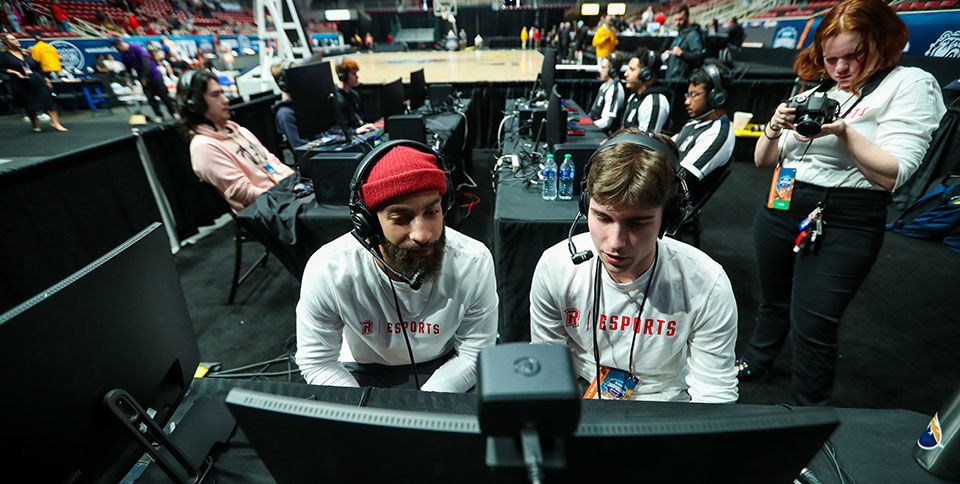 Between dribbles, swishing nets and the sound of sneakers squeaking across the hardwood, spectators at the Big South men's and women's basketball tournaments in Charlotte, North Carolina, on the first weekend in March got a unique opportunity to peek in at another game taking place on the arena's large scoreboard screen hanging high above center court.
"It's basically car soccer," said Doug Benedict, describing in simple terms the video game Rocket League.
For two days, Benedict, the assistant director of Radford University's esports program, accompanied a group of 14 Radford students inside Charlotte's Bojangles Coliseum for the semifinals and finals of the Big South's inaugural esports tournament.
Radford students didn't go to the tournament to simply compete; they ran the show.
It all began in December 2022, when Benedict met with Big South officials and proposed his idea for an esports tournament. After another meeting in January with the conference commissioner and associate commissioner, Radford was granted permission to operate the esports event in conjunction with the league's hoops tournaments.
"We only had about a month and a half to pull this off," Benedict said, speaking about the urgency he and his students suddenly had to work under.
Benedict's idea stemmed from the need to create a major project for a course he teaches at Radford, Applied Issues in Esports Services (RCPT 333). The course is part of Radford's new esports services minor, which was created by the Department of Recreation, Parks and Tourism (RCPT) and offered in collaboration with the Department of English. It focuses on play, community, team-building, inclusion and event planning. 
The minor is designed to prepare students for careers in the ever-expanding esports field. Benedict's course is one of the three required courses, along with Introduction to Esports and Game Studies and Design. There are also six electives students must complete. 
"I have 10 students in my class, which is perfect because the Big South has 10 member institutions," Benedict said, explaining the early stages of the tournament-planning process. "Each student served as a liaison with one of the schools. They were in charge of making sure their assigned school knew everything they needed to know."
The 10 students ran qualifying rounds online in February for all 10 Big South teams. Each team, including a Highlander squad, competed in Rocket League, one of the most popular esports titles.
The top four teams in the Big South qualifiers advanced to Charlotte for the semifinals. Radford's team made it. So did teams from High Point University, Longwood University and esports powerhouse Winthrop University, which has won three national championships. 
In Charlotte, Radford students set up the entire operation, which included logistics for each of the four teams – such as where to be and when to be there – as well as computer station assembly along the basketball court's baseline and the livestreams. 
"You name it, our students had a part in it, and they did it really well," Benedict said of the Radford students' efforts. "We had eight stations to set up, six for gaming and two for streaming. 
"We got it up and down in about 30 minutes each time," which was important, Benedict explained, because of the time constraints of fitting esports matches in a tight window between basketball games.
Two Radford students provided in-game commentary on livestreams that were broadcast on the scoreboard and online on Radford esports' Twitch channel, Twitch.tv/radfordesports.
Student announcers prepared for the broadcasts much like the announcers calling the basketball games for TV and radio, collecting bio and interesting information on each player from the four schools to mention during rare down moments in the game action.
Not everything ran smoothly during the two-day event, as can be expected while running an operation of this size. A miscommunication on day one, Saturday, prevented sound from going out over the arena speakers.
That issue, however, was resolved in time for the finals on Sunday.
"It was a minor hiccup, but it turned into a learning opportunity for everyone," Benedict said. "There is a lot to pay attention to at a large event like that. We were running around trying to figure it out. We got it done; we made it work."
Viktoria Seitzer, a freshman sociology major from Roanoke, Virginia, called the experience "nerve-wracking" and said, "it can be hard to focus when there's so much that needs to be done and so much going on at the same time."
As for the competition, Radford's team won its semifinals match against Longwood and met Winthrop in the finals. The Highlanders won the first game of the best-of-five matchup but had a PC crash afterward. There was a brief moment of panic, but the team steadied and played well through the remainder of the competition. Winthrop, however, prevailed to win the title.
Radford University President Bret Danilowicz, along with a group who trekked from Radford to Charlotte, was on hand to cheer on the Highlanders. Danilowicz introduced Big South Commissioner Kyle Kallander at the trophy presentation. 
The words "Powered by Radford University" were printed on the glass trophy.
Benedict plans for Radford esports to work with the Big South again next year to stage the 2024 esports conference championships, he noted. 
"We want to be the Big South's go-to school for esports," Benedict said. "If this tournament is going to be done every year, Radford has solidified itself as the operator of the event."
It's a perfect concept for Radford's growing program and students who may be looking into esports careers. 
"This tournament gave our students an idea of what could be possible," Benedict said. "It's the theory of existence. If you see it exist, you know it is possible."
Tyrese Hallums was wide-eyed to the possibilities he saw at the event, catching "a glimpse" of what he called "an amazing lifestyle." The senior media studies major from Chester, Virginia, competed and worked the event, creating on-screen overlays and animations.
"It was a great experience to have our program get so much great exposure," said Seitzer, who is minoring in esports. "I could definitely get used to a bigger stage."
"Thankful" is the word Hallums used to describe the new opportunities Radford has and continues to give him and his fellow students.
"Providing an opportunity like this to students not only gives us more options to connect and grow, but it allows us to unify as a student body with something already so deeply ingrained in our society," Hallums explained. "Academic institutions showing that they are willing to be a part of our technological growth gives incoming students more purpose to participate in a university."
The event in Charlotte is one of many opportunities that students have to involve themselves in esports at Radford. Another is the new Esports Center the university opened in August 2022.
The uber-modern facility has 40 gaming stations with high-powered PCs that include, to name just a few specs, Alienware Aurora R13 PCs, NVIDIA GeForce RTX 3080 Ti graphic cards and I9 processors. The center is equipped with alluring LED lights that display an array of colors around the 1,800 square-feet room, giving off an ultra-modern vibe while also evoking an '80s arcade ambiance.
"I firmly believe that Radford University has made the best decision they could possibly make by diving into esports," Hallums said. "This program means everything to me."

Chad Osborne for Radford University