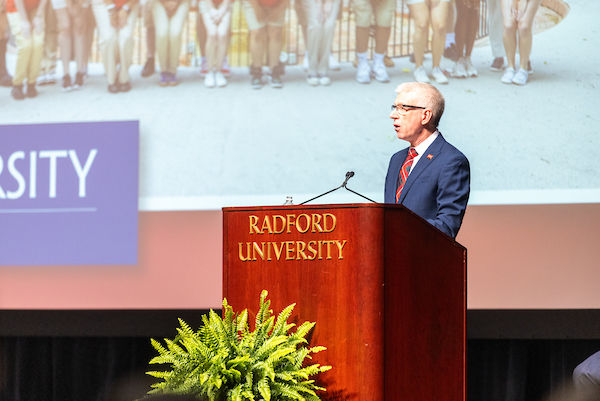 RADFORD – On Friday, Oct. 20, President Bret Danilowicz delivered his 2023 homecoming address, a speech that saluted recent accomplishments while also outlining his specific goals for the two years ahead.
In his opening from the Bondurant Auditorium in Preston Hall, Danilowicz reviewed key advances of the past six-year plan, in particular: the merger that formed Radford University Carilion (RUC); the establishment of the Vinod Chachra IMPACT Lab; the school's consolidation of its academic and career support services into the Highlander Success Center (HSC); The Highlander hotel, which debuted in April; and the university's expanding footprint, which includes the Center for the Sciences, the remodeling of Reed and Curie Halls and the sprawling Artis Center for Adaptative Innovation and Creativity, which is near completion and will open its doors next year.
"With the closure of our previous strategic plan, a new opportunity arises to solidify Radford's standing as a premier, student-focused institution," Danilowicz said. "It is time to further distinguish Radford University as a destination of choice for students seeking a high-quality education."
The president then introduced the four components of his upcoming two-year plan: defining Radford's distinctive nature, driving regional economic development, stabilizing student enrollment and repositioning resources. 
Over the course of an hour, Danilowicz discussed his approach to each of those primary concepts.
Defining Radford's distinctive nature
Radford will capitalize on the elements that set it apart from other higher education institutions, Danilowicz said, such as the outdoor experiences made possible by the campus' Southwest Virginia setting – hiking, biking, rafting and the 400-acre Selu nature conservatory – as well as the opportunities available for engaged learning through research.
"Research should be accessible to all students, not just graduate students, and have applications in all degree programs," Danilowicz explained. "Future teachers, health care providers, performing artists and entrepreneurs all benefit from practicing research. And they benefit from the close working relationships developed with faculty members, who work side-by-side with our undergraduates."
"At Radford, more undergraduate students than ever are taking part in university-supported researched experiences – growing from 5% in 2018 to more than 20% in 2023. Students involved in research are earning higher overall grades, and freshmen who take part in course-based research are retained at higher rates."
Driving regional economic development
Danilowicz came into office as a strong proponent of increasing economic development through the university's partnerships and other initiatives, and his speech underscored that commitment.
"Radford University is a significant contributor to the economic success of our surrounding localities and the Commonwealth of Virginia as a whole," he said. "According to the university's 2022 economic impact study, Radford's impact is worth $390 million in our region annually and $422 million throughout Virginia.
"When you expand that to include alumni, the number balloons to an $2.6 billion impact statewide."
As means to cultivate further growth, Danilowicz cited the Radford region's tourism opportunities (the New River and The Highlander hotel) and the university's top-ranked nursing programs.
"We are a mid-sized institution; we do not own a hospital system, yet we produce the third-most nurses of any Virginia four-year institution, graduating more than 230 BSN students per year," he said.
He also pointed to the recently opened HUB at Radford on Main Street, designed to power economic development and outreach.
"This is where the talent of our university, represented by students, faculty and staff, will connect with our region's businesses, government and nonprofits to share their knowledge and create business opportunities," he said. "Students will make meaningful connections through internships and complete course projects that will support the growth of business.
"The next two years will see a significant increase in university-business partnerships that provide work-based learning opportunities for our students."
Stabilizing student enrollment
"We have the infrastructure in place to deliver a high-impact educational experience to a diverse student body at multiple locations and even through virtual settings," Danilowicz told the audience. "And we have the capacity to change the lives of even more students without sacrificing the close-knit nature of our learning community."
The university recently conducted a series of enrollment strategy sessions, and several priorities emerged. As a result, to enhance competitiveness, the school will deepen its relationships with regional educators and develop strong transfer pathways from the Virginia community college system.
Radford intends to drive a significant increase in the number of prospective students visiting campus this year, especially from across Southwest Virginia.
"When they get here, our faculty and staff will roll out the tartan carpet for a dynamic experience centered around the distinctive Radford learning experience," Danilowicz explained. "When prospective students do visit, 60% of those students end up choosing Radford."
He also pointed to Radford's history of providing wide access to higher education at a reasonable cost: "Of the 15 public universities in Virginia, Radford remains the third-most affordable."
A third of Radford's undergraduate students are Pell Grant recipients, first-generation students or ethnic minorities, and 13% of the student body represent all three categories. Virginia is also home to the second-largest population of active-duty military personnel, and approximately 400 Highlanders use GI Bill funds.
Vice President for Economic Development and Corporate Education Angela Joyner introduced Radford University's new branding during the president's address.
"We can make this number grow to serve those who served," Danilowicz said, citing military resource centers both on Radford's main campus and at RUC as initiatives that give student veterans a place to find community, along with academic and career support. 
Repositioning resources
"A final goal for the next two years is to ensure that a Radford University education remains affordable, accessible and a career launchpad to all students who aspire to a brighter future," Danilowicz said in his presentation.
To that end, the university will follow a framework to find the best matches with students' career interests.
"As we realign resources, we will continue to provide a transformative education experience for our students and holistic support for their well-being in any degree program that we offer," he said. "And we will ensure that we deliver on our brand promise of being a close-knit community and provide exceptional customer service to our students."
This goal will also involve modernization of existing facilities, such as the ongoing renovations of two historic residence halls, Norwood and Tyler, and impending upgrades to the Dedmon Center. Muse Hall, slated to be fully decommissioned by 2028, will go offline as a housing facility next year in order to serve as a main campus dining hall during renovations to the current one.
Another branch of the university's repositioning will arrive in the form of robust philanthropic funding.
"In the short term, we will see successful completion of the Together campaign, the largest campaign in university history and one that has centered entirely on student support," Danilowicz said. "And I promise one heck of a celebration next year when we cross the finish line.
"A future campaign focused on athletics will follow the completion of the Together campaign to further elevate the student experience at Radford."
Danilowicz called his strategic goals for the next year "a bridge" that will provide a runway to the five-year plan that will be developed and unveiled in 2025.
During his speech, Danilowicz was joined onstage by several students – Stephanie Perez (standing) and (L to R) Taylor Nguyen, Jeremy Armentrout and Shaun Landry – who spoke about their experiences as Highlanders and the individual roles they play on campus.
"The Highlander influence will expand to underpin the community health infrastructure of our region," the president declared. "We are preparing our students to lead thriving communities. That is where we will make a difference and continue to differentiate ourselves as a university."
The president's video presentation included appearances by Radford University Carilion Doctor of Physical Therapy students Brad Frizzle '21 and Cassidy Gilmore, who spoke about the ways their education is preparing them to serve Southwest Virginia's healthcare needs.
Vice President for Economic Development and Corporate Education Angela Joyner also took the lectern during the address to introduce Radford University's new branding through a visual presentation that walked the audience through its development and significance.
Neal Harvey for Radford University