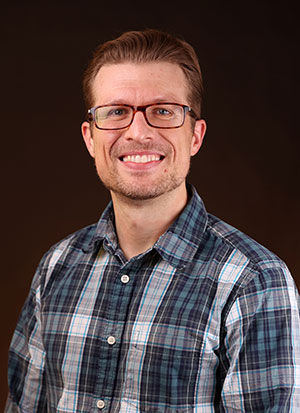 RADFORD – Assistant Professor of Physician Assistant Studies (PA)  Luke Swatzyna, M.S., PA-C has been named the 2023 Virginia PA of the Year by the Virginia Academy of Physician Assistants (VAPA). 
Swatzyna, who is also a 2011 graduate of the PA program at what was then Jefferson College of Health Sciences (now Radford University Carilion), accepted the award at the VAPA state conference in Virginia Beach in July.
"Receiving this award is a huge honor," Swatzyna said, "but I'm not doing anything differently from any other PA. I feel very strongly about that. I work with physicians, nurse practitioners, physician assistants and other professionals every day that are highly skilled and dedicated. Caring for a patient is not a one-person endeavor — it's a team effort."
Swatzyna compares his recognition to being an MVP on an athletic team. While one player may get the spotlight, he couldn't make it there without the support of his teammates and his family.
"You're only as good as the people you surround yourself with," Swatzyna says, "and I work with excellent colleagues at RUC and in my practice. My family and partner are incredibly supportive, and my clinicians — whether they are M.D.s, N.P.s, D.O.s or PAs — have been very important throughout my career. They deserve this award as much as I do."
Swatzyna began his career in Carilion Clinic's Family Medicine Residency as the first PA assigned to the Southeast Family Medicine and Roanoke-Salem Family Medicine clinics. During his time caring for patients at those clinics, he was able to interact with many leaders at Carilion. As a result of those relationships and being the only PA working there, he served on several boards and advisory committees.
"I have a hard time saying no," Swatzyna says with a laugh, "but that work is meaningful to me as well. If I can help improve people's lives, I will always take that opportunity."
That volunteer spirit is one of the ways Swatzyna ended up back at his alma mater, teaching tomorrow's PA students. While practicing as a PA, Swatzyna would return to give guest lectures or help with interviews of prospective PA students.
Swatzyna recalls, "I always said, 'when [PA faculty member] Dr. [Bob] Hadley retires, I want his job.' I love practicing medicine, and I precepted PA classes for years, but there was something about working with students that really spoke to me. I found it very rewarding."
Last year, Hadley did retire, and Swatzyna was offered the opportunity to join the PA faculty. He quickly accepted and has been teaching full-time since January 2023.
He hasn't left his PA career behind completely, however. While teaching four days a week at RUC, Swatzyna works at Carilion Family Medicine – Daleville on Wednesdays.
"I get to play on both sides of the field," Swatzyna says. "I still enjoy both so much."
Swatzyna describes himself as a bit allergic to recognition, and although he appreciates the VAPA recognition, he ultimately gauges his success in day-to-day interactions with students and patients.
"I like teaching a student who has an 'ah-ha' moment or talking to patients who come back and tell me that my convincing them to go to the ER saved their lives," Swatzyna says. "Those are the really meaningful moments to me."    
To learn more about the PA of the Year Award and the VAPA organization, visit the VAPA website.
Mark Lambert for Radford University