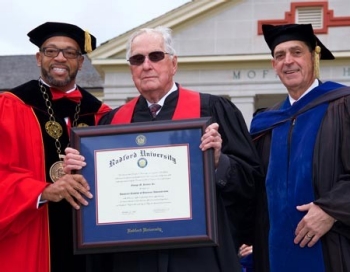 ---
RADFORD – The City of Radford lost a community icon with the recent passing of George M. Harvey, Sr.
Among his many contributions to the city was his support of Radford University. The university released the following tribute.
"After serving in the U.S. Army and taking classes at the National Business College in Roanoke, George was always self-employed. He began his professional career owning a service station, then a used car dealership, gas distributorship, and a new car business. With each business success, he used his profits to invest in the next and even more successful business.
"In 1959, George founded what we know today as Harvey's Chevrolet. In 1989, Time Magazine named George a Quality Dealer Award finalist. His selection was announced at the National Automobile Dealers Association (NADA) Convention in New Orleans on January 28, 1989. He was only one of 10 dealers nationwide to be named a finalist for his outstanding business performance and exceptional community service.
"In addition to being a successful businessman, George was fully dedicated to his family and the community. He held positions on boards of directors in the areas of healthcare, banking, education, and community organizations. He proudly and skillfully served as the second president of the Radford University Foundation Board of Directors and was a current member of the Capital Campaign Steering Committee.
"Radford University President Brian O. Hemphill, who became close friends with George over the years, said in response to the news of George Harvey's death, "Today, our campus, community, and commonwealth mourn the loss of a business pioneer, family man, and incredible friend. George served as a successful business owner and caring community leader with unbelievable distinction for more than 70 years.
"He will forever be remembered as a true statesman and a beloved Highlander. The Radford family will deeply miss George, his warm personality, and his engaging stories. His monumental legacy will live on through his loving family and our fond memories."
"During the spring 2017 commencement, George was publicly recognized by the university for his many contributions. On Moffett Lawn in front of more than 10,000 attendees, President Hemphill bestowed upon him an honorary Bachelor of Business Administration degree in recognition of his lifetime achievement in the business sector and his faithful service to his local community.
"The 2017 ceremony and deserving recognition marked an important and special moment for George and his family. George M. Harvey, Jr., was in the audience to see his father receive an honorary degree.
'"Dad has worked extremely hard his whole life for business and the community, and this is well-deserved," George, Jr., said at the time. The ceremony was yet another sign of success for Brad Harvey, who said that his father's success came from the way he treated people. "Dad would say always tell the truth, be honest and good things will come."
"Immediately after receiving his honorary degree, George took to the podium to share his passion for Radford University and its mission of access and opportunity. He said, 'The most important part of Radford University is its students. Radford University is here to give all of the students a quality education at a reasonable price. To me, that is the number one priority.'"
"His commitment to students was followed by his passion for the institution. He said, 'We want the university to prosper and grow.'"
"In 2018, George received yet another honor as the university proudly dedicated and officially opened the Harvey Knowledge Center, which is located on the fourth floor of McConnell Library and represents a combination of the Harvey Learning Center, established in 1997, and the Warren P. Self -Learning Assistance Resource Center, or LARC.
"The Harvey Knowledge Center provides an array of helpful resources for both students and faculty, including small and private study areas, one-on-one academic coaching, study groups, and other forms of group collaboration and workshops designed to help students become lifelong learners.
"In reflecting on George's legacy and impact, President Hemphill stated, 'George's career and life truly embodied his unwavering commitment to serving others. There is no way the Radford family could adequately express its everlasting appreciation and sincere gratitude for George, but we certainly took advantage of several opportunities to highlight his larger than life accomplishments and his love for his wife Juanita, children, grandchildren, and extended family of loved ones.
"President Hemphill also said, "George's unwavering dedication to the community and the institution had no limit. As a campus and a community, we are better because George was a part of our journey. As an individual, my life has forever been positively impacted by my close friendship with George in recent years and in his final days. We express our deepest condolences to the Harvey family. However, as a Radford family, we find comfort in knowing that George's family will carry on his far-reaching impact and undeniable legacy."
Ashley Schumaker
Radford University