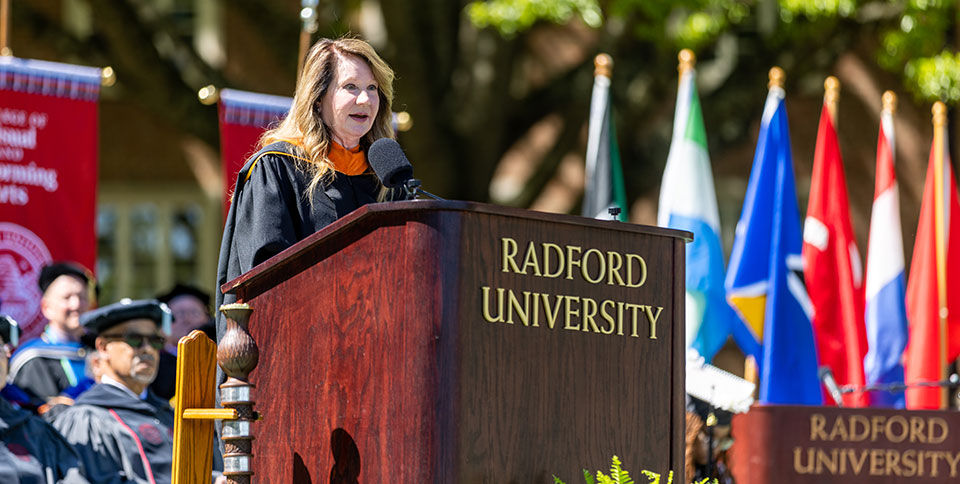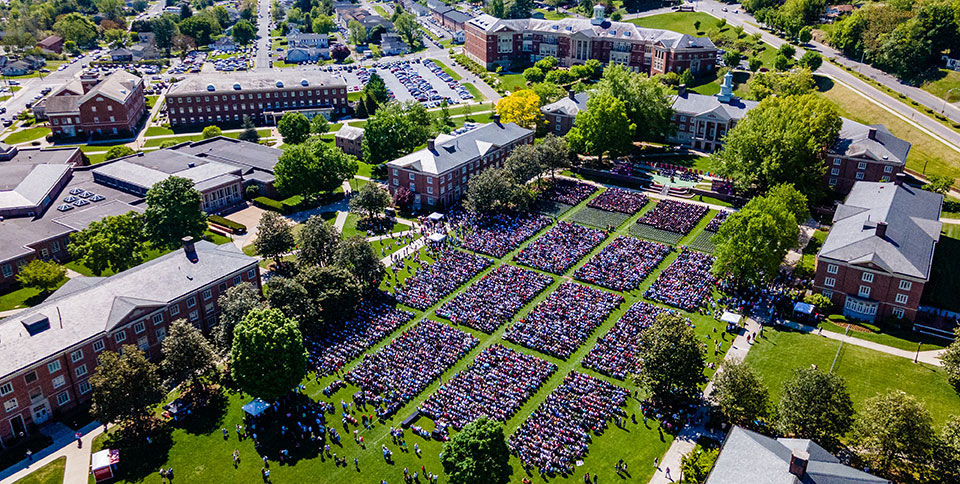 Photos courtesy of Radford University
RADFORD – Jonathon Halferty seemed to sum up the prevailing mood Saturday morning.
"I've been waiting for this day ever since I came here," he said, standing in line, donning a red first-generation college student stole while eagerly waiting to march with his fellow soon-to-be graduates onto Moffett Lawn at Radford University's 110th Spring Commencement.
"But, I don't want to leave," Halferty confessed. "I had great professors – they are so loving – and I made so many great friends here at Radford."
Halftery, who majored in physics, was among the 978 undergraduate students who received their degrees at the commencement ceremony on campus Saturday, May 6. Another 220 graduate students earned advanced degrees on the Friday night before at the Graduation and Hooding Ceremony for students of the College of Graduate Studies and Research. The ceremony encompassed graduates from programs on main campus and at Radford University Carilion in Roanoke, Virginia.
In all, 1,198 individuals received degrees over the celebratory two days. Including Halferty, 332 of those were first-generation students.
A number of students, too, had Highlander alumni among their family members watching Saturday's ceremony. Hannah Ramey was one of those legacy students. The criminal justice major came to Radford, in part, she said, to follow in the footsteps of her father, Chris Ramey '89.
"He's been my role model forever," she said before the ceremony.
As he waited for Hannah to march onto Moffett with the other grads, Chris Ramey stood beneath a shade tree on the sunny morning, reflecting on the advice he gave his daughter years ago.
"I told her she would have the four best years of her life at Radford. Without a doubt."
Keynote speaker Laurie Shelby '83 left no doubt about the valuable experiences she gained as a student at Radford, a place where she met her husband and earned skills that eventually led to her current position at Tesla Inc.
Shelby, who majored in chemistry at Radford, encouraged graduates to "never lose sight of your passion and commitment to your field – your why," she said. "My why drives me every day to look at challenges differently than many in my profession."
Shelby also came bearing gifts for each graduate, a miniature Tesla Model 3 vehicle.
"Sorry you can't drive it, but it is a one-and-only aluminum diecast model made in California for the Radford University 2023 graduating class," explained the vice president of environmental health and safety, sustainability and security at Tesla. 
Shelby also delivered the keynote address, and the miniature Tesla cars, at Friday night's Graduation and Hooding Ceremony.
Radford President Bret Danilowicz could not present for the ceremony. He and his family were with his daughter, Teagan, at her graduation at another college campus. He did, however, deliver a heartwarming message to graduates via video and received a roaring cheer when he concluded with the words, "Go Highlanders!"
Graduates also heard from Student Government Association President Justine McLaughlin, who heard cheers as she made her way to the podium.
"I am so proud of you all," said the biology major from Waldorf, Maryland. "You all are some of the most resilient, creative and adaptive students. You all are here because you earned it through hard work and perseverance."
McLaughlin also thanked Radford for giving her "the opportunity to grow into an excellent professional, leader and person." She will continue her education at Johns Hopkins Bloomberg School of Public Health in Baltimore, Maryland.
Radford introduced a new commencement tradition at Saturday's ceremony by recognizing ROTC (Reserve Officers' Training Corps) graduates who had been commissioned to the U.S. Army as second lieutenants in a ceremony on campus Friday. Graduate Alexis Parker took the stage with her grandfather, retired Lt. Col. Walter Z. Parker, to represent all officers in this spring's graduating class.
Once speeches were delivered, graduates from each college marched across the Moffett Lawn stage to receive their diplomas. Board of Supervisors Rector Debra K. McMahon conferred the degrees in place of the president.
Before graduates from the College of Humanities and Behavioral Sciences walked across the stage, their dean, Matthew J. Smith, made a somber announcement about the awarding of a posthumous bachelor of science degree in social science to Paulette Ashlin Wright of Claudville, Virginia, who died in December.
"Paulette dreamed of being a teacher and was deeply committed to achieving her goal. Warm and energetic, she was a natural teacher with an innate ability to draw in students. She could find a connection with anyone and was a gentle leader, graciously supporting those around her," Smith said. "You will see her fellow students honoring her today, and her family has joined us for this special moment. While we may not realize everything that Paulette had yet to give to the world, her memory and her dreams will be with us forever."
Several ceremonies took place on campus Friday to honor graduates from various programs. One of those was the ROTC commissioning of seven cadets into the United States Army. They earned the rank of second lieutenant and were commissioned as officers at a ceremony at the Hurlburt Student Center Auditorium.
One by one, they took the Army's oath of office, sealing their entry into the Officer Corps of the United States military, then stood as their second lieutenant rank insignia was pinned to their uniforms before finally making their first salute. In each of these customs, they were assisted by friends, family members and colleagues.
In his keynote speech, retired U.S. Army Col. Paul Mele offered graduates a collection of short, deadpan stories that illustrated the dangers of complacency and needing to be liked, as well as the virtues of discipline, sound leadership and humility.
"Go out and lead with the mantra, 'It's not about me,'" Mele advised. "Because if it's not about you, it's got to be about somebody else: Your soldiers; the mission; the country; the customer; the Constitution."
Later Friday morning, at the Covington Center, a total of 35 Radford University Honors College graduates received medallions commemorating their academic accomplishments. Of those, 24 were declared Highlander Honors Scholars for completing a 27-credit honors curriculum, presenting a scholarly capstone project in their fields of interest and achieving a grade point average of 3.5 or higher. Each student's award was presented to them onstage by their faculty mentors.
"This is the highest recognition for undergraduates of Radford University, and you have earned the praise of the entire campus," Niels Christensen, Ph.D., professor of psychology and director of the Honors College, told the medallion recipients.
"At the university commencement ceremonies tomorrow, please wear your Honors College regalia with pride."
The School of Nursing pinned 138 undergraduates and graduates at an afternoon ceremony in Bondurant Auditorium. "Nursing is and always will be part of who you are," said keynote speaker Sarah Gilbert '80, M.S. '05, an associate professor in the School of Nursing. "We are so proud of all that you have accomplished."
Following the individuals pinning from family, friends and others, graduates took the traditional Nightingale Pledge in honor of Florence Nightingale.
Twenty-nine Doctor of Physical Therapy (D.P.T.) students received white coats and pins at a ceremony Friday in Charter Hall in the City Market Building in downtown Roanoke. The students received their white coats and were pinned by family members and loved ones. D.P.T. Associate Professor Shala Cunningham served as the event's keynote speaker.
The Center for Diversity and Inclusion held a Multicultural Congratulatory Ceremony in the Bondurant Auditorium on Friday evening to wrap up the day's events.
The majority of 2023 Radford spring graduates, about 93%, were Virginia residents. Other graduates came to Radford from North Carolina (21), Maryland (11), Washington, D.C. (4), New York (4) and Pennsylvania (4). Three graduates came to Radford from Ethiopia, two each from Germany, Greece and India and one from Zambia.
Chad Osborne for Radford University