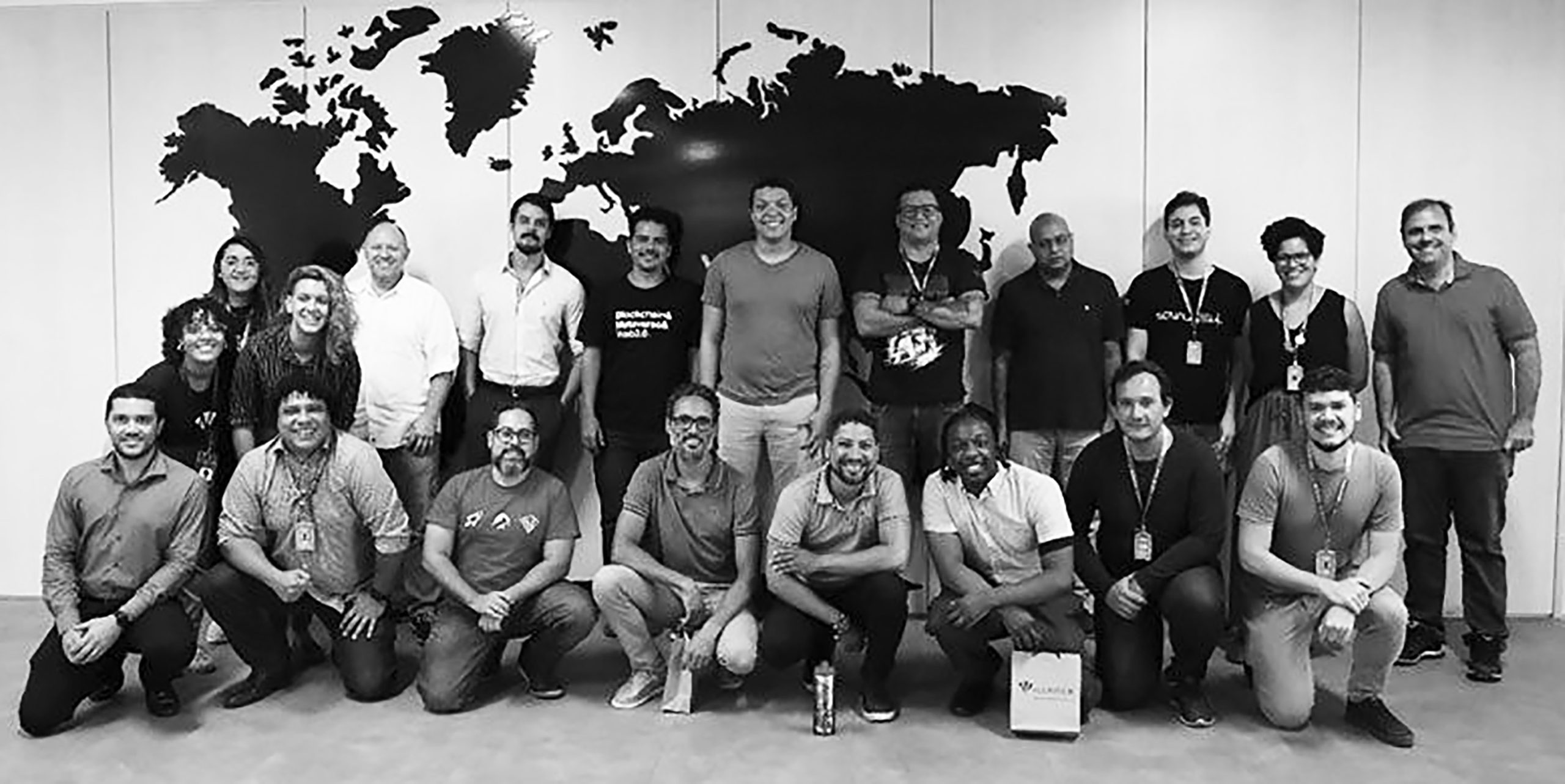 A small group of Radford University faculty members and students recently teamed with researchers from Brazil to begin constructing a framework for a collaborative relationship focused on cybersecurity and entrepreneurship.
Prem Uppuluri, Ph.D., a professor and director of Radford's School of Computing and Information Sciences, and Professor of Management Steve Childers, Ph.D., initiated the effort with the Senai Innovation Institute for Innovation and Communication Technologies.
Radford cybersecurity majors Keshawn Brooks and Sam Williams were part of the initiative, which included hosting five Senai researchers, some of who are doctoral students at the Federal University of Pernambuco, in Radford and Washington, D.C., in November 2022 before traveling to Brazil in late January 2023.
"Basically, we are doing research on the Internet of Things," Uppuluri explained, "and we decided that research would be the vehicle to start a collaboration."
The Internet of Things (IoT) is the network of physical computer devices – phones, watches, virtual home assistants, etc. – that transfer data over a network. Uppuluri and his students, along with faculty colleagues in the School of Computing and Information Sciences, are persistently researching and working on efforts to better secure IoT vulnerabilities and weaknesses.
Radford's collaborative efforts with Senai gained support through a grant from 100,000 Strong in the Americas Innovation Fund, an initiative by the United States Department of State to increase international study and promote "people-to-people exchange," it says, between the U.S. and Latin America and the Caribbean. 
"Our goal for Radford undergrads working on cybersecurity is to team up with Senai so they can learn entrepreneurship, get exposure to international trade and work with partners from across the world," Uppuluri explained, "as well as learn technology from some of the top doctoral students from the Federal University of Pernambuco."
Initially, Uppuluri and Childers and the Radford students met with the Brazilian group virtually, but using the grant, which supports travel, the Senai contingent visited Radford. They traveled to the nation's capital in early November, meeting with Radford alumni and entrepreneur Kevin Rogers '87 and later visiting the Federal Cyber Virtual Summit "to introduce the Brazilians to the latest trends in cybersecurity in the U.S. government." Uppuluri said.
The group also visited SkyePointe Decisions, founded by Bo Kimbrough '90. "He talked to us about the latest in cybersecurity and potential collaborations, and he wanted to find out from the Brazilian researchers what they were interested in," Uppuluri explained.
While in the D.C. area, Rogers set a Shark Tank-style event for the Brazilian group and Radford students to present to pitch their ideas for IoT solutions. The event was held at the Cyber Bytes Foundation, an incubator for cybersecurity companies in Northern Virginia.
"Radford University is fortunate to have so many of our alumni, like Kevin and Bo, stay active and give back of themselves," Childers said. "They help us bridge the theory and practice of our educational offerings. In this instance, it was helping our students see more clearly how a proposed value proposition is viewed from the customer's perspective."
After traveling back to Radford, the group met with Radford University President Bret Danilowicz, Ph.D.; Ismael Betancourt of the McGlothlin Center for Global Education and Engagement; Jeanne Mekolichick, Ph.D., associate provost for Research, Faculty Success and Strategic Initiatives; and the deans of the Artis College of Science and Technology and the Davis College of Business and Economics to discuss potential educational research collaborations. The group from Brazil also learned about Radford's Artis Center for Cybersecurity Research and Teaching Lab.
"I'm really excited about this project," Ricardo Brazieiro, a lead researcher at Senai, said during his time at Radford University. "I'm glad to be here in Radford to talk with the experts about how to create a bridge between Brazil and the U.S. in cybersecurity. It's a good opportunity for us to work together on our security and safety."
In January, the Radford group visited Brazil, where they "had both cultural and technological collaborations," Uppuluri said, that included hiking through a rainforest and visiting historic sites in the cities of Olinda and Port de Galinhas.
On the business side of the trip, the Radford group met with Federal University of Pernambuco faculty members and visited software incubators in Recife. "We got a feel for the technological innovations happening there," Uppuluri said. And they had an opportunity to discuss cybersecurity research using artificial intelligence with leaders at Neurotech Information Technology and Tempus.
"There is great potential for Radford University to collaborate with Brazil, one of the largest economies in the world," Uppuluri explained. "Plus, the Federal University of Pernambuco has a huge undergraduate population, and that leads to a great potential for creating a pipeline for student exchange between Radford and higher education institutions in Brazil."
Senai business manager Ernani Azevedo agreed.
"We don't believe that anybody can do groundbreaking innovation alone, so we always partner up," he said, "and this is one of our first international partnerships. We are very excited and eager about what we can do with Radford University."
For Williams, a junior from Rock Hill, South Carolina, it was a dream scenario to have the opportunity presented to him by Radford University to work toward potential collaborations and learn from researchers in Brazil as well as from technology industry leaders there and in the in Washington, D.C., region.
"My grandmother put it in a really good way," Williams said. "She said, 'You just don't understand how rare these opportunities are.' It's very true. I worked really hard to get to Radford because it is a place that offers these types of opportunities to students."
Chad Osborne for Radford University