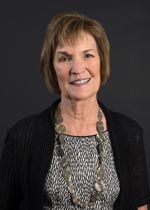 Rachel Davis Fowlkes, Ed.D., passed away Saturday, April 1. 
She was serving her second term on the Radford University Board of Visitors and was the Board Liaison to the Radford University Foundation.
Fowlkes was the founding executive director of the Southwest Virginia Higher Education Center, retiring in 2015 after 23 years of service. More than 1,200 people earned their degrees during that time. She was a strong advocate for empowering women in higher education and the workforce, and she was a role model for students, colleagues, government leaders, community members and many more. Fowlkes served on the Executive Board of the Virginia Network and shared that the Network's knowledge and experiences were key to the development of the Higher Education Center in Abingdon. 
"The loss of Rachel is heartbreaking for Radford University and Southwest Virginia," said President Bret Danilowicz.  "She was a true advocate for the opportunities education brings to individuals and communities.  Her work on the Board, especially with the Academic Affairs and Student Success Committee, was thoughtful and she always put our students first in her recommendations."
In the December 2021 edition of the Radford Magazine, Fowlkes was quoted, "I'm a person who has always been thinking about what we can do better, what we can do more effectively. I think the opportunities for us are infinite."
Fowlkes served as a strong advocate for workforce development and was instrumental in developing programs that align with the needs of the region's employers. She was involved in various economic development initiatives and served on several regional and state boards related to education and economic development. Even her license plate "CR8JOBS" represented her dedication.  She never stopped thinking about what connections she could make or how she could help the region, the university and the foundation. "Rachel was a tremendous board member, and she was one of the nicest people I have known," added John Cox, chief executive officer of the Radford University Foundation.
Our hearts go out to Fowlkes' family and friends. She was a visionary who will long be remembered at Radford University and in the Commonwealth of Virginia for her dedication to education and quality of life for everyone.
Radford University