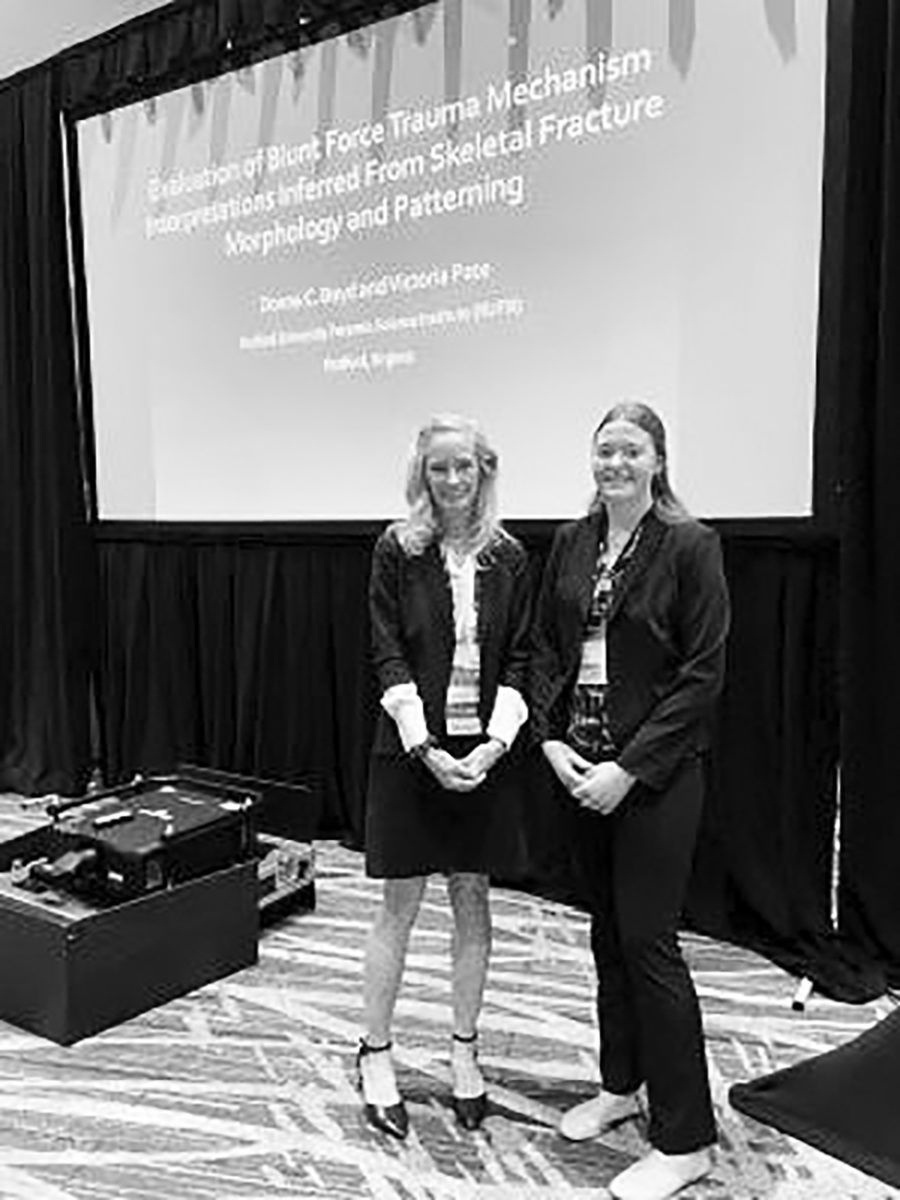 RADFORD – Last month, Eminent Professor of Anthropological Sciences Donna Boyd, Ph.D., of Riner, and senior anthropological sciences major Tori Pate, of Winchester, presented their research on skeletal trauma at the American Academy of Forensic Sciences' 75th annual meeting in Orlando.
Their research focuses on the relationship between bone trauma and death mechanisms, or how someone died from blunt force trauma, Boyd said.
"Sometimes in death investigations involving blunt force trauma (BFT), the specific mechanism of death is not known, since BFT mechanisms are often the most difficult to interpret in a medicolegal setting," explained Boyd, who also serves as director of Radford University's Forensic Science Institute (RUFSI). "In these cases, an analysis of skeletal fractures – for example, their type, direction and patterning on the body – becomes very important."
There are no current standards, the professor noted, that relate skeletal fracture patterning to trauma mechanisms. Because of this, evidence is often not challenged in court.
Boyd's and Pate's research examined the past 20 years of RUFSI casework, focusing on cases where the blunt force trauma mechanism was known, such as falls, interpersonal violence, child and domestic abuse, vehicle accidents and aircraft crashes.
The two correlated these known blunt force trauma mechanisms and death contexts with the fracture characteristics they left behind on skeletons to determine whether there were any accurate skeletal "signatures" for BFT mechanisms, Boyd said.
Boyd and Pate found there are predictable relationships between greater skull injuries with increased kinetic energy and recommended that "trauma mechanism interpretations based solely on skeletal fracture data should be made with caution and in consideration of the biomechanical factors that produced the trauma," they said.
They also recommended a multidisciplinary approach as a necessity to enhance the scientific foundation for skeletal trauma analysis. These involve not only forensic anthropology and pathology but also bioengineering, biomechanics and physics.
"In the bigger picture, this research will help us more accurately identify the mechanism of death in death investigations involving blunt force trauma," Boyd said. "This research is reflective of the current trend in forensics pushing for greater standardization and accuracy of forensic methods."
The research stems from the soon-to-be-published national standard on skeletal trauma analysis, "Standard for Analyzing Skeletal Trauma in Forensic Anthropology" from the American Academy of Forensic Anthropology Academy Standards Board, of which Boyd serves as chair. It was also inspired by the professor's current book project, "Forensic Skeletal Trauma Analysis: An Illustrated Guide," which, she said, will serve as the methodological guide for trauma analysis for forensic anthropologists.
Submitted by Merit Pages