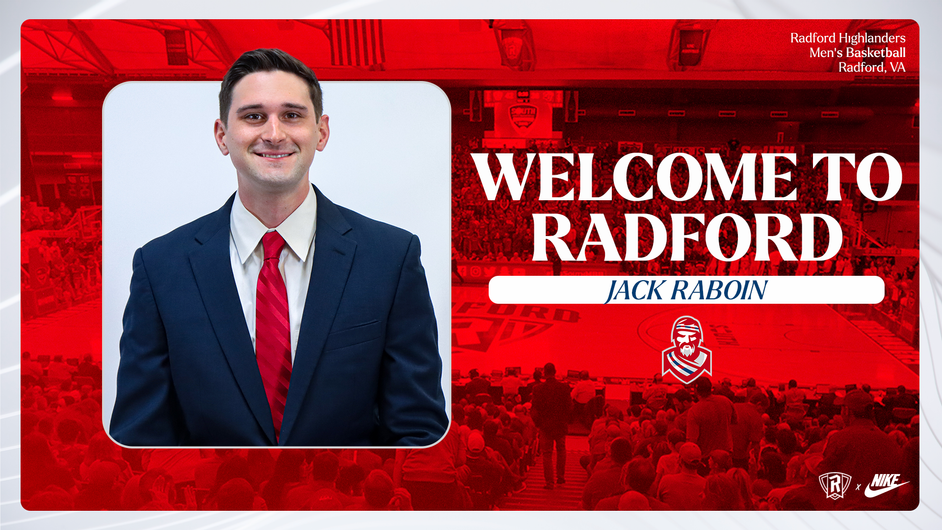 Jack Raboin has been named the newest Director of Basketball Operations for the Radford men's basketball program, Head Coach Darris Nichols announced Wednesday morning. 
"Jack has been an important part of our success," said Nichols. "He is very organized and has done a great job with our student-athletes. We are excited that he is with our basketball family." 
Raboin made his way to the New River Valley near the start of the 2022-23 season, filling the position of Director of Player Development. Working behind the scenes, he proved to be a vital piece in a coaching staff that guided the Highlanders to a 21-win season that included a pair of wins at the College Basketball Invitational (CBI). 
Prior to Radford, Raboin served as Director of Basketball Operations and then Assistant to the Head Coach at Eastern Illinois, where he aided Marty Simmons in a variety of on-and-off the court tasks. 
In his time with the Panthers, Raboin was responsible for the scheduling of all team activities, including travel, practice, academics, and more. He also recorded and edited film and occasionally aided in recruiting and coaching in the absence of a full coaching staff. 
Raboin began his collegiate playing career at Lake Land College where he earned an associate degree in psychology. He then transferred to Saint Louis, winning an Atlantic 10 championship during the 2018-19 season and earning the status of team captain during the 2019-20 campaign. 
He graduated as a Billikin with a bachelor's degree in sociology in 2019 and is currently working towards a Masters of Organizational Leadership at SLU.
Radford University Athletics