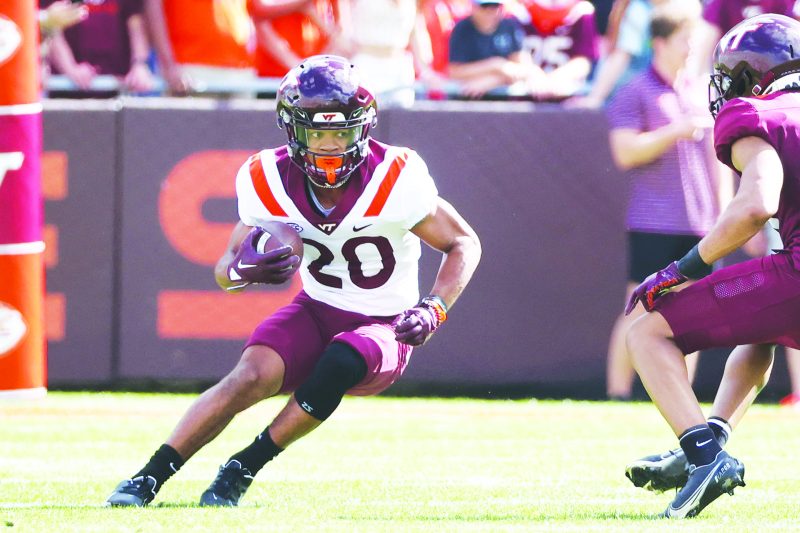 By Marty Gordon
Coach Brent Pry comes out of his second Spring game on Saturday with a little better understanding of his Virginia Tech football program. 
The questions might outweigh the answers as several possible starters sat out of the game with injuries.
Of course, nothing is final in what fans saw on Saturday, but coaches now have a canvas to work with. Head coach Brent Pry admitted afterwards his roster is not where it needs to be. 
Quarterback Grant Wells and a stingy defense led the maroon squad to a 34-0 victory over the white team. Wells finished 12-of-18 for 148 passing yards and one score through the air to go along with a 10-yard rushing score on the maroon team's first possession. 
Pry thought Wells came out strong and that's what the coaching staff has seen all spring. 
"He's made good decisions," said Pry. "He's thrown the ball well. He operates the offense really well right now. I think Tyler [Bowen] has done a nice job with that. They're more efficient. Their timing and their tempo. Everything looks better to me. I was pleased with Grant."
On the ground, Bryce Duke and Chance Black were a potent one-two punch for the maroon team, piling up 157 rushing yards. Black found the end zone twice on the day, catching a four-yard pass from Wells followed by a 12-yard rush, both in the first quarter. 
Tucker Holloway led the maroon squad with 77 receiving yards, including a 39-yard catch on an eye-catching pass from William "Pop" Watson III that got the crowd on its feet. Defensively, Wilfred Pene paced the maroon team with seven tackles, including one sack and a pass break-up. Miles Ellis, Derrick Canteen and Mose Phillips III all finished the game with an interception while Keli Lawson recorded a pair of sacks. 
Transfer quarterback Kyron Drones settled in nicely for the white team, going 7-of-13 for 102 passing yards. Dae'Quan Felton led the white squad with 40 receiving yards on two catches while P.J. Prioleau gained a team-best 27 rushing yards. 
The white team's defensive line had some bright spots, highlighted by sacks from Norell Pollard, Josh Fuga and Gunner Givens. Tyler Childress led all players with 12 tackles.
Overall, Pry felt the team was efficient. 
"Only had four penalties," he said. "The kicking game was pretty clean. The operation was pretty clean. I don't think the turnovers were necessarily bad decisions. They were tipped balls and the defense did a good job of getting on. All in all, we came out most importantly healthy. Nothing substantial occurred in the game."
Pry is optimistic there is a deeper group of playmakers now at his disposal. 
"There is. Yeah," he said. "You saw Da'Quan Felton today made a couple of nice catches and Ali [Jennings] had a couple of catches. Jaylin Lane was nursing a muscle pull, so he wasn't out there. The young, the freshmen, even Marcell Baylor took a hit on his shoulder last year. He's had a good spring and wanted to see him out there. Today he couldn't go. Then the development of Tucker Holloway and Stephen Gosnell. Xayvion Turner-Bradshaw. It's just a better-looking room. 
"There's certainly more there, too. We had two tight ends out today. Dae'Quan [Wright] and Harrison Saint Germain. I would have liked to see those guys. They weren't able to do a whole lot this spring. Then I think out of the backfield, you didn't see it today, but Bhayshul [Tuten] has good hands and can do things in the open field. Malachi [Thomas] has good hands. You saw Bryce [Duke] and Chance [Black]. I do think we have more weapons. There are more things to do with."
Pry also took the opportunity to hand out several spring awards: Offensive MVP – Parker Clements; Defensive MVP – Jaylen Jones, Special Teams MVPs – Jalen Stroman  and Bryce Duke, Frank Beamer Ultimate Teammate – Matt Johnson and the President's Leadership Award – Nick Gallo.