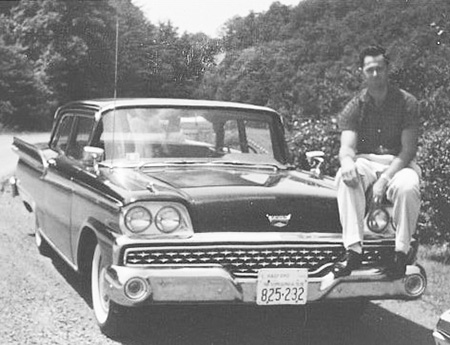 Rusty Quesenberry, 88, passed away Thursday, May 25, 2023, at the Pulaski Health & Rehabilitation Center. Rusty, a veteran of the United States Army, lived a wonderful life and accomplished many things during his eighty-eight years.  
Rusty was born on March 18, 1935, in Allisonia, Carroll County, Va. to parents Jonas and Hattie Quesenberry. He was one of three children and spent his childhood growing up in Roanoke. At 18 he got a job with Kenrose Manufacturing and was quickly promoted and transferred to their plant in Radford. During that same time, he married Evelyn Emily, of Roanoke, to whom he would be married to for 68 years, until his passing. After over 20 years of service, Kenrose ceased operations and Rusty and Evelyn opened their own business; Russell Apparel, which operated successfully for twenty years with an average work force of over 200 employees, many of which were considered family and all friends to Rusty and Evelyn and were always treated that way.
Rusty, an avid lover of motorcycles and automobiles, enjoyed both tremendously, driving both at an early age and continuing throughout his entire life. Always known for having some of the nicest and usually fastest, he truly appreciated both and loved to ride. With that said, Rusty was a professional motorcycle dragracer, well into his 50's, even obtaining the IDBA World Record for the fastest carburetor bike during the 1980's.  Also, a classic car and street rodder enthusiast, he thoroughly enjoyed traveling to Rod Runs, Car Shows and events where he loved to show, view and enjoy in the camaraderie of the many friends he met during those twenty plus years.   
Survivors include his wife, Evelyn; his godson and daughter-in-law, David and Jill Foster; god-grandchildren, Taylor Foster and Morgan Stokes; sister, Peggy Johnson; sister-in-law, Irene Quesenberry; and his cherished nieces, nephews, cousins and the families of Greg, Richard and Sheila Holbrook with whom he had special bonds. He was preceded in death by his mother, Hattie Harnek; brother, Jonas Quesenberry; and his beloved brothers and sisters in law.
Special thanks to Pulaski Health & Rehabilitation Center, Davita Dialysis Center, Blue Ridge Cancer Center and Dr. Hurd.  Also, thanks to friends and the families of Kim Martin, Butch Buford and Gene and Tina Duncan. 
Per Rusty's request, there will be no services. However, there will be a Celebration of Life scheduled at a later date.  
In lieu of flowers, the family appreciates contributions made to St. Judes Children's Hospital.
The Quesenberry family is in the care of Mullins Funeral Home and Crematory in Radford.